LOL: 'Back To The Future Part II' Inspired 'Jaws 19' Trailer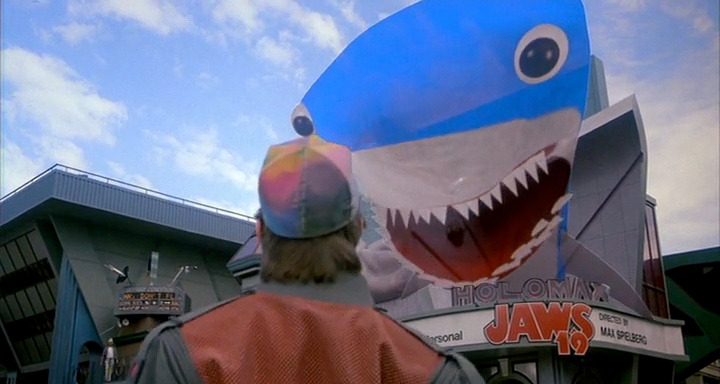 The promotions for Back to the Future are getting pretty heavy. Just this morning we found out Pepsi was making Pepsi Perfect a reality to coincide with the arrival of the future from Back to the Future Part II later this month, and now the official page for the film is teasing the arrival of a different sequel that fans of the time traveling franchise should be familiar with.
When Marty McFly walks around the town square of Hill Valley in 2015, one of the things he encounters is an outdoor marquee advertisement for Jaws 19, yet another sequel to Steven Spielberg's iconic summer blockbuster. And now a teaser trailer has arrived which not only promotes Jaws 19, but also details every single Jaws sequel leading up to it.
Here's the Jaws 19 trailer, directed by Max Spielberg, real son of Steven Spielberg:
For those who may not know, the fake Jaws sequels begin with Jaws 5, though one could argue that the preceding three sequels could be disregarded as fake Jaws movies and you wouldn't find many who would disagree.
The long list of sequels includes Jaws 6, which was made for pure pleasure, as well as Jaws 7 and Jaws 8, introducing Cyber Jaws and Robo Jaws respectively. Jaws 11 goes to outer space, while Jaws 15 sees the shark battling a Russian shark adversary. And those aren't even the most ridiculous sequels.
Aside from the ridiculous fake sequels mentioned above, there's one that doesn't sound all that unreasonable for Hollywood to do, given their obsession with reboots. Jaws 9 supposedly follows Chief Brody's grandson assembling a group to fight sharks, and that's exactly the kind of thing no fan of Jaws ever wants to see happen. So let's hope this video doesn't predict any sort of real future.
For those who don't know Jaws 19 also has an official poster that can barely be seen in Back to the Future Part II, but was sold by ScreenUsed as an official prop from the film. Here it is: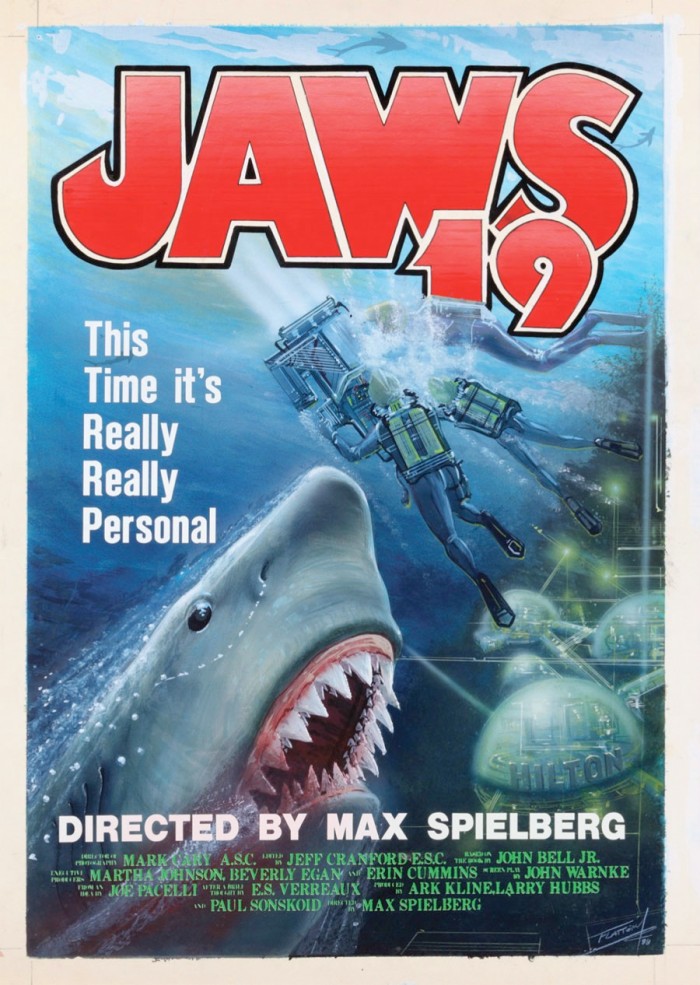 Someone needs to figure out how to get a high quality print of this poster distributed to the masses. If there was a time to get it out there, it's now, so keep your fingers crossed. In the meantime, you can get your hands on a shirt advertising Jaws 19 from the pop culture t-shirt masters at Last Exit to Nowhere, though they seem to be out of stock of some sizes at the moment.
Don't forget to keep checking our constantly updated guide to Back to the Future anniversary celebrations and promos, and stay tuned for anymore awesome things in the works for fans of the franchise.