Merry Christmas, Ya Filthy Animal: 'Home Alone' Returns To Theaters In November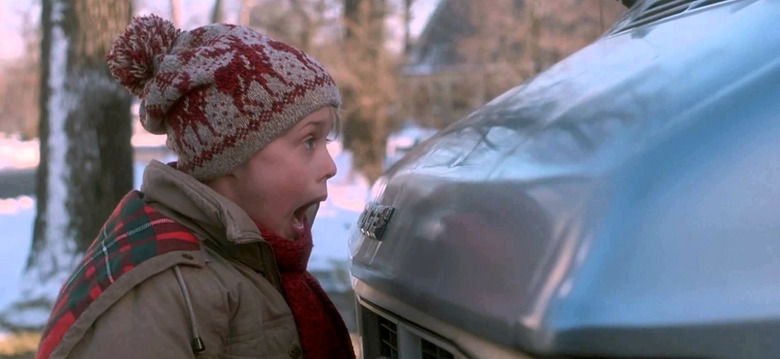 There's been a lot of focus on the anniversary of Back to the Future this year, but plenty of other beloved films have anniversaries to celebrate too. In fact, this year marks the special anniversary of one modern holiday classic that audiences watch every year around Christmastime.
Home Alone is the movie that skyrocketed child actor Macaulay Culkin to fame, with a big help from a fun script by John Hughes and kid-friendly director Chris Columbus. It might be hard to believe, but this year marks the 25th anniversary of the holiday comedy that turned Joe Pesci and Daniel Stern into a couple of punching bags, and to celebrate, a Home Alone 25h anniversary theatrical re-release is happening in November.
Fathom Events and 20th Century Fox are bringing Home Alone back to theaters for two nights only on Sunday, November 8th and Wednesday, November 11th. The movie will play at 4:30pm and 7:30pm local time on each of those days at participating theaters (though it has been noted that Cinemark theaters will be showing the matinee at 2pm local time instead of 4:30pm).
Tickets are now on sale for this theatrical event that will also feature some kind of special introduction to the movie, though it's unclear who will be doing that intro at this point. If you want to find out which theaters will be bringing Home Alone back to the big screen, the entire list can be found right here.
Home Alone is a movie I have watched countless times since I was a kid, and usually end up seeing a handful of times every winter, whether it's just playing on television or tossed on when family comes to visit. It's a family comedy that holds up really well, and it's chock full of classic lines and some pretty stellar slapstick comedy. I don't remember seeing this one in theaters, so a trip back to the movies might be in order for this anniversary re-release.
But if you don't want to head back to theaters, there's a 25th anniversary Blu-ray box set arriving on October 6th that comes inside of a paint can and has all five Home Alone movies: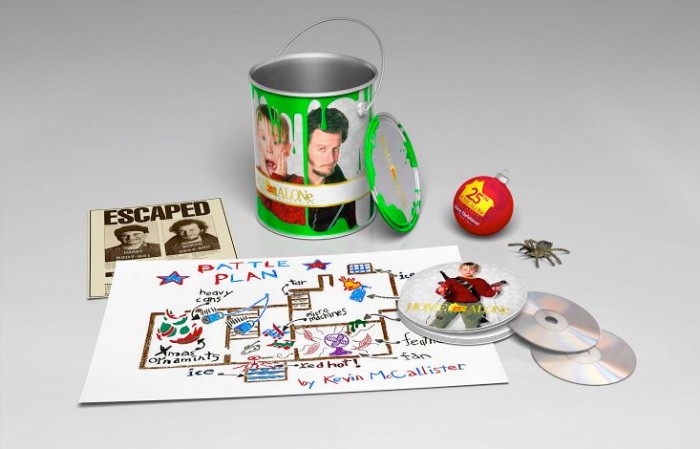 Yes, there's five Home Alone movies, but you can take the three no one cares about and throw them at burglars or something. Or you could just get the Target exclusive gift set that has two two good Home Alone movies and also comes with a replica of the knitted hat that Kevin wears in the first movie.
Or you can just recreate the movie yourself with these awesome, super detailed action figures from NECA that will be arriving sometime in November: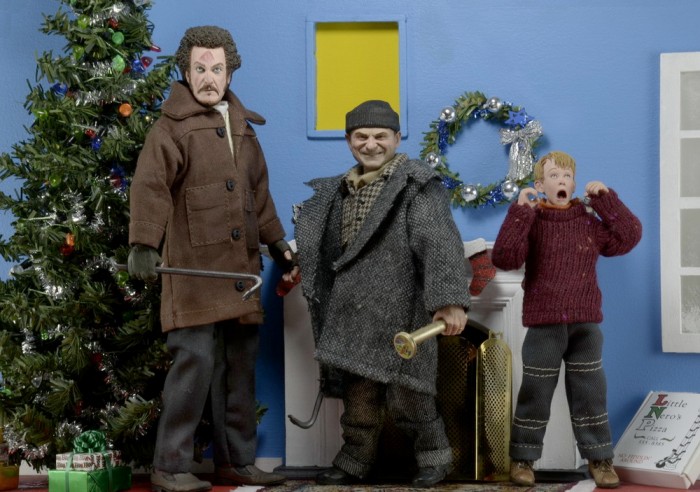 Here is the press release:
When Home Alone debuted in theaters 25 years ago, audiences flocked to the film making it #1 at the box office for an unprecedented four-month run. This timeless holiday classic is still the highest grossing live action comedy of all time, spawning a highly successful franchise with four sequels and three video games, and now the original film can be seen again on the big screen this November! Relive every pratfall and prank with Catherine O'Hara, John Heard, John Candy, Joe Pesci, Daniel Stern, and Macaulay Culkin in the role that made him an international household name.
Eight-year-old Kevin McCallister (Culkin) has become the man of the house overnight! Accidentally left behind when his family rushes off on a Christmas vacation, Kevin gets busy decorating the house for the holidays, but he's not decking the halls with tinsel and holly. Two bumbling burglars are trying to break in and Kevin's rigging a bewildering battery of booby traps to welcome them!
Directed by Chris Columbus (Mrs. Doubtfire) and written by John Hughes (The Breakfast Club, Sixteen Candles), this beloved classic is a must-see holiday film for the whole family.