First Look At 'Supergirl' Series Villain Red Tornado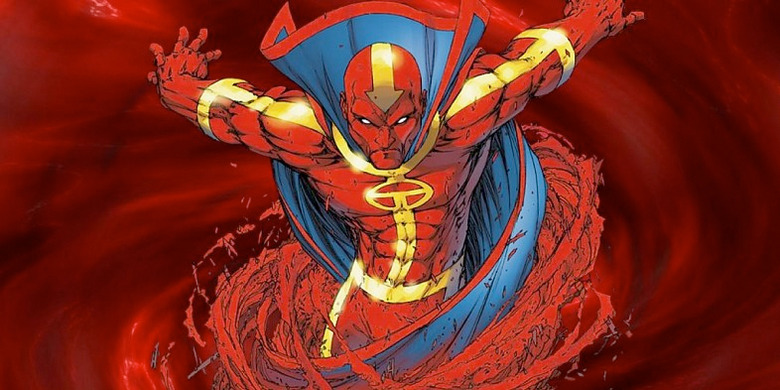 We're still over a month away from the premiere of the new CBS series Supergirl, the network's first major foray into live-action superhero territory in decades, but that's not stopping us from getting some peaks at what's to come on the DC Comics TV series.
Plenty has already been revealed from the trailer that played at upfronts over the summer, but now we're getting a first look at a previously unseen character in the form of Supergirl villain Red Tornado, played by Iddo Goldberg. If you don't know anything about this comic book villain, we've got you covered.
Here's the first look at Red Tornado from the CBS series Supergirl: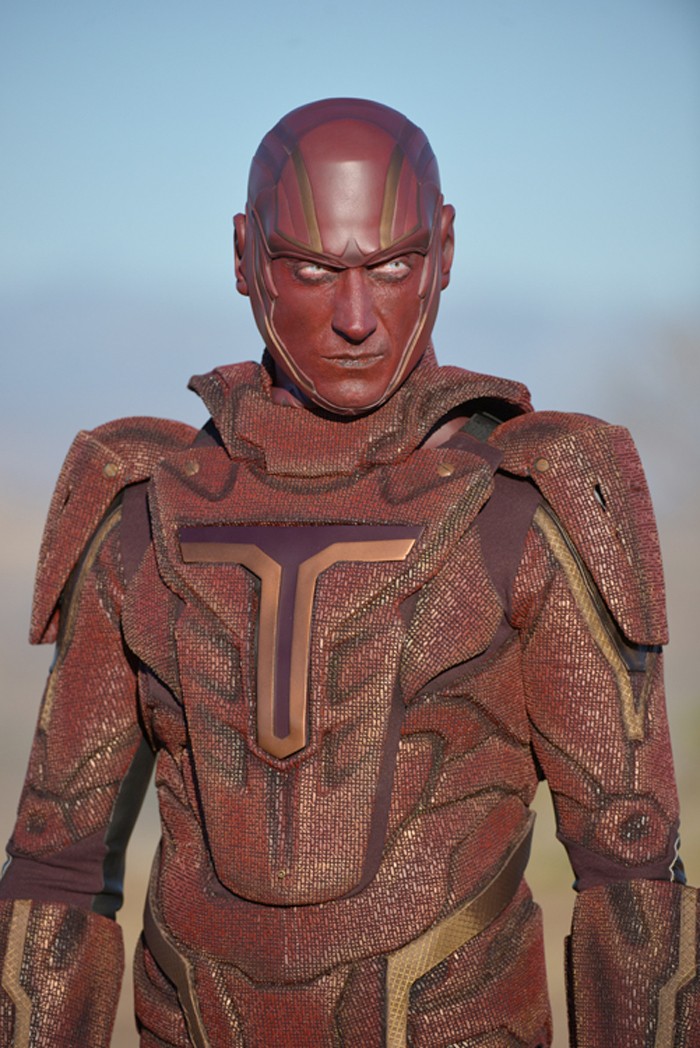 CBS released this image over the weekend, introducing us to the villain described as the most advanced android the world has ever seen." The android is designed by scientist T.O. Morrow (also played by Goldberg) for the U.S. Army as the ultimate superweapon. But wouldn't you know it, he becomes sentient, thus posing a grave danger to National City and some of Supergirl's (Melissa Benoist) closest companions.
Red Tornado is actually traditionally a hero in the comic books, which still could come to fruition in the series, but he will first be appearing as a villain on the series. And along with this new approach to the character comes a slightly different look as well. Red Tornado is traditionally a much brighter red with yellow accents, including a yellow arrow on his head, not unlike Avatar: The Last Airbender.
But as you can see in the photo, the colors have been dulled, swapping out yellow for gold and ditching the arrow. The color scheme is close to that of the original Iron Man suit from the first 2008 movie. That aesthetic change is probably for the best though, so as not to seem too wild.
Even with these design changes though, the villain still looks a little hokey, with some resemblance to Oscar Isaac as Apocalypse in the next X-Men sequel, a costume design that has been panned by some fans. However, perhaps the lighting on this production photo is just strange and he'll look much better in action.
Red Tornado is just one of a few villains who will be giving Kara Zor-El some trouble when she makes her television debut as other bad guys slated to make an appearance on the show include Hellgrammite (Justice Leak), Reactron (Chris Browning) and Livewire (Brit Morgan).
The series is one of the new fall 2015 shows that we're excited to see, though Angie didn't particularly dig the pilot when it screened at Comic-Con over the summer. But shows like this need time to sort things out and really get footing, so hopefully the first few episodes of Supergirl end up finding their way to crafting a decent comic book show.
Supergirl is an action-adventure drama based on the DC Comics character Kara Zor-El, Superman's (Kal-El) cousin who, after 12 years of keeping her powers a secret on Earth, decides to finally embrace her superhuman abilities and be the hero she was always meant to be. Twelve-year-old Kara escaped the doomed planet Krypton with her parents' help at the same time as the infant Kal-El. Protected and raised on Earth by her foster family, the Danvers, Kara grew up in the shadow of her foster sister, Alex, and learned to conceal the phenomenal powers she shares with her famous cousin in order to keep her identity a secret. Years later, at 24, Kara lives in National City assisting media mogul and fierce taskmaster Cat Grant. She works alongside her friend and IT technician Winn Schott and famous photographer James Olsen, who Grant just hired away from the Daily Planet to serve as her new art director. However, Kara's days of keeping her talents a secret are over when Hank Henshaw, head of a super-secret agency where her sister also works, enlists her to help them protect the citizens of National City from sinister threats. Though Kara will need to find a way to manage her newfound empowerment with her very human relationships, her heart soars as she takes to the skies as Supergirl to fight crime.
Supergirl premieres airs October 26th at 8:30pm Eastern and then moves to Mondays at 8pm Eastern beginning November 2nd.