The 3D Porn Film That Beat 'Avatar' Gets North American Distribution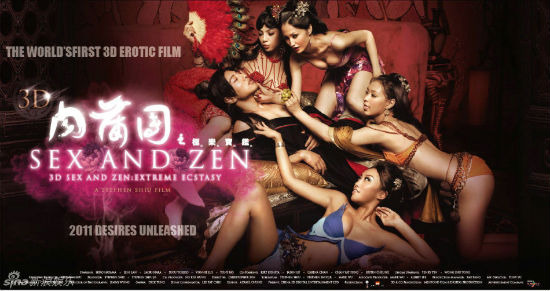 When we ran the story about 3D Sex and Zen: Extreme Ecstasy beating the opening day box office record in Hong Kong of the all-time box office champion, Avatar, it was just kind of a joke. Those of us in North American never actually thought we'd get to see the movie in theaters. But now, we just might. According to The Hollywood Reporter, China Lion Film Distribution has picked up the erotic Chinese blockbuster for North American distribution, though no release date has been set.
As previously stated, 3D Sex and Zen: Extreme Ecstasy is a remake of a 1991 film of the same name about a sexually frustrated teacher in ancient China who gets wrapped up in the harem of a new friend. Featuring full nudity and "camouflaged lovemaking" but no actual penetration, Sex and Zen is billed as "the world's first 3-D erotic film." When it opened in April, it was an instant smash in Hong Kong and has continued that run of success in Australia, New Zealand and more. We've got more after the jump.
The Hollywood Reporter ran the news about the 3D blockbuster and said that, after it beat the opening day gross of Avatar (read about that here) it went on to basically sell-out the entire first week. Opening in Australia, the film has made over $1 million over several weeks for a per-screen average of $122,000, which is several thousand dollars more than the per-screen average of Fast Five (Fast Five is, obviously, on more screens). In New Zealand, the per-screen average was $24,000, which was neck in neck with that of Pirates of the Caribbean: On Strangers Tides. Plus, in both those countries, the film was released uncut with an R18 rating. That's not to say it'll get an R-rating here, but, we'll have to see.
Exactly how wide and when will the film open in North America? Well China Lion CEO Milt Barlow said the following:
We're looking at as wide as possible a release for this groundbreaking film in North America and are currently working with our theatrical partners AMC for the US and Toronto, Cineplex for Vancouver and Consolidated in Hawaii. Announcements are expected in the next few weeks.
While it'll most likely be a very limited release, it could be even more limited than usual as few independent theaters are equip for 3D, unlike the multiplexes. It should be interesting to see where 3D Sex and Zen ends up. Would you go check it out?
Here's the trailer for the film, which is directed by Christopher Sun Lap Key and stars Hara Saori, Suo Yukiko and Vonnie Liu.