Watch A Scene From Pixar's WALL-E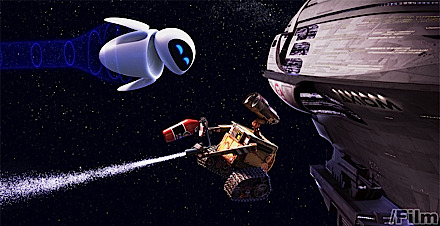 A new video clip from Pixar's WALL-E was shown during ABC's airing of Finding Nemo. The scene involves Eve placing our favorite little trash compacting robot in a shuttle back to earth. But things aren't as they first appear, and WALL-E ends up in explosive situation. Sigourney Weaver makes a cameo as the voice of the space shuttle computer. Thanks to /Film Reader Kevin for sending this us the clip.
Sorry, Disney has asked me to remove the video clip. I'm sure it will turn up on YouTube. You can watch some our previous WALL-E Clips at the following links:
You've seen WALL-E encounter a vacuum, a magnet, a Hula Hoop, headphones and bouncy balls. Disney has just provided us with an exclusive clip of WALL-E's encounter with a Fire Hydrant. Check it out below.
[flv:http://bitcast-a.bitgravity.com/slashfilm/trailers/wallefire.flv 470 260]
WALL-E hits theaters on June 27th 2008.