The Marvels Just Had The Biggest Second Weekend Drop Ever For A Superhero Movie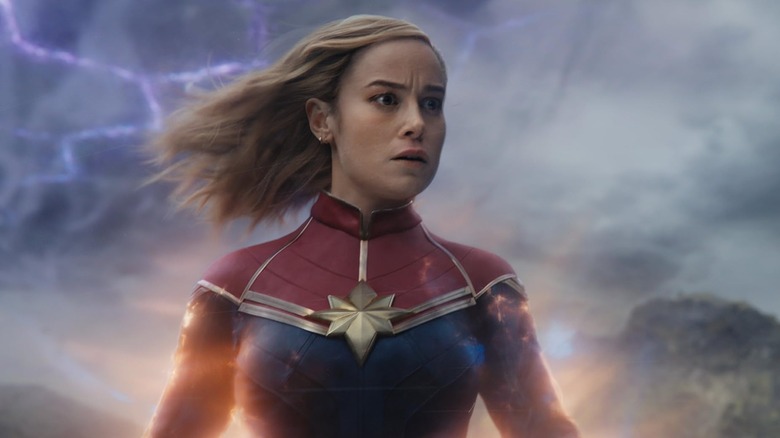 Marvel Studios
The situation with "The Marvels" has gone from bad to record-breaking levels of bad. The latest entry in the Marvel Cinematic Universe opened last weekend to a pretty underwhelming $46.1 million, which represented the smallest opening weekend for any film in the franchise to date. Unfortunately, word of mouth has been shockingly unhelpful for the sequel to 2019's "Captain Marvel" as the film utterly collapsed at the box office in its second weekend, in the process securing a record no comic book movie wants to own.
In its second frame, director Nia DaCosta's "The Marvels" took in just $10.2 million domestically, representing a whopping 78% drop compared to its already rough opening weekend (per The Numbers). That placed it at number four on the charts behind Eli Roth's "Thanksgiving" ($10.3 million), "Trolls Band Together" ($30.6 million), and "The Hunger Games: The Ballad of Songbirds & Snakes" ($44 million). To that end, it didn't help that all of those movies, as well as Taika Waititi's "Next Goal Wins," opened over the weekend, presenting a whole lot of competition.
That 78% drop represents an all-time record for a comic book movie, surpassing "Morbius" (which dropped nearly 74% in its second weekend last year en route to a $162 million global finish). In that case, the only good news was that Sony spent a relatively modest $75 million making it, whereas "The Marvels" has a budget of $220-$250 million. At present, the film has only grossed $161.3 million globally and is fading very, very quickly.
Other historically bad second weekend drops for comic book films include "The Flash" (72.5%), "Dark Phoenix" (71.5%), and "The Suicide Squad" (71.5%). None of those movies ended up turning a profit (not during their theatrical runs, at least). Needless to say, it's not great company to be in.
The MCU is good and truly in trouble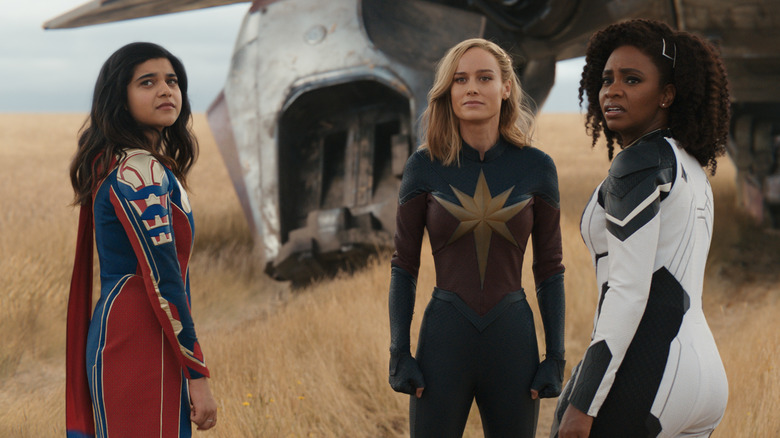 Marvel Studios
There's no point in sugarcoating things, this is a dreadful situation for both Disney and Marvel Studios. It's also an absolute tragedy that it happened to a women-led team-up movie directed by a woman — one that is not a critical disaster by any means (read our review here). "The Marvels" currently holds a 62% critics rating on Rotten Tomatoes to go with an 83% audience rating. But the numbers are what they are, and the MCU is unquestionably in trouble (as are superhero movies in general, but that's a discussion in and of itself).
"Captain Marvel" made a ridiculous $1.12 billion back in 2019 sandwiched between "Avengers: Infinity War" and "Avengers: Endgame" at the height of MCU fever. Nobody could have fairly expected the sequel to match that number, but at this point, "The Marvels" will be very lucky to touch $300 million worldwide. This comes after "Ant-Man and the Wasp: Quantumania" collapsed earlier this year following a massive debut, becoming the lowest-grossing "Ant-Man" film despite having the biggest opening weekend. The only straight-up win for Marvel Studios this year was "Guardians of the Galaxy Vol. 3." But that was the conclusion of a trilogy, meaning the studio can't really build on that success.
Between the many MCU shows on Disney+ fighting for attention, a growing number of these projects (like "Secret Invasion") earning unfavorable reviews, and a change in moviegoing habits following the 2020 lockdowns, the outlook right now is not great. Marvel Studios can no longer operate on a presumed level of success and should probably scale back on both budgets and output for the time being. That's easier said than done, but even Disney can't continue to suffer flops like this.
"The Marvels" is currently playing in theaters.