Robert Eggers Says His Nosferatu Is A Gothic Horror Movie That Will Actually Scare You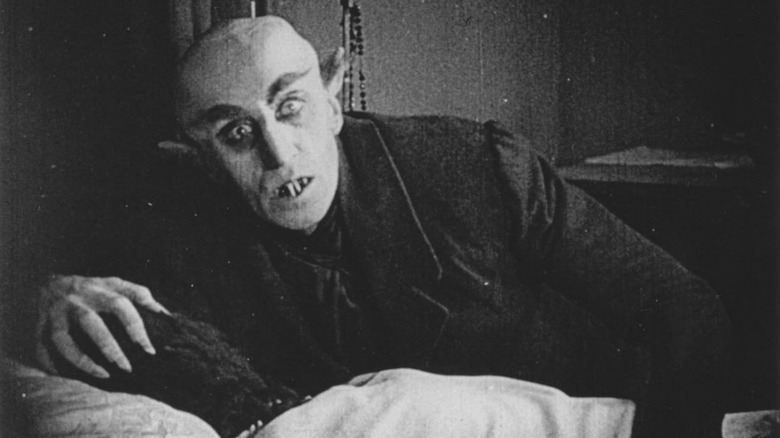 Prana Film
While vampire films have struggled to take a bite out of the box office lately, the patriarch of blood-sucker cinema, "Nosferatu," is coming back to show all those fanged foundlings how it's done. This new re-imagining of F.W. Murnau's officially unauthorized 1922 "Dracula" adaptation "Nosferatu: A Symphony of Horror" (the second of its kind after Werner Herzog's 1979 horror film "Nosferatu the Vampyre") hails from writer/director Robert Eggers — and if the filmmaker is to be believed, this will be a truly terrifying affair to help wipe away the memories of all those lackluster movies about creatures of the night. (Except you, "The Last Voyage of the Demeter," you're alright.)
Eggers made a splash terrorizing audiences with his feature-length debut "The Witch" before helming "The Lighthouse" and "The Northman," both of which are frequently trippy and full of bizarre visuals and ghastly violence but aren't really trying too hard to scare you. (Unless you're like a friend of mine and have weird feelings about mermaid vaginas, which, you know, to each their own.) That won't be the case with "Nosferatu," which Eggers described to Empire Magazine as "a scary film. It's a horror movie. It's a Gothic horror movie." He added: 
"And I do think that there hasn't been an old-school Gothic movie that's actually scary in a while. And I think that the majority of audiences will find this one to be the case."
Recall that Eggers is also the bloke who wrote a scene in "The Witch" where a feral-looking sorceress kidnaps a baby and slices and mashes (!) them up into jelly. If he thinks "Nosferatu" is legitimately creepy, then audiences should hopefully be in for a pretty wild ride.
Just Orlok, Bill Skarsgård is playing another iconic monster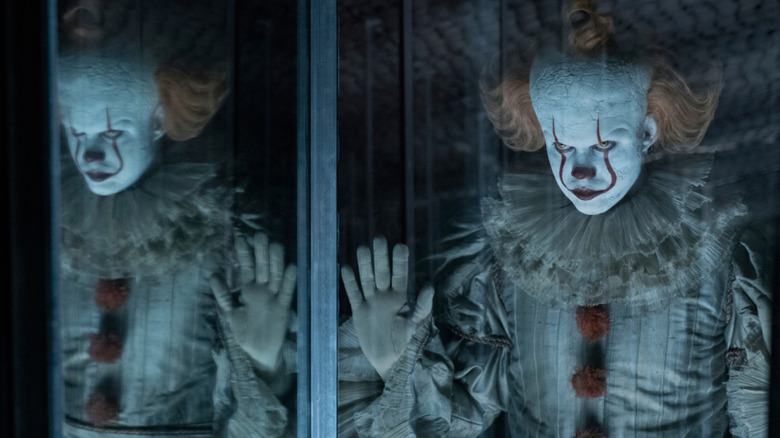 Warner Bros. Pictures
It's not just the "scary" horror elements; where masculinity was a thematic focal point in both "The Lighthouse" and "The Northman," "Nosferatu" will apparently see Eggers returning to the feminine themes of "The Witch." The film stars Lily-Rose Depp as Ellen Hutter, the woman whose husband, the real estate agent assistant (and not so thinly disguised stand-in for Jonathan Harker from "Dracula") Thomas Hutter, encounters the vampiric Count Orlock during a business trip to his castle in Transylvania in Murnau's original silent classic. In this iteration, however, it sounds as though Ellen will get a larger role to play. "It's even more Ellen's story than previous versions," Eggers explained to Empire. "And Lily-Rose is absolutely phenomenal." (Personally, I still wish Anya Taylor-Joy was starring as originally planned, but I'm willing to give Miss Depp a fair shake.)
Meanwhile, Bill Skarsgård is bringing Count Orlock to life in the film, giving him another iconic movie monster notch to add to his belt after his turns as Pennywise in "It" and "It Chapter Two." To hear Eggers tell it, the actor is "honoring who had come before him" in the role while at the same time leaning even harder into the "folk vampire" aspect. "In my opinion, he looks like a dead Transylvanian nobleman, and in a way that we've never actually seen what an actual dead Transylvanian nobleman would look like and be dressed like," Eggers added. After "The Last Voyage of the Demeter" gave us an unconventionally inhuman take on the original Dracula (as played by creature actor specialist Javier Botet), I'm all the more intrigued to watch Skarsgård work his own magic in a similar capacity.
"Nosferatu" will release theatrically at some yet-to-be-announced date in 2024.