Hail Valak! The Nun 2 Defeats Hercule Poirot's Haunting In Venice At The Box Office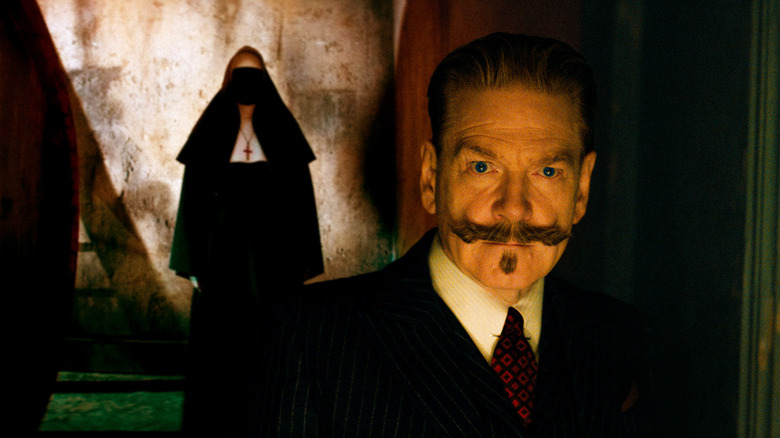 Warner Bros. / 20th Century Studios
It was an extremely tight race at the box office this past weekend, but a winner has emerged. In the end, it was Valak the demon nun besting ace detective Hercule Poirot, as "The Nun II" managed to narrowly defeat "A Haunting in Venice." On one hand, we have a franchise that is now a decade old with absolutely no signs of running out of gas. On the other, we have a series that may well be taking its last gasps.
"The Nun II" pulled in $14.5 million in its second weekend to take the top spot on the charts, per The Numbers. That represents a 55% drop from its $32.6 million debut when the latest entry in The Conjuring Universe dethroned Denzel Washington's "The Equalizer 3." Meanwhile, director Kenneth Branagh's "A Haunting in Venice" had to settle for the silver medal in its debut, taking in $14.3 million. As far as these things go, that's as close as it's ever going to get. These movies were truly neck-and-neck the whole way.
That being said, the only thing that really changes, in terms of the financial realities for either movie, is that Warner Bros. can now advertise that "The Nun II" is still the number one movie in the country for another week. Disney doesn't get to claim that in marketing Branagh's latest Agatha Christie adaptation. Beyond that, it's success for one movie and relative disappointment for another. $200,000 doesn't change the narrative that much for either one.
The Conjuring Universe is undefeated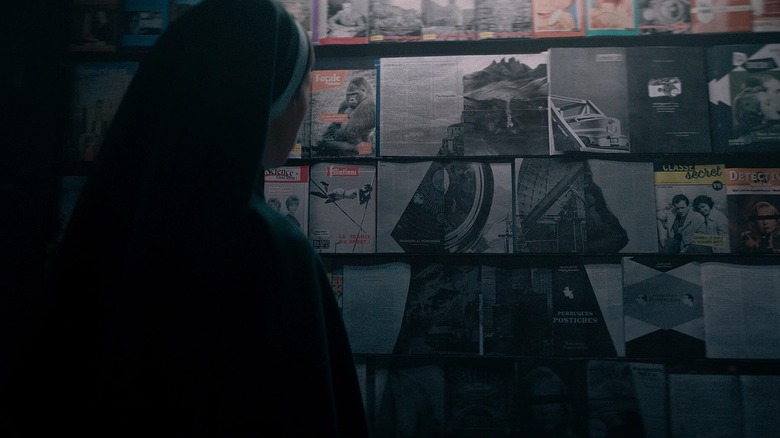 Warner Bros.
With director Michael Chaves' "The Nun II," we're looking at a movie that has now amassed $56.3 million domestically and a massive $102.3 million internationally for a grand total of $158.6 million through two weekends. Is it going to make $365 million worldwide like "The Nun" did back in 2018 when it became the highest-grossing movie in The Conjuring Universe overall? No, it's not. But with a $38.5 million production budget, this is going to be an unquestionable win for Warner Bros. Not only that but "The Nun" dropped 66.1% in its second weekend. The sequel held better in its second frame.
Even if the movie falls off a cliff in the coming weeks, it should easily get to $250 worldwide when all's said and done. That would be around 6.5 times the production budget. Even when accounting for marketing, that's a very profitable movie. And if the movie just flat-out collapsed and only finished with around $200 million, it would still be the kind of hit that any studio in Hollywood would kill to have. That's pretty much been the story of this franchise since the very beginning.
James Wan's "The Conjuring" became a critically respected smash hit back in 2013, taking in $319.4 million worldwide against a mere $20 million budget. Now, here we are, eight movies in (not counting "The Curse of La Llorona") and the franchise has made more than $2 billion worldwide all while none of the movies have cost more than $40 million to produce. Outside of the Marvel Cinematic Universe, this is the most successful cinematic universe out there. Audiences are continuing to show up, and you can be the brass at Warner Bros. intends to keep this money train moving.
Is Kenneth Branagh going to retire his Hercule Poirot?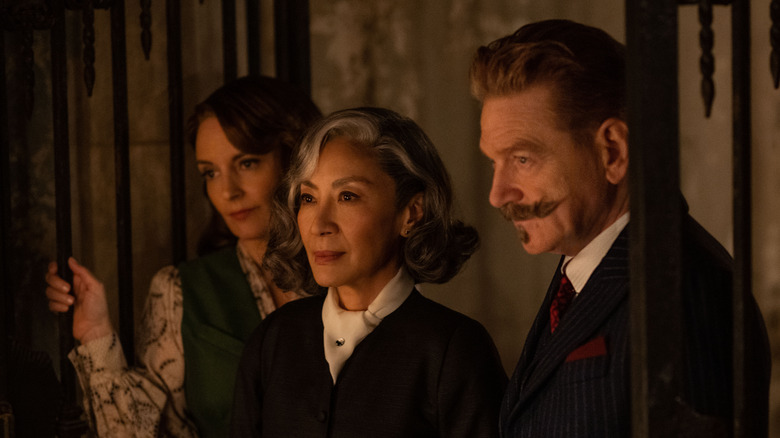 20th Century Studios
On the other side of the coin, we must look at "A Haunting in Venice" and what this means for Branagh's Hercule Poirot franchise. This whole thing started back in 2017 with the surprisingly successful "Murder on the Orient Express," which took in $351 million worldwide against a reasonable $55 million budget. But that was back when the movies were set up at 20th Century Fox before the Disney acquisition. Things got messy after that deal was done.
2022's "Death on the Nile" was not only caught up in the merger but was delayed several times, in part due to the pandemic but also the sexual misconduct accusations against star Armie Hammer. As a result, the $90 million film topped out at just $130.2 million globally. Be that as it may, Disney was incredibly quick to give the green light to "Venice," which has more of a horror-first story and a stacked A-list cast, led by Michelle Yeoh and Tina Fey. This implies that A) "Nile" did exceedingly well on streaming and VOD, and/or B) Disney had faith in a third Christie adaptation from Branagh under the right conditions.
In fairness, Disney and Branagh wisely brought the budget down for "Venice" to $60 million. What's more, like Branagh's other Christie adaptations before it, the film did even better overseas in its debut, taking in $22.7 million for a $37 million global start. Still, even if it finishes above "Death" — say with around $140 million worldwide — that's right on the edge of decent for a movie at this budget level.
That being the case, it may just be time for Branagh and Disney to move on from Poirot for now. This latest entry may not be a disaster but it's clear these films aren't going to recapture the magic that "Murder on the Orient Express" did six years ago. Times have changed.
"The Nun II" and "A Haunting in Venice" are in theaters now.