Massive Movie Prop Auction Includes Life-Sized Batpod, Princess Leia's Dress, And More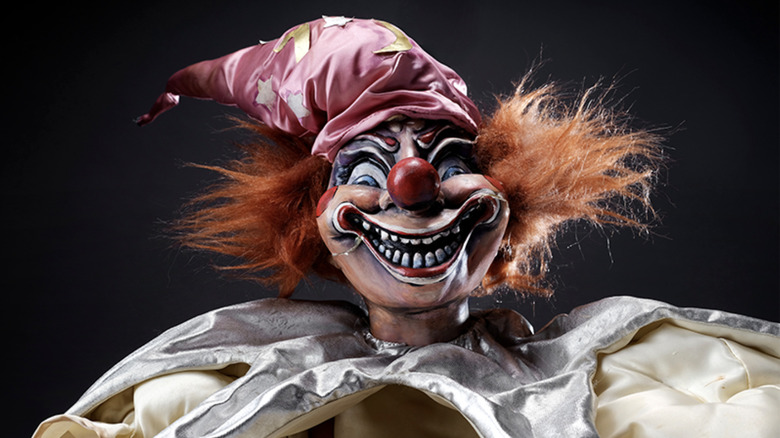 Prop Store
If there's anything that makes me hope and wish and pray to win the Powerball, it's a good movie prop auction. I'm not a fancy car guy and first class is nice and all, but I know myself well enough to know my capitalist vices. If I ever had millions in the bank, the temptation to spend ridiculous amounts of money on pieces of movie history would be too much to ignore, especially when it comes to the heavily nostalgic stuff that comes up for auction from time to time. There is not a single person of my general age that wasn't traumatized by that damn clown from "Poltergeist," for instance, and for the price of a brand new house you can own it for real!
Prop Store is on the verge of launching their next big auction and they're bringing some major memorabilia to the highest bidder. We're talking "Star Wars," "The Dark Knight," "Guardians of the Galaxy," "Friday the 13th," "Harry Potter" and everything in-between. And they're not just selling random props, no one cares about either. No, they're auctioning off some of the most iconic costumes, helmets, and, yes, creepy dolls in movie history.
Movie history in the palm of your hand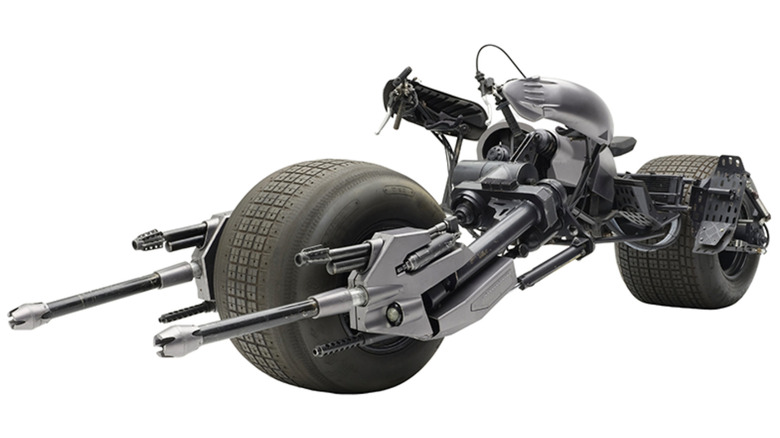 Prop Store
One of the most fascinating things about these prop auctions is they'll go from something small, like Kevin Costner's baseball glove from "Field of Dreams" or Tim Robbins' rock hammer from "The Shawshank Redemption" to the actual, full-sized Batpod that Christian Bale (and his stunt performer) drove in "The Dark Knight." 
This upcoming massive auction will have an estimated 1,400 pieces of movie history up for bidding. There'll be some things that will sell in what could be considered an affordable range (a couple thousand or less) for someone with some savings burning a hole in their pocket, but the big ticket items are expected to fetch hundreds of thousands, if not millions, of dollars.
The Batpod is estimated to sell for $2 million or more, as is Princess Leia's ceremonial dress from the final scene in the original 1977 "Star Wars." Also up for sale is Star-Lord's helmet from the first "Guardians of the Galaxy", which comes complete with light-up LEDs and is estimated to go for somewhere between $100,000 and $200,000.
That super evil "Poltergeist" clown? Well, you'll need to drop $200,000-$400,000 if you want to put that in your kid's bedroom and never win the award for Parent of the Year.
These are a few of my favorite 'Things'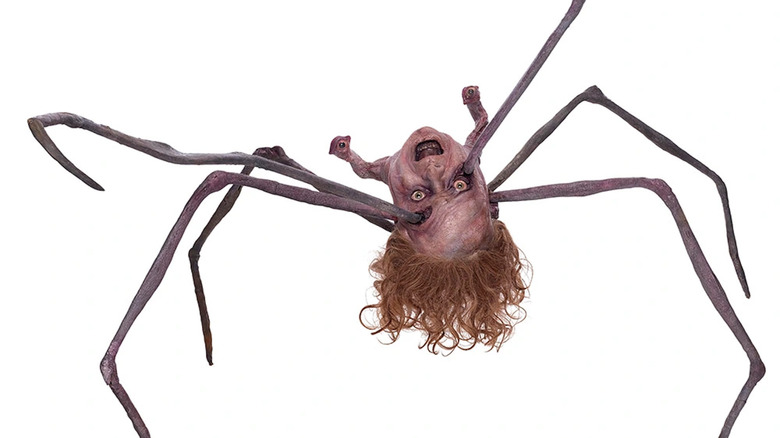 Prop Store
One of the niftier items previewed by PropStore is this Norris-Thing head from "John Carpenter's The Thing" created by makeup effects legend Rob Bottin. Sometimes props can look goofy in person. These things are made to look good when properly lit and photographed by a professional, but this "Thing" head is even creepier than it appears in the movie.
I myself collect original art and love keeping tabs on these auctions for the original paintings that were made for movie poster art back in the day, but even though those aren't as sought after as, say, Brad Pitt's shield from "Troy" I do tend to attend most of the auctions purely as a window shopper.
This Prop Store auction will have live online bidding going from June 28-30, 2023. You can sign up to bid at their website and also view their preview items. The full catalogue should be available in about a week, but their show-off pieces can be perused now. 
Now if you'll excuse me, I'm going to go rob a bank because I must buy that "Poltergeist" doll and that auction date is coming up really quickly.