The Bat-Pod And Tumbler From 'The Dark Knight Rises' Coming To Your Town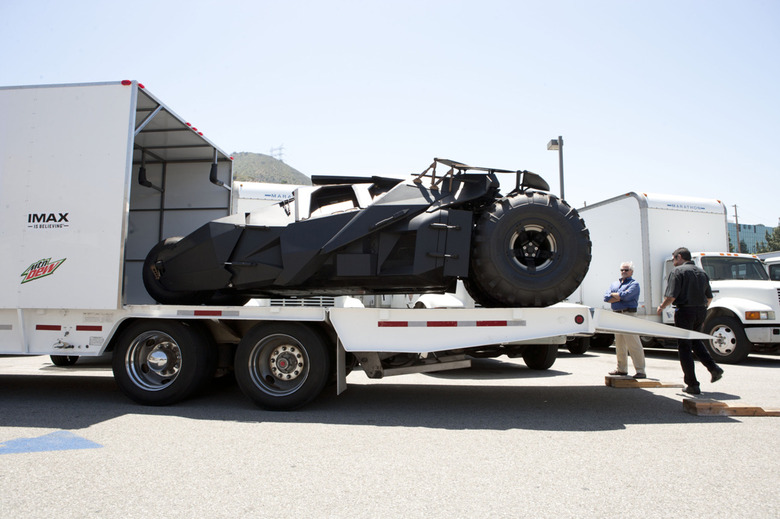 In anticipation of The Dark Knight Rises, two of Batman's most trusty modes of transportation will be traveling across the country for fans to drool over. The Tumbler and Bat-Pod from Christopher Nolan's The Dark Knight and The Dark Knight Rises have hit the road and will be making stops all across the country from May 12 through July 7. After the jump, check out some images and get the full rundown of when and where these iconic vehicles will be stopping.
Here are some images from www.tumblertour.com of the event gearing up.
You can get updates on that site or by following the Facebook or Twitter. In fact, you'll have to to see if dates are added and specific locations in each city. For now, though, here is the tentative schedule.
Bentonville, Arkansas May 12
Tulsa, Oklahoma May 15
Overland Park, Kansas May 19
Kansas City, Missouri May 21
Chicago, Illinois May 25
Washington, DC May 27
Baltimore, Maryland May 28
Philadelphia, Pennsylvania May 30
Buffalo, New York June 1
Toronto, Canada June 7
Montreal, Canada June 10
Purchase, New York June 12
Columbus, Ohio June 13
Lansing, Michigan June 15
Detroit, Michigan June 16
Brooklyn, Michigan June 17
Indianapolis, Indiana June 19
Nashville, Tennessee June 21
Knoxville, Tennessee June 22
Atlanta, Georgia June 23
Dallas, Texas June 25
San Antonio, Texas June 27
El Paso, Texas June 29
Albuquerque, New Mexico July 1
Phoenix, Arizona July 2
Los Angeles, California July 7
Notices how they'll be in LA on July 7, exactly five days before San Diego Comic-Con. I mean, SDCC seems like the no-brainer place to end the tour right?
Is the Tumbler Tour coming to your town? Will you seek it out and get a photo? Am I the only one disappointed The Bat isn't on the tour?