Aaaaaaay! Henry Winkler Is Auctioning His Original Fonzie Jacket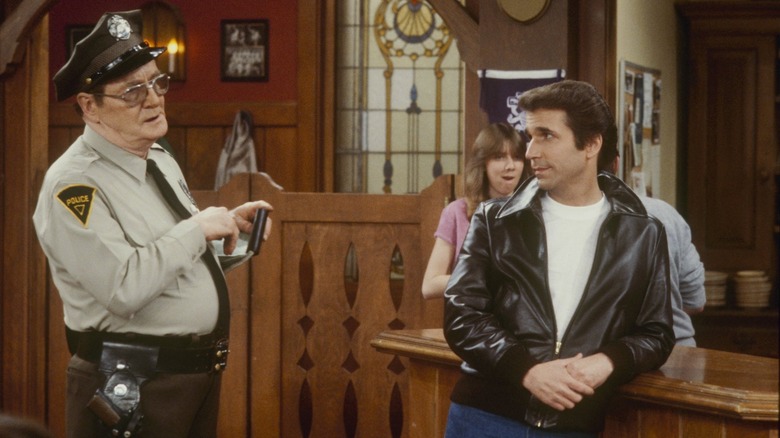 CBS Television Distribution
Originally meant to be a secondary character on the hit show "Happy Days," fans loved Henry Winkler's Arthur "Fonzie" Fonzarelli so much, he became a lead alongside Ron Howard's Richie Cunningham. Fonzie became the de facto "cool guy" character on television with Winkler coining catchphrases, signature hand gestures, and an iconic greaser look that is still referenced even today. Now, over four decades later, Winkler is auctioning off legendary pieces of Fonzie's costume at the Bonhams Los Angeles' TCM sale.
One of Fonzie's jackets was donated to the Smithsonian in 1980, but Winkler has had one of Fonzie's trademark dark brown leather jackets in his personal possession since the show's end. On November 7, 2021, Winkler will be auctioning off an original full Fonzie costume featuring the jacket, pair of denim blue jeans, a white T-shirt, and biker boots. The entire outfit is worth an estimated value of $50,000 to $70,000 and is being auctioned off in support of This is About Humanity, a non-profit co-founded by daughter Zoe Winkler to help children separated from their parents at the border. The Fonzie costume is part of the 26-lot Henry Winkler Collection featured in the auction.
He's Also Selling an Original Ghostface Mask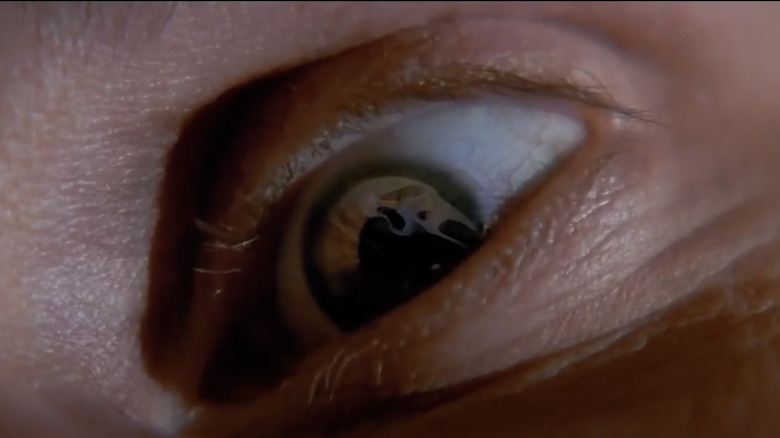 Dimension Films
According to an interview with The Hollywood Reporter, Winkler notes that part of the motivation to auction off the items was finding boxes of memorabilia while spring cleaning during the pandemic. "I found 27 boxes and those boxes were filled with memorabilia from "Happy Days" to "The Waterboy" to "Scream," he said. "Those boxes contained everything from T-shirt and hat collections to the book that I held on the sidelines in "The Waterboy" for making plays." Part of Winkler's collection also contains an original Ghostface mask from 1996's "Scream" with an estimated worth of $20,000 to $30,000. He's also selling a pair of the mechanic overalls he wore on "Happy Days," a jacket worn in "Night Shift," and a pair of cowboy boots worn both in the film "The Lords of Flatbush" and again as Fonzie.
As far as the jackets are concerned, Winkler told THR that he only knows of five other jackets in existence: one in the Smithsonian, one that was stolen from the costume department at Paramount, one that had the lining removed when Fonzie "jumped the shark" water-skiing on "Happy Days," and two that belonged to show creator Garry Marshall before his death. Winkler himself is in possession of two Fonzie jackets, keeping one and auctioning off the other.
A Sentimental King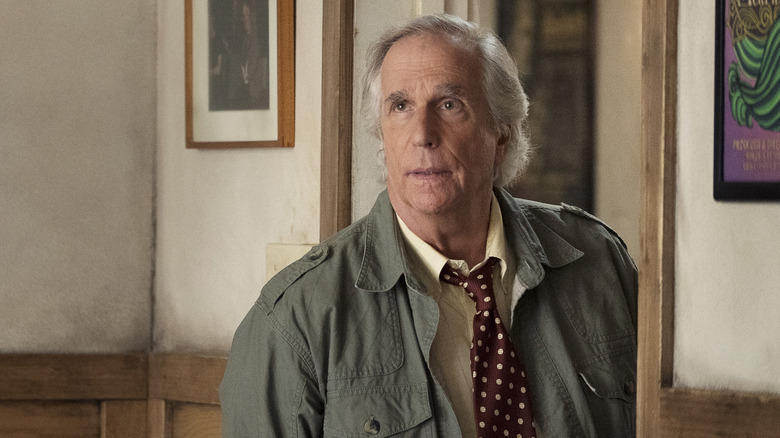 HBO
Winkler has been holding on to a lot of mementos from his career, telling THR:
I realized I honestly am a hoarder. I save everything, thinking it is eventually going to be useful or important. I mean, I'm talking about jewelry boxes. Little boxes of different sizes, kind of stacked like a Russian doll, and I have saved them for 40 years thinking I'm going to give somebody a gift that is going to be this big, and I will have the box to put it in. Except I never found the gift to actually put in the box.
He's actioning off plenty of landmark items, but admitted there are things he's still keeping, like a set of "Happy Days" trading cards still in the factory wrapped cellophane, a rubber alien head from the show "Sightings," every political pin he got in his adult life, an unopened box of M&Ms from entering Air Force One (but not flying on it), and a pop-top can of fresh air from Winnipeg, Canada. His sentimentality also extends to his current projects, where he confessed that he wears one of Garry Marshall's personal ties as part of his costuming on HBO's "Barry," which is currently filming its third season.