Spider-Man 2 Video Game Trailer Teases Peter Parker's Symbiote Suit, Kraven The Hunter, And More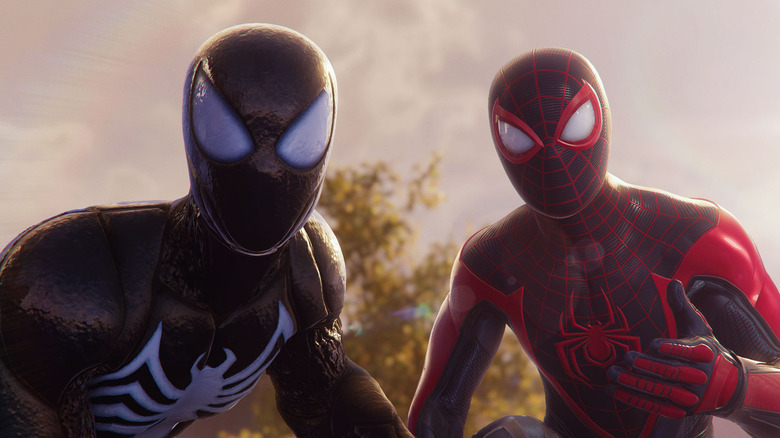 Sony
Marvel's "Spider-Man" was not merely a great superhero video game, it was one of the best games of any kind in recent memory. Sony kept fans waiting a long time for a sequel, which was formally announced in late 2021 and promised to feature Venom, voiced by none other than Candyman himself, Tony Todd. Now, many months later, the curtain has been pulled back and we were treated to a whopping 12 minutes worth of gameplay during today's PlayStation Showcase. In short, it looks like it's going to be well worth the wait.
I only had the chance to play the first "Spider-Man" game late last year once I got my Steam Deck, since the game was finally made available for PC. But this massive gameplay trailer looks like it's going to deliver more of the same, albeit with quite a few next-gen upgrades for the PlayStation 5 era, including impressive graphics, even better cinematic cutscenes, and improved mechanics. At the same time, it very much looks like a continuation of everything that worked the first time around. If it ain't broke...
Aside from revealing some key villains (we'll get to that), we also get a lot more of the dynamic between Peter Parker and Miles Morales, looking like a true team-up game, with the player switching between the two to help make the gameplay and story work seamlessly together. It's all very impressive.
The first spectacular Spider-Man 2 gameplay footage
The big reveal right up front is that Kraven the Hunter is, indeed, going to be involved in the sequel alongside Venom. Maybe that has something to do with the fact that the "Kraven the Hunter" movie is coming soon. Or maybe it's just because Kraven is one of Spidey's all-time greatest villains. Either way, it looks like a great representation of the character, even though we only get a small dose of him.
Most of this epic footage is focused on a big action sequence where Peter and Miles tag-team an attack in New York City involving none other than Lizard, who looks like an absolute unit. They made him borderline dinosaur-sized, making for a very imposing foe. One of the other big things is that Peter is donning the symbiote suit, seemingly before the Venom of it all comes into play. As such, Peter has an aggression about him that is rather unusual, and Miles takes notice.
Some other interesting tidbits are dropped, such as Peter saying "Harry's dying," indicating that Harry Osborn is going to be involved this time around. Does that mean we're also going to get to Norman Osborn? More importantly, does it mean that we're also going to get some Green Goblin action? Whatever the case, this all plays like a cinematic version of "Spider-Man" that doubles as an interactive experience. Much like the first game, this appears to be a perfect distillation of just about everything that makes Spider-Man great.
Villains upon villains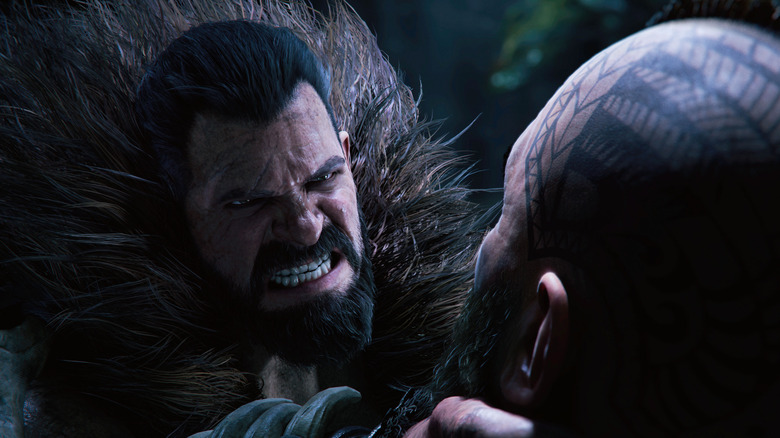 Sony
One of the big takeaways from the footage is that there won't be one villain players will need to contend with. As was the case in the first game, Sony is going to be pulling from every corner of Spidey's rogues gallery to make for a jam-packed experience. Venom wasn't enough — they're pulling out all the stops. Adding Kraven the Hunter and Lizard into the mix, not to mention the villains we don't even know about yet, should make this one heck of a follow-up.
Perhaps lost in the many minutes of gameplay footage for Marvel fans is the fact that a "Wolverine" game was also announced in September 2021. Yet, we haven't heard a thing about it since. One might have thought a teaser for that game would have been included in this showcase as well. Alas, we'll just have to make do with this hulking preview of what's to come with the webslinger later this year.
"Spider-Man 2" arrives this fall, but no official release date has been announced as of yet. Stay tuned.