Reacher's Showrunner Explains Why We Wont See Finlay Or Roscoe In Season 2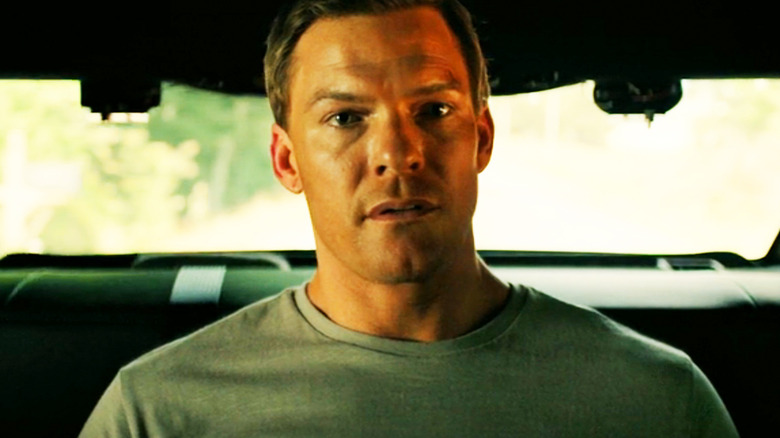 Prime Video
Amazon's "Reacher" series proved a bigger hit than even the streamer was expecting, breaking Prime video records and topping the Nielson streaming chart for the week of its release. After two movies based on Lee Child's novels had proven successful enough but failed to wow fans of the books, Alan Ritchson's Jack Reacher proved to be a much more book-accurate representation of the former military policeman.
Amazon quickly greenlit "Reacher" season 2, which should debut fairly soon considering filming wrapped back in February. But when the series does return, we can expect things to be a whole lot different. Showrunner Nick Santora has spoken about his intention to keep the series as close to Child's original novels as possible, and if the first season is anything to go by, that's a winning formula. But it also means the show will be much more of an anthology series than anything else.
Child wrote his former army man as a traveling hero who wanders the US and seems to uncover trouble wherever he visits. Alan Ritchson's upbringing as the son of a military man helped him tap into the itinerant lifestyle of Jack Reacher, which will see the hulking protagonist move on to a new location in season 2. Unfortunately, many have feared that will mean we're unlikely to see some of the other standout characters from season 1 show up next time around. And Santora recently confirmed as much.
'We have to be honest to the book series'
Prime Video
Season 1 saw Alan Ritchson's Reacher arrive in the town of Margrave, Georgia where he teamed up with Willa Fitzgerald's police officer Roscoe Conklin and Malcolm Goodwin's police captain Oscar Finlay to uncover a sinister conspiracy at the heart of the town. By the end of the eight episodes, Roscoe and Reacher had gotten very close, suggesting the start of an ongoing relationship, while Finlay and Reacher had bonded after initially coming to blows.
But with Finlay deciding to move back to Boston in the final episode and Roscoe remaining in Margrave as Reacher hitchhikes his way out, neither character was ever likely to show up in season 2. And now Nick Santora has confirmed it. Speaking to Collider, he said:
"I love the characters of Finlay and Roscoe. If there was a way to organically have them somehow pop in once in a while into Reacher's life, wonderful. But we're not gonna force anything and we're not gonna do anything that messes up the lore of Reacher. Reacher can't run around the country with his rag-tag team of crime fighters. That's not Jack Reacher. I know, for a fact, that Lee Child would say, 'Nope,' and I would say nope too. We have to be honest to the book series."
That book series has seen Reacher visit a new place with every novel. And with season 2 confirmed as adapting the book "Bad Luck And Trouble," and news that the show cast several actors as NYPD cops, you can expect Ritchson's bulky bruiser to show up in the Big Apple next time around — leaving little room for his old pals to return.
Fans want what they want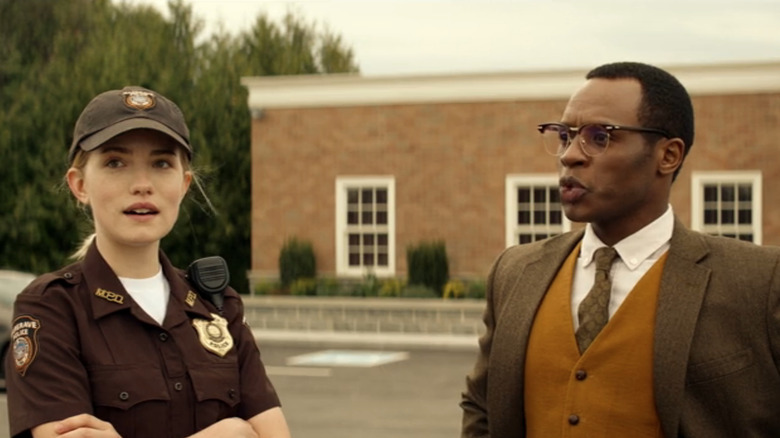 Prime Video
If there's anything the success of "Reacher" season 1 shows, it's that fans of Lee Child's books know what they want. There was a reason that after two films as Jack Reacher, Tom Cruise didn't play him in "Reacher." And that reason was as simple as Lee Child wanting to meet fan demands. As the author told Reader's Digest, "I love Tom Cruise, I think he's a great actor and he's certainly a great guy [...] but ultimately the readers felt he was not an accurate representation of Reacher and I've got to defer to the readers."
And defer to the readers he did. Child, who's an executive producer on "Reacher," ensured the TV series was fronted by someone who could convincingly play the, "huge hulking scary brute" he'd originally envisioned. That started the tradition of "Reacher" sticking closely to the books, ultimately resulting in a series that was extra familiar to fans.
Unfortunately for fans of Roscoe and Finlay, with each new season adapting a different book, it's unlikely we'll see much in the way of returning characters. The whole point of the Jack Reacher novels is that they're a modern take on the western trope of a mysterious stranger coming to a new town, shaking things up, and facing down whatever sinister forces await. And that has thus far left little room for a consistent cast of supporting characters.
We do know that Reacher's pal and former Army comrade Frances Neagley (Maria Sten) will be back for season 2, but beyond that, there'll be a whole new supporting cast. However, considering Child has paid such close attention to fan demands, perhaps if there's enough of an outcry among viewers, we might well see the return of Roscoe and Finlay in future seasons.