Ant-Man 3 Takes Another Huge Dive At The Box Office And That's Bad News For Marvel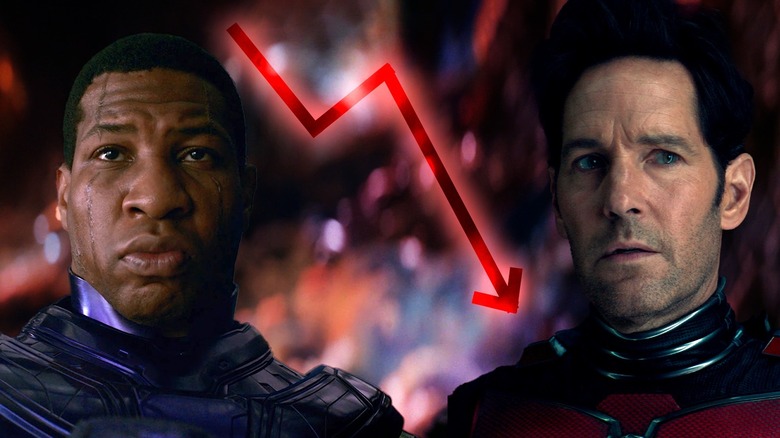 Marvel Studios
It's amazing how much a narrative can change in just two weeks. "Ant-Man and the Wasp: Quntumania" debuted with a record-setting $106 million on its opening weekend, a franchise-best for "Ant-Man" and yet another win for the Marvel Cinematic Universe. This being the first film in Phase 5 of the MCU, which is all leading to "Avengers: The Kang Dynasty" and "Avengers: Secret Wars," it was really important for Marvel Studios and Disney that this film performed well. So hey, it looked good out of the gate, despite the very mixed critical response (read our spoiler review here). Unfortunately, the long-term outlook is looking not-so-great and one has to wonder what that might mean in the grand scheme of things.
In its third weekend, "Quantumania" lost handily to "Creed III" and took in a mere $12.5 million. That represents a 61% drop week-to-week, which is particularly bad news given that director Peyton Reed's latest also suffered a huge drop just shy of 70% in its second weekend, marking the worst second weekend drop for an MCU movie ever. It was also one of the worst for a blockbuster movie of any kind in history. Unfortunately, things are not improving and the outlook, as a result, has become a little ugly.
"Quantumania," which has earned $419.5 million globally to date, is now expected to finish somewhere around $500 million worldwide (perhaps less), which would make it the lowest-grossing entry in the franchise despite having the largest opening weekend. For context, "Ant-Man" earned $518 million worldwide, while "Ant-Man and the Wasp" finished with $623 million. And this movie was advertised as an Avengers-level event, with Jonathan Majors' Kang sold as the next Thanos-level threat. That only went so far.
Little hero, big problem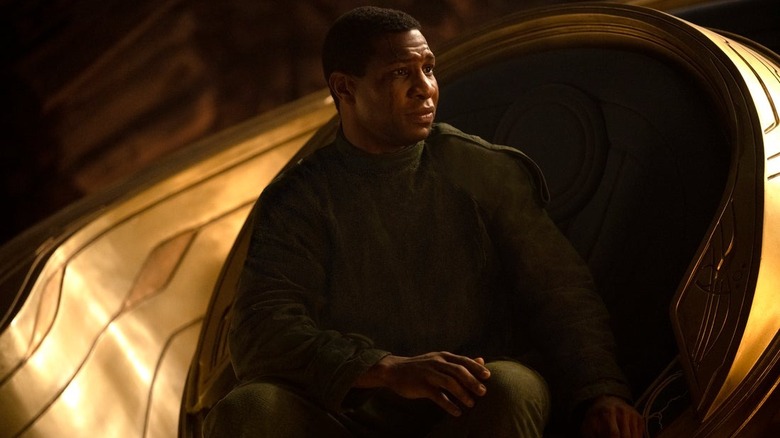 Marvel Studios
The first problem that Marvel needs to contend with is the fact that these big drops are becoming more common for their films, with Phase 4 movies averaging 64.3% drops in their second weekends, compared to 55.2% in Phase 3. That seems to coincide with the increase in live-action MCU shows on Disney+ (several of which have been met with a mixed critical response), as well as a relative decline in critical reception. "Eternals" also suffered very mixed-to-negative reviews, while the reception for "Thor: Love and Thunder" was nowhere near as warm as it had been for "Thor: Ragnarok." Though not apocalyptic, things are trending downward.
This is particularly problematic for "Ant-Man and the Wasp: Quantumania," as Marvel took a big bet on Paul Rudd's well-liked hero by letting him kick off Phase 5, while introducing the world at large to Kang. This is not a Thanos situation where he makes a small cameo until ultimately getting a lead role in "Infinity War." Majors has a huge role in this film as one of the leads. Sure, plenty of people will probably watch this movie on Disney+, just as they did with "Eternals," but casual MCU fans will run the risk of starting to fall behind and, if things continue this way, just simply not caring about the larger narrative come time for "Kang Dynasty."
This may sound like I'm hitting the panic button, but I'm certainly not, at least not yet. But the downward trend cannot be ignored and these massive, consecutive drops for "Quantumania" confirm definitively that the MCU is not as bulletproof with general audiences as it was before "Avengers: Endgame" and the pandemic. Now? More and more casual moviegoers are willing to skip entries such as this, even if they are marketed as important or game-changing.
Marvel's $200 million budget conundrum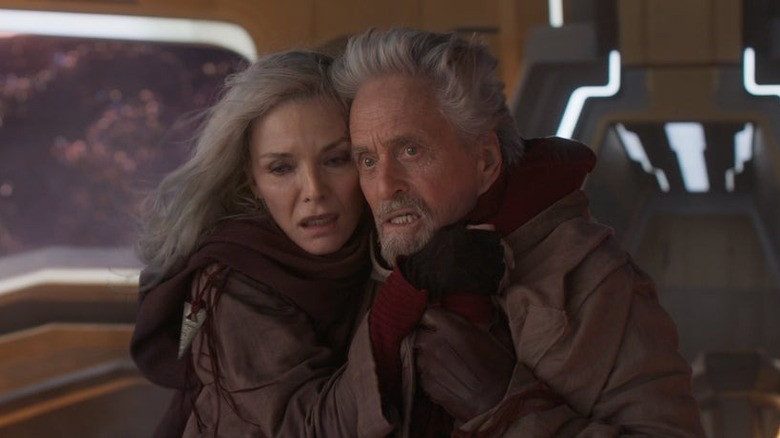 Marvel Studios
The biggest of big problems here is that $200 million has all but become the standard for MCU films as of late. Granted, these movies have always had big budgets of $130 million or more, but it appears to be less of a case-by-case basis now and, post-"Endgame," the starting price is $200 million before marketing. A big reason the earlier "Ant-Man" movies succeeded is that they were allowed to be smaller in scale (relative to the rest of the MCU) and were budgeted accordingly. "Quantumania" is in the $200 million range and, that being the case, it needed to make more money, not less.
Granted, after two successful movies and the huge numbers put up by "Endgame," it seemed fair to give Reed, Rudd, and the rest of the cast a shot at a larger adventure. It just didn't pan out and, in the end, it's probably not going to turn a profit in its theatrical run. This is something that Marvel Studios and Disney need to take a good hard look at when it comes to future MCU productions. Can "Blade" justify a $200 million budget? What about "Fantastic Four," a reboot of a franchise that has really never worked on a massive scale? These are important questions that need to be considered sooner rather than later, particularly with the downward trend.
Part of that has to do with the fact that China is not bringing in the box office dollars the way it once was, and Russia is pretty much off the table in light of current events. That means the box office prospects for pretty much every Marvel movie are somewhat diminished, and therefore a bigger budget comes with an even bigger risk. Can Marvel afford that risk right now? It's starting to look less and less like the answer is yes.