An Animated Batman Beyond Movie May Have Been In Development At WB As An Answer To Spider-Verse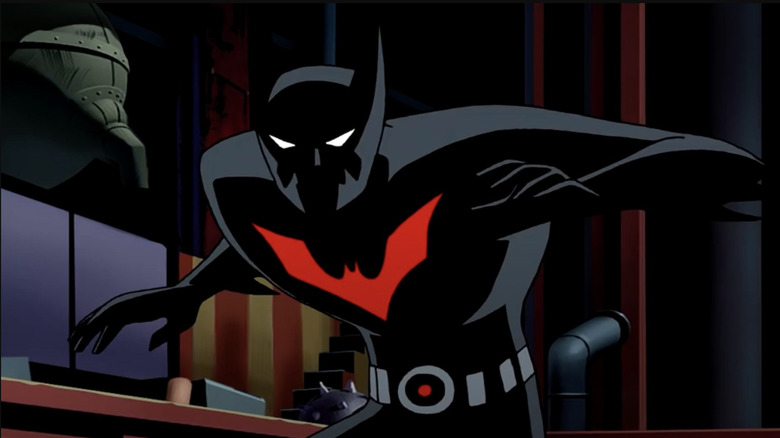 Warner Bros. Animation
DC films as we know it has been undergoing a full-scale creative overhaul, as has been reported in recent months. With James Gunn and Peter Safran now running the show at the newly-minted DC Studios, changes are afoot in a big way and that inevitably means that certain plans were pushed aside to make way for their exciting new chapter. We saw that spill out in extremely messy fashion with the underperformance and bizarre behind-the-scenes power struggle of Dwayne Johnson's passion project "Black Adam" and with the almost-completed "Batgirl" ending up shelved completely. Now, we're getting more reports of one fan-favorite storyline that, at one point, could've potentially made it to the big screen.
On his podcast The Hot Mic (via Heroic Hollywood), reporter Jeff Sneider indicated that plans were once in motion for a new take on a "Batman Beyond" movie. Intriguingly, this project wouldn't have been the same as the live-action "Batman Beyond" movie in the works, but an animated film that would have come in direct response to the success of Sony's "Spider-Man: Into the Spider-Verse." According to Sneider:
"The following project was commissioned by [former DC Films President] Walter Hamada. It was, as far as I know, never reported. As of this minute, the project is in development at DC ... Daniel Casey, the writer of 'Fast 9,' wrote a 'Batman Beyond' movie, but the catch wasn't that it was live-action, because that was what Christina Hodson was working on. It was an animated 'Batman Beyond,' to be DC's answer to 'Into the Spider-Verse.'"
What could have been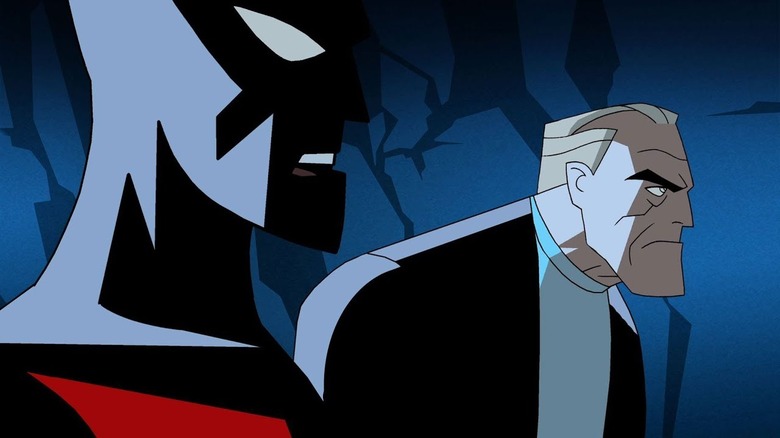 Warner Bros. Animation
DC fans know that one of the most seminal stories relates to Bruce Wayne in his older years, who's now mentoring a much younger Batman in the form of Terry McGinnis. The classic story, created by Paul Dini, Bruce Timm, and Alan Burnett, came about as a sequel to the beloved "Batman: The Animated Series" in 1999, gaining a cult following over the years until the current status of being considered one of the foremost DC stories ever told. In that light, it's not terribly surprising that Warner Bros. would have considered entering production on multiple versions of "Batman Beyond" — but especially in animated form, given the boost provided by "Into the Spider-Verse."
According to this report, screenwriter Daniel Casey would have stepped up to put his own spin on the well-known premise, having recently penned the script for the high-octane "Fast and Furious" sequel "F9: The Fast Saga." There's no telling what other filmmakers would've been involved or exactly how this project would've differentiated itself from either Christina Hodson's live-action take on "Batman Beyond" or even the well-received animated series. While Sneider's phrasing seems to indicate that it hasn't been totally axed as of yet, it would seem likely that this was another project that ended up on the cutting room floor after Gunn and Safran took over and began the process of unifying the disparate elements of DC films in various stages of development. Not to mention, Kevin Conroy, the longtime voice-over performer of Batman and Bruce Wayne, tragically passed away in 2022.
The future of both animated and live-action DC may be brighter than ever, but this serves as another reminder of the tough choices made along the way.