Jeremy Strong Never Drops Character On Succession, Brian Cox Wishes He'd Stop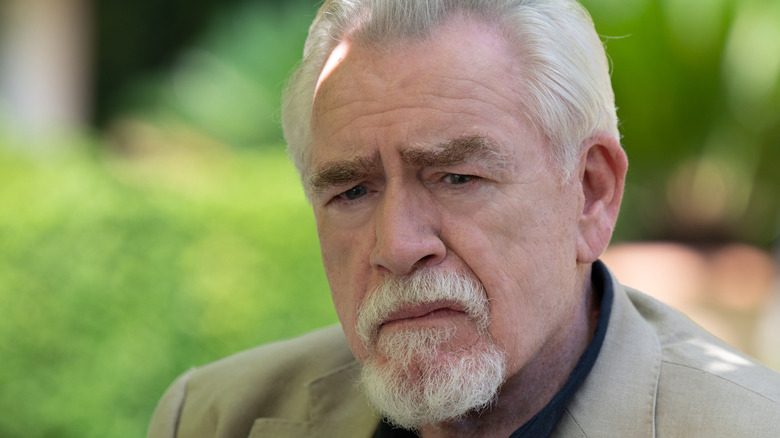 HBO
Actor Brian Cox has a big personality and a lot of opinions, and he's never afraid to share them. The veteran performer recently did a profile with Town and Country Magazine and dished on his career, his love for his "Succession" character Logan Roy, and his co-stars. When talking about Jeremy Strong, who plays Logan's son Kendall on the hit HBO series, he had some kind words but also chastised the actor's dedication to method acting. Cox is a classically trained actor who has starred in dozens of films and television shows, but he doesn't have a lot of patience for actors who stay in-character after the cameras stop rolling. 
Method acting, developed by Russian theater director Konstantin Stanislavski around the turn of the 20th century, is a way to help actors get in the mindset of their characters and emote more convincingly. When used right, it can be an effective tool in an actor's arsenal, but some actors also use it to behave ridiculously on set and beyond. Strong has spoken about his appreciation for method at length and often stays in character as Kendall between takes, which bothers the curmudgeonly Cox. It's not just annoying, but he also feels like it's a hindrance to Strong's acting capabilities. Lots of actors have weighed in on method over the years, but Cox's take is surprisingly nuanced (and characteristically vulgar). If only Logan could believe in Kendall in the same way ... 
Imagine working with Kendall Roy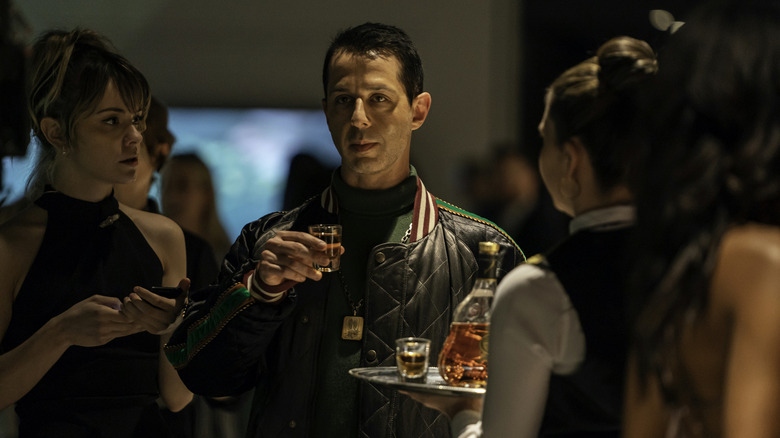 HBO
Cox describes working with someone who is always in character as "f****** annoying," but explains that the rest of the cast tolerates it as well and it's not just a matter of being annoyed by working with Kendall Roy instead of Jeremy Strong — he also thinks that method acting is just silly, basically. He recalled a 2009 video where he taught Hamlet's "To be or not to be" soliloquy to a toddler, which he believes proves that acting is an innate ability and not "a big f****** religious experience" and that Strong doesn't need to stay in character to do his job well.
"He's still that guy, because he feels if he went somewhere else he'd lose it. But he won't! Strong is talented. He's f****** gifted. When you've got the gift, celebrate the gift. Go back to your trailer and have a hit of marijuana, you know?"
While that's not exactly the kind of fatherly advice I can imagine Logan giving to Kendall, it might not be terrible advice for Strong, who seems to take his work exceptionally seriously. It can't be healthy to stay in the mindset of a character as traumatized and conflicted as Kendall for any amount of time, no matter how good a performance it helps to create. 
A healthy work-life balance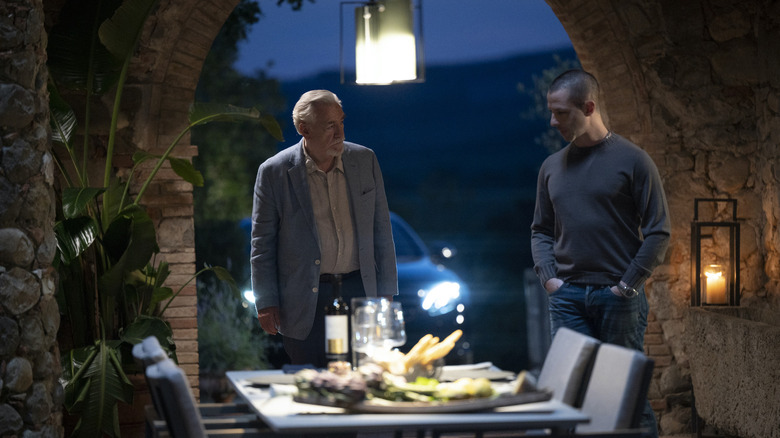 HBO
"Succession" season 4 is on its way and looks to be the most intense family drama yet, which means that Strong probably put himself through the ringer in order to bring Kendall to life. The second-oldest Roy son is perpetually troubled, dealing with substance abuse issues, serious distance from his ex-wife and kids, and a whole mess of trauma. He had a bit of a meltdown at the end of season 3 and was surprisingly comforted by his siblings Siobhan (Sarah Snook) and Roman (Kieran Culkin), setting the siblings up for a serious showdown with their pops. While that can't be great for Strong's personal well-being, it's probably pretty great when it comes to helping the rest of the cast get appropriately annoyed with the character of Kendall, at least? 
Method acting can be kind of tricky, because when it's used right, it can really be a helpful tool. Unfortunately, too many actors, including Strong, seem to take it a step too far and it can be detrimental to both themselves and the people they work with. Then again, maybe Cox should just count himself fortunate that notorious method actor Jared Leto isn't showing up in season 4. 
"Succession" and the Roys will return to HBO on March 26, 2023.