Brie Larson Is Returning To Her Disney Channel Roots In Fast X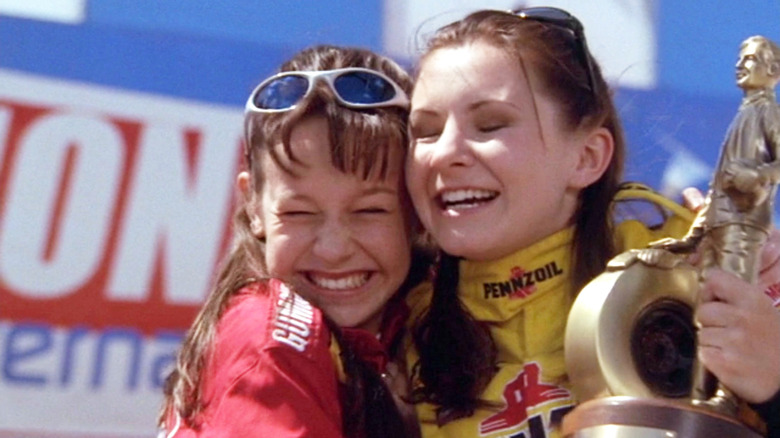 The Disney Channel
It's the beginning of the end for the "Fast & Furious" franchise, with "Fast X," the first half of the two-part conclusion of the series, speeding its way into theaters later this year. As was announced in 2022, Academy Award-winner and Captain Marvel herself, Brie Larson, is joining the "Fast" family as the mysterious new character, Tess. While little has been made known about her new character, Larson's past performances make her a perfect addition to the action franchise centering on fast cars, heists, spies, and loyalty.
Larson has been acting since she was just a child, with her breakthrough performance on the sitcom "Raising Dad" occurring when she was only 12 years old. She would go on to appear in bit parts in films like "13 Going on 30" as one of the Six Chicks, or in "Sleepover," where she plays an 8th grader with a driver's license because she's been held back so many times. Ironically, Larson's first-ever appearance in a feature film was in the powerboat racing film "Madison," from 2001, where she plays "Racing Girl No. 2."
Larson's first leading role in a feature film would come a few years later, with the Disney Channel Original Movie, "Right on Track," where Larson and co-star Beverley Mitchell ("7th Heaven," "Saw II") played Courtney and Erica Enders, two real-life junior drag racers who shattered the glass ceiling of a male-dominated sport. It feels poetic to see Larson return to her early career racing movie roots by appearing in the biggest speed-centered cinematic series of all time.
Baby's first biopic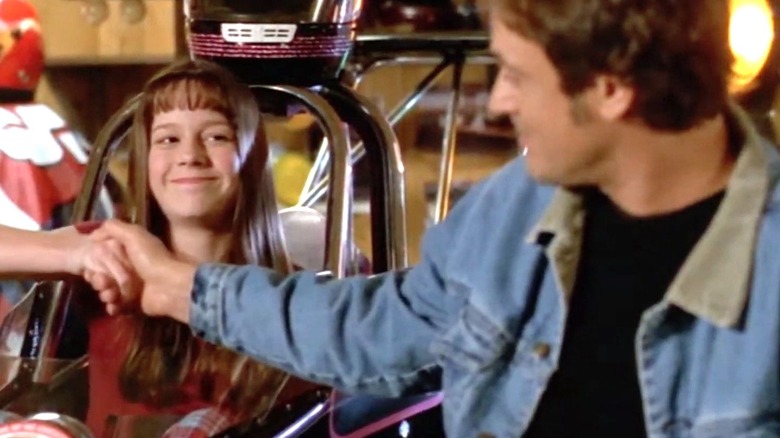 The Disney Channel
Disney Channel Original Movies are often remembered for their adventurous takes on genre films, like the LeVar Burton-directed "Smart House," where Katey Sagal plays the nightmarish lovechild of June Cleaver and HAL 9000 in "2001: A Space Odyssey" as a sentient A.I. home assistant. However, the House of Mouse was also known for making biopics. The unfortunately titled "Double Teamed" is based on the high school years of future professional identical twin basketball players Heather and Heidi Burge, and "The Color of Friendship" explored race relations based on the real experiences of Black U.S. Congressman Ron Dellums and his family after they hosted a white South African exchange student living in the system of Apartheid.
"Right on Track" follows the journey of Courtney and Erica Enders as they race their way through the sexist junior drag racing circuit, constantly up against male racers who are against having the girls compete with them. This of course motivates the girls to work even harder, and the Enders sisters eventually snagged the NHRA Junior Dragster national title. Both girls continued to race well into adulthood, with Erica winning the 2014 Pro Stock championship and named "Racer of the Year" by Autosport magazine following her win.
Thanks to the popularity of "7th Heaven" at the time, the decision to cast Beverley Mitchell as Erica was the draw the Disney Channel needed to get tweens to tune in. However, as Brie Larson's star has continued to rise over the years (and thanks to the accessibility of Disney+), "Right on Track" is rediscovered every time Larson has a new movie out.
Gotta go fast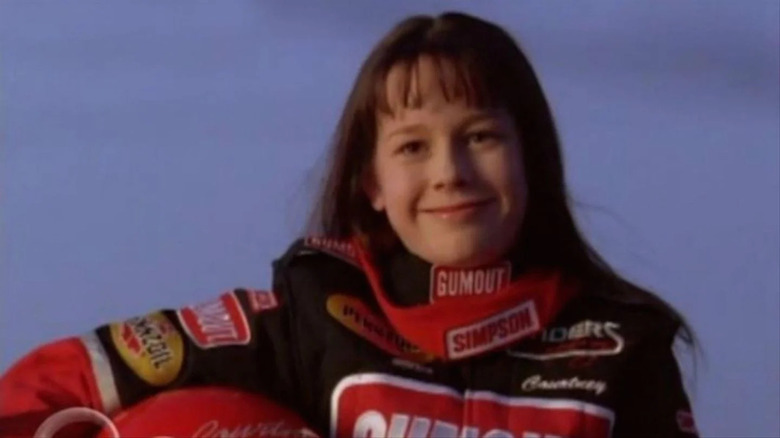 The Disney Channel
All things being serious, it's doubtful that Brie Larson's appearance in "Right on Track" has anything to do with her decision to join the cast of "Fast X," but I'm never going to pass up the opportunity to shine a spotlight on the projects that helped give some of Hollywood's finest their start. And unlike many celebrities who are embarrassed by their early career work, Larson seems to have a fondness for her turn as Courtney Enders. She'll randomly share images from the film on Instagram, and has frequently thanked people on social media for making weird gifsets or fancams of her performance in the film.
Good morning only to the person who made this Right on Track GIF pic.twitter.com/SP3nEFDl64

— Brie Larson (@brielarson) November 21, 2019
Sure, she's won an Oscar and currently plays one of the most powerful superheroes in all of the Marvel Cinematic Universe, but Larson stays humble and never forgets where she came from. We can only hope that Larson has some killer racing scenes in "Fast X" to really bring it all full circle. If she could do it when she was 12, she can certainly do it again as an adult.
"Fast X" races into theaters on May 19, 2023.