Jonathan Majors Studied Tom Hiddleston's Performance After He Was Cast In Loki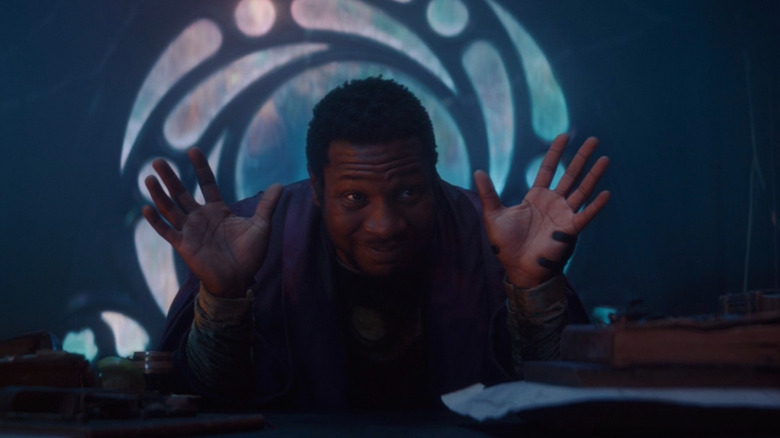 Marvel Studios
Scott Lang (Paul Rudd) managed to escape the Quantum Realm, create new technology, and help take down the biggest threat that the Marvel Cinematic Universe had ever seen. But as "Ant-Man and the Wasp: Quantumania" inches closer to theaters, it would seem that Thanos, the titan who temporarily wiped out half of existence, was a test run for the selectively diminutive superhero. Enter Kang the Conqueror (Jonathan Majors), who we last saw in the Disney+ series "Loki" as the enigmatic He Who Remains. But where that version of Kang was kind of taking it easy, it doesn't appear that the variant Scott is going to meet in "Quantumania" is going to extend the same niceties.
During a press conference that /Film's Jeremy Mathai attended, Majors talked about how he studied Tom Hiddleston during his time on "Loki" not only as an actor but as a character:
"In 'Loki,' I'm dealing with Tom, you know? It was great, He Who Remains and Tom. I got to watch him the whole time. This opportunity came to me in lockdown, and so I studied Tom Hiddleston for hours a day. Then when that was done, I went 'okay Paul Rudd you're up,' you know, and I studied him, I studied him. I studied all his hero colleagues and compatriots."
Going back to Majors' episode, you can see the transformation of how the titular anti-hero started to where he is now. Had the Loki of "The Avengers" met He Who Remains in his element, they probably would have got along swimmingly. The season finale shows an antagonist who has become even more of a chaotic mischief-maker than the God of Mischief himself. For a project like "Quantumania," however, Majors ultimately believes his performance comes down to who he's working with.
'The prep really comes down to who my director is and who my hero is'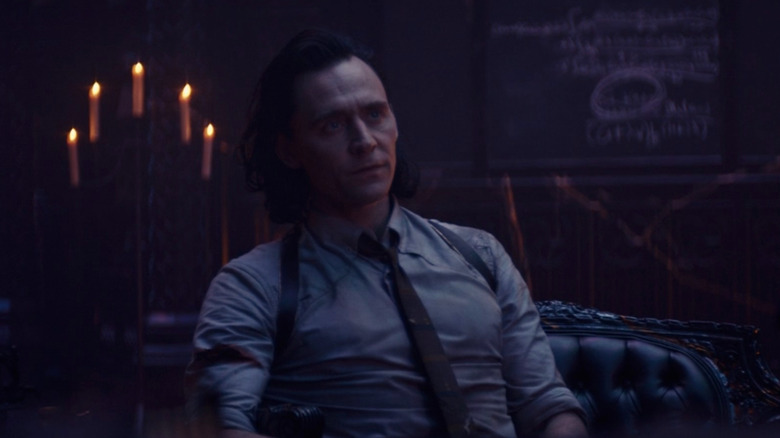 Marvel Studios
Both "Loki" and "Quantumania" present Majors with the task of facing two different heroes. Keeping that in mind, he talks about how the power that comes with playing someone like Kang comes down to how he must first bend his opponent's trust in order to get what he wants:
"The prep really comes down to who my director is and who my hero is. Because as an antagonist, we're following our heroes. You know, in this case, I have a few to kind of look at and break down, which is the fun part. I look at them and I figure out, okay, you can't antagonize somebody if you don't know who they are, if you don't know what's the opposite of them, if you don't know what their hopes and dreams are. My objective is to do that: antagonize in order to get what I need to fulfill my life, my dream."
It would seem that Kang is focusing a lot of his efforts on Scott, but the entire Pym family is trapped there with him. If he can sweet talk Baskin Robbins' golden boy into giving him what he wants, then what's to stop him from whispering into the ear of Hope (Evangeline Lily) or Cassie (Kathryn Newton)? When you watch him in "Loki," Majors is so charismatic that you kind of buy into what he's saying, despite the terrible events that led to their meetup. The only question is whether Ant-Man will be making it out alive to see the destruction he's inadvertently helped cause.
"Ant-Man and the Wasp: Quantumania" is set to hit theaters on February 17, 2023.