Tatiana Maslany And Jasmin Savoy Brown Will Star In Green Bank, A Horror Movie About The Town Where Wi-Fi Is Illegal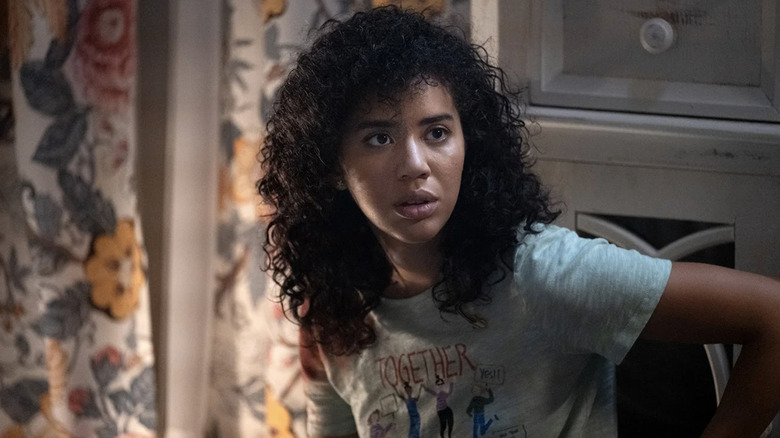 Paramount Pictures
As was first announced by Variety, "She-Hulk" and "Orphan Black" star Tatiana Maslany is joining "Scream" and "Yellowjackets" star Jasmin Savoy Brown in a new sci-fi horror film from "Werewolves Within" and "Scare Me" director, Josh Ruben. The project is called "Green Bank," and both performers are slated to have leading roles. "In a marketplace where original, horror-thrillers slay at the box office, we need no further proof that audiences want to have fun at the movies again," Ruben told Variety. "That's the magic word. Fun. Horror is the bulletproof genre, and 'Green Bank' has the full package — it's smart, scary, and wickedly funny."
Protagonist Pictures CEO Dave Bishop also gave a statement to Variety, having said, "Josh has envisioned a perfectly paced roller coaster of a horror that expertly delivers on its promise to jolt, thrill, and terrify audiences, all while keeping them grinning from ear to ear." He continued by describing "Green Bank" as a "wall-to-wall, fright-filled fun led by a fiercely talented cast hailing from beloved franchises." Bishop called the film "fresh" and "subversive," noting that films of this style continue to perform well at the box office. No doubt he's referring to films like last year's mega-hits "Barbarian" and "Smile," and this year's smashing success, "M3GAN."
While the film's release is still a ways away, here's everything we know so far about "Green Bank."
What we know about the plot and creative team of Green Bank
BBC America
The script for "Green Bank" was written by Aaron Horwitz ("The Cleansing Hour"), and takes place in an American town where all forms of outside connectivity have been forbidden. No Wi-Fi, no cell phones, and no radio transmissions are allowed. Jasmin Savoy Brown plays an infant sleep trainer named Sloan who discovers that the parents of a child she's been caring for aren't just "clueless yuppies," but something far more peculiar. It's not been made known what role Tatiana Maslany will be playing, but perhaps she'll be one of the parents of the child. Or, knowing Josh Ruben's penchant for surprises, there's always the chance she'll be playing someone ... or something else entirely.
The film comes from Protagonist Pictures, who will be handling the international sales of the film during the European Film Market at the Berlin Film Festival. The film is being co-repped by CAA Media Finance and UTA Independent Film Group for North America. "Green Bank" is also being produced by Big Swell Entertainment's Andy Horwitz.
While there's little information known at the moment, this is a project we'll definitely have our eyes on for updates. Josh Ruben, Jasmin Savoy Brown, and Tatiana Maslany making sci-fi horror ... what more could anyone want?