Harrison Ford Doesn't Think Yellowstone Can Quite Be Considered 'Television'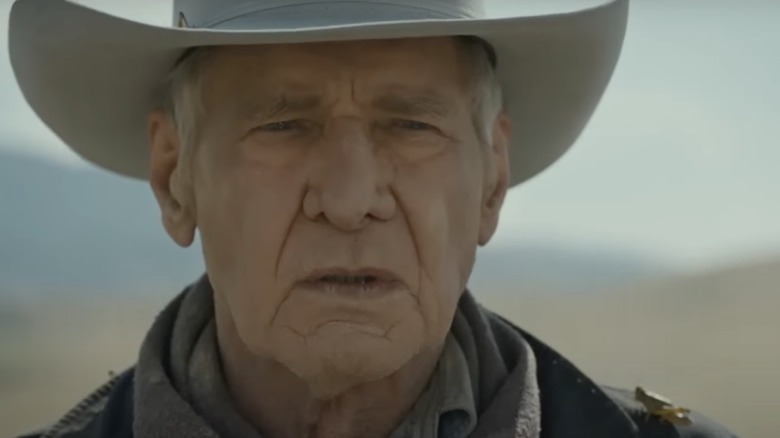 Paramount+
Harrison Ford isn't one to mince words when it comes to TV — or anything, really. The famously gruff actor once gave George Lucas some much-needed tough love about his "Star Wars" dialogue. And though he's been a movie star for several decades — 1977's "Star Wars" put him front and center — Ford has never been comfortable with fame. "There's nothing good about being famous," Ford said in a 2010 interview. It's why he doesn't live in the home of Hollywood, Los Angeles, but rather in Jackson Hole, Wyoming. And as luck would have it, Ford's first (regular) TV project — the "Yellowstone" spin-off "1923" — was shot in the neighboring state of Montana.
Moving to the small screen for his starring role has taken some adjustment. "1923" might have had the biggest debut in Paramount+ history — but for an old-school Hollywood legend like Ford, that might amount to a hill of beans, more so given "1923" isn't simultaneously broadcast on cable television like "Yellowstone" is. In an interview with The New York Times just prior to the series premiere of "1923," Ford discussed his reluctant transition from movies to TV. It sounds like the cinematic aspirations that creator Taylor Sheridan had for the series went a long way toward helping Ford get on board with it. Ford said:
"They keep calling it television. But it's so un-television. It is, you know, a huge vista. It's an incredibly ambitious story that he's telling in epic scale. The scale of the thing is enormous I think for the television."
'Boxed and distributed in a different way'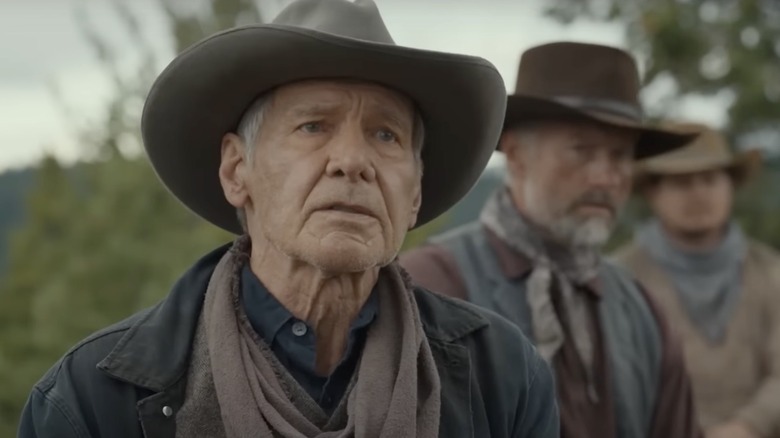 Paramount+
Though "Yellowstone" stars Kevin Costner — who supplied Harrison Ford with his "Air Force One" role — Ford didn't know much about the franchise before he was approached to star in "1923." He apparently doesn't have time to watch much TV, which might explain why he's so quick to dismiss it. Ford said that Taylor Sheridan sold him on "1923" with the idea that they would be making something like 10 one-hour movies. He noted that the production pace of TV was much different, but this didn't change his view of "1923." "I'm here to sell a movie. [...] I'm doing the same job. It's just being boxed and distributed in a different way," Ford told The New York Times.
"1923" is due to run for 16 episodes across two seasons. For actors, that's part of the appeal of shows like "1923" and the earlier "Yellowstone" spin-off, "1883," in that these are limited series and don't require a lengthy commitment. Another facet that drew Ford to "1923" was fellow movie star Helen Mirren, who plays Ford's wife on the show. "Helen was a big part of the lure of it all for me. [... There's] a very important central relationship here between husband and wife. The marriage that we're portraying is one of a really deep, deep complex partnership between these two people," Ford told Turner Classic Movies.
The "Yellowstone" spin-off isn't Ford's only main series role in 2023. He's also part of "Shrinking," which premieres Friday on Apple TV+. "1923" is streaming now on Paramount+, with the second half of Season 1 starting February 5.