The Daily Stream: Shrek The Musical Is Magic Made Real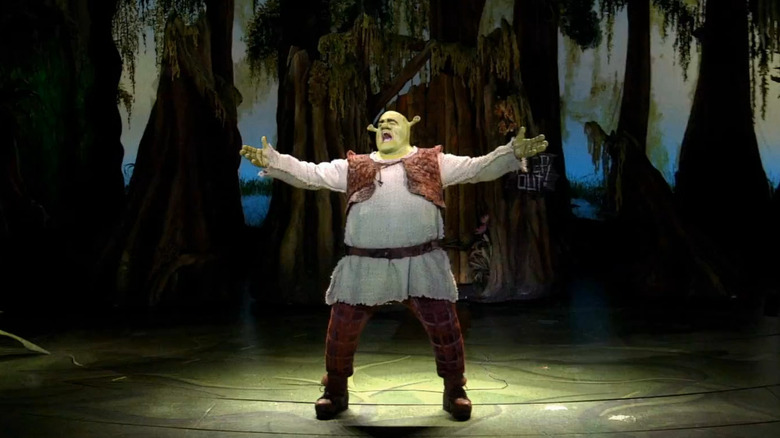 Broadway
(Welcome to The Daily Stream, an ongoing series in which the /Film team shares what they've been watching, why it's worth checking out, and where you can stream it.)
The Movie: "Shrek the Musical" (No, seriously) 
Where You Can Stream It: Prime Video, YouTube 

The Pitch: Full disclosure, I don't like "Shrek." The original 2001 film just never did it for me. Maybe it was the animation, maybe it was the aggressively anti-Disney overtones (right soapbox, wrong preacher, you know?), maybe both. Eventually, DreamWorks won me over with "Shrek 2," which can only be described as a masterpiece, but that's not the second chance I want to talk about right now. We're here for "Shrek the Musical," a stage production that has no right being as good as it is, and how it got me invested in a smelly ogre's origin. The musical follows Shrek (Brian D'Arcy James) as he goes on a quest with Donkey (Daniel Breaker) to save Princess Fiona (Sutton Foster) from her Dragon (Haven Burton, Aymee Garcia, and Rachel Stern) guarded tower for Lord Farquaad (Christopher Sieber). Pinocchio (John Tartaglia) and Gingy (Haven Burton) are there, too. And, yes, they all sing. 
Why it's essential viewing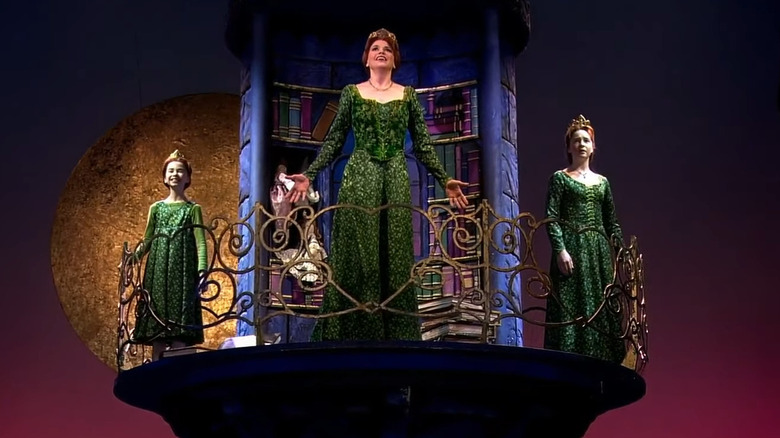 Broadway
"Shrek the Musical" features music written by Jeanine Tesori, who's credits include "Thoroughly Modern Millie," "Violet," and "Fun Home," and lyrics by David Lindsay-Abaire, who's credits include "Ripcord," "Kimberly Akimbo," and "Fuddy Meers." Together, they weave a musical tapestry of rich emotion that perfectly juxtaposes the sarcastic script (also written by Lindsay-Abaire, by the way). Shrek opens the musical with "Big Bright Beautiful World," a thunderous ballad that insists on delusional positivity in the face of crushing loneliness. It sets him up for other numbers, like "Who I'd Be," the Act One finale, where he waxes poetic about the life he'd live if he weren't hated by the world. 
Every main character gets a number or two just like these, where their identities and their wants are on full display. Donkey (not so) jokingly pleads with Shrek in "Don't Let Me Go," begging him to be his friend. Fiona bares her unyielding adamance in "I Know it's Today," a musical montage that covers her entire life within the tower. Even Farquaad gets dig into his backstory with "The Ballad of Farquaad," which balances his inherent douchebaggery with a legitimately depressing childhood.  
Tie it all together with big ensemble numbers led by Pinocchio and Gingy, like "Story of My Life" and "Freak Flag," and you get a phenomenal track list. Seriously, I cannot overstate how good these songs are. Feeling silly? Try "I Think I Got You Beat," where Shrek and Fiona bicker about who had the worst childhood. Feeling nostalgic? The musical ends with a Broadway certified rendition of "I'm A Believer," just like the movie. And, hey, if you feel yourself getting misty eyed, you can just blame it on the onions. 
Magic made real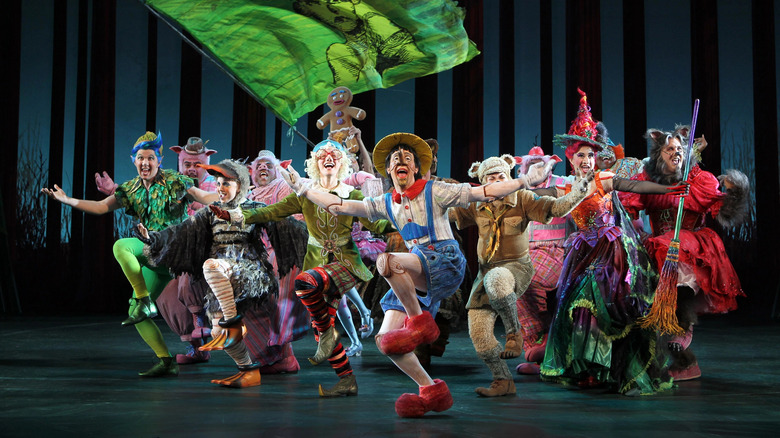 Broadway
I'm also a sucker for good practical effects and "Shrek the Musical" features no shortage of magic made real. Pinocchio's nose literally grows whenever he lies. Gingy is a toddler-sized hand puppet carried around on a baking sheet. To achieve Farquaad's diminutive stature, Sieber stands on his knees and prosthetic legs are attached to his thighs so that every time he shuffles around, his tiny legs "walk." Brian D'Arcy James is caked in prosthetics that imitate Shrek's misshapen bulk. A bird actually "explodes" when Fiona sings. 
And let's not forget Dragon! In the proshot, only her head and neck are displayed onstage, but they're built to scaly scale, which means that she towers over the cast. Touring versions tend to go with a smaller puppet (which is still the size of a freaking truck) that features her entire body, wings and all. Either way, her presence is made powerful by her sheer enormity. There are dozens of smaller bits, like a cameo for Puss in Boots, and an extended "Lion King the Musical" reference. Every inch of the stage, every second of blocking, it's all oozing the kind of polish that a Broadway budget can provide.
"Shrek the Musical" has everything my dumb little heart could want. Spectacle, depth, and musical farts. Maybe I didn't ask for that last one, but it's in there, and ... weirdly? I'm okay with it. Clearly, we all are, otherwise "Shrek 5" wouldn't be happening.