Best Musical For The 2022 Tony Awards: The Case And Hope For A Strange Loop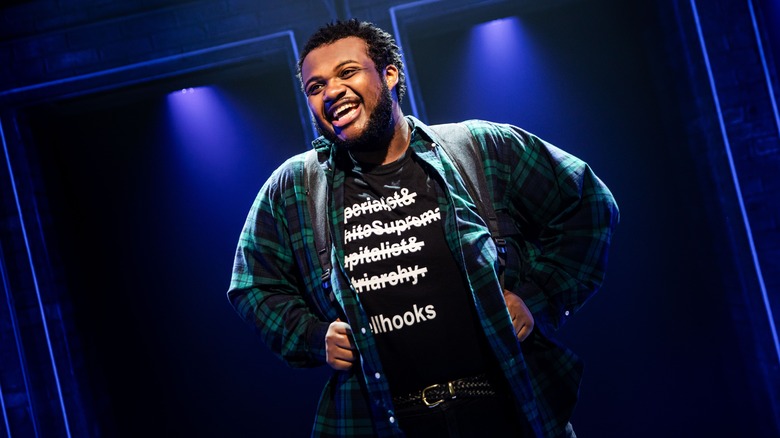 Marc J. Franklin
The first musical I saw at the start of a vaxxed-and-masked Broadway reopening season was "Six." This Tudor-based concert musical parades the pop-ified six historically documented wives of King Henry VIII, as each queen bickers about who got mistreated the most. They drift from pop aesthetics as each queen divulges their respective spectrums of suffering (divorce, beheading, domestic violence) under male dominion. 
Humorous as the concept sounds on paper (it has mileage with petty comebacks), its artistic-licensed history illustrates how we the public project our modern struggles in hundred-years-dead historical women and claim them into our contemporary imagination as we do with celebrities. "Six" is smart enough to subvert the competition scheme it pretends to set up. But it is wiser to let the audience resonate with each queen or queens at their own tune and rhythm in the same way someone may connect to a favorite album, genre, or personality according to their own idiosyncrasies — while encouraging them to appreciate the entire myriad.
Regarding original musicals on Broadway (discounting revivals like "Caroline, Or Change"), it was difficult to encounter other new musicals this season that sang to the heart and the cerebrum (oh, we'll get to those outside of Broadway).
And then I saw "A Strange Loop." With the 75th Annual Tony Awards dancing around the corner on June 12, I champion "A Strange Loop" (leading with 11 Tony nominations) for the Tony for Best Musical.
A Strange Loop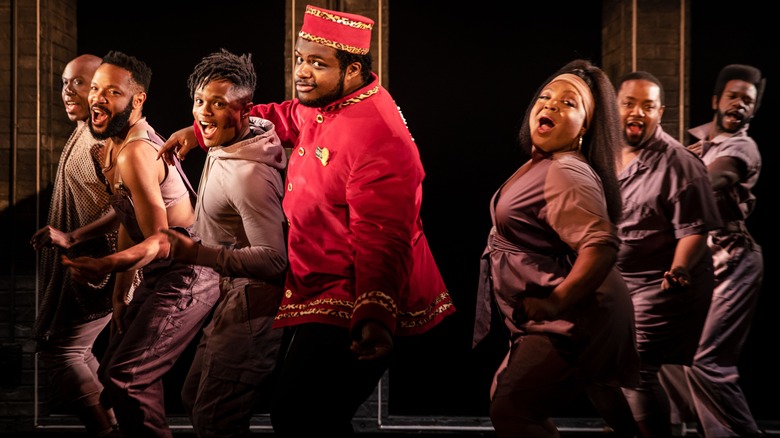 Marc J. Franklin
Before the pandemic altered the American theatre landscape, I had neither the accessibility, affordability, nor time to catch the Pulitzer Prize-winning "A Strange Loop" during its 2019 acclaimed two-month off-Broadway run at Playwright Horizons as produced in association with Page 73. But the hollerings on theatre social media alerted me that I missed the unmissable. Finally, I caught the musical on its currently running Broadway transfer, which still holds a critical consensus of positivity among theatre critics.
With a textured book, luminous music, and evocative lyrics all by virtuoso Michael R. Jackson, the musical follows Usher, a going-on-26, swamped-with-student-debt fat Black gay man who literally ushers for Disney commercial juggernaut "The Lion King" on Broadway. While he navigates his non-normative body through a racist dating scene and the homophobia of his god-fearing family, he just wants to survive another day and another bad thought. He has to finish his game-changing musical that will illuminate his complexity as a queer Black artist. Of course, he suffers the common writer's crisis: his story's ending is a horizon miles away across the ocean of doubt. (The Broadway-version press script for critics' eyes shows the most recent edits, the cross-outs, and the additions.)
Calibrated at a speedy but comprehensible pace by Stephen Brackett, the musical flies by for an intermission-free 1 hour and 40 minutes. That this intermission-free musical opens with a (catchy) "Intermission Song," pouring over a density of Usher's thoughts, underlines that this musical doesn't grant you or Usher that kind of stretch-and-rest break from his torrential mindscape within the psychology of Arnulfo Maldonado's set. Raja Feather Kelly's choreography provides the vibrancy.
In surround-sound chorus, Usher is plagued by his Thoughts, "my discontentment [coming] in many shapes and sizes," as embodied by Antwayn Hopper, L Morgan Lee, John-Michael Lyles, James Jackson, Jr., John-Andrew Morrison, and Jason Veasey (an excellent ensemble that reminds you that the Tonys are overdue for a Best Ensemble category). They pop in like unwanted voicemails to barrage him with his latest doubts — "...thought I'd drop in to remind you of just how truly worthless you are." Introduced in archways that represent the recesses of Usher's brain, these consummate guilt-trippers assume snarky shapes of his self-loathing, sexual ambivalence, his self-criticisms, or criticisms spoken by another as converted into his internalized criticism.
There are psychological touches that viscerally anchor "A Strange Loop" into Usher's critical headspace: The Thoughts morph into Usher's (ever-so-frustrating) loved ones, suitors, icons (I'll spoil a Whitney Houston appearance but not how she enters), and strangers. There isn't a fixed actor, a Thought, playing Usher's family members so we witness his loved ones–and heed their nasty words–through the process and amplification of a youth's brain in flux.
Jackson's lyrics sculpt the argumentative mindscape where Usher frequently escapes into his "Inner White Girl," a coping mechanism that imagines himself as confident and openly complex and as "wild, unwise, shy, introspective" as privileged white women. Through his misadventures and writer's block, he interrogates the whiteness he wishes he doesn't covet so much.
The dynamic Jaquel Spivey, a musical nominee for the Tony's Best Performance By An Actor in a Leading Role, plants us at the center of Usher's universe. Shouldering the role originated by Larry Owens, Spivey accosts the audience into Usher's meta-wariness (he worries that the "writer struggling to write" risks an accusation of being repetitious), his righteous fury (a pivotal speech about Black love and lust), his begrudging adoption of art he abhors ("Writing a Gospel Play" is seething and I'll spoil the show's surprises if I speak about Tyler Perry), and his fortitude to find meaning in his lonely existence (the poignant "Memory Song" that burrows itself into the soul).
Flurried with references and ruminations, "A Strange Loop" is a conversation, an unapologetically fierce and biting one, with the institutional cis-het-whiteness of commercial theatre. While Jackson's musical has resonated into increasingly reaching renown on Broadway, Usher (as Jackson's avatar) reminds us that an emerging queer Black playwright endures many pressures and burdens when working with the cishet-white-mandated idea of greatness. In a Great White Way landscape that would hopefully make lasting evolutions, there is no other Broadway musical this year that has dared to have an intense conversation with itself and its audience this year.
The Competition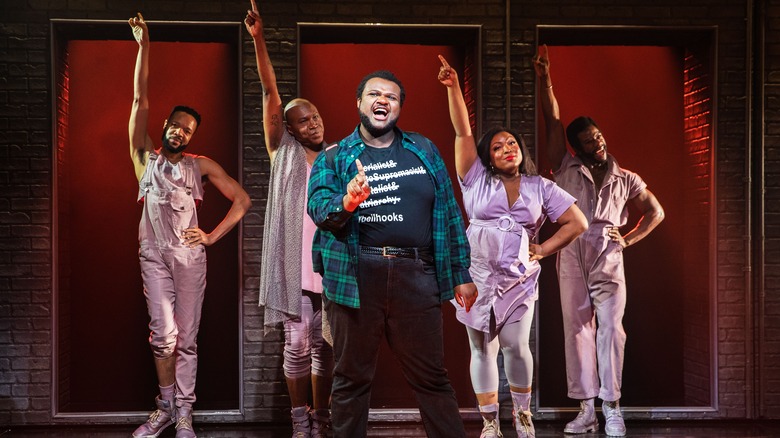 Marc J. Franklin
The most formidable competitor (my personal second choice) to "A Strange Loop" for the Tony for Best Musical is the aforementioned "Six."
The other four committee-selected "Best Musicals" ("Girl from the North Country," "MJ the Musical," "Paradise Square," "Mr. Saturday Night") do not have as much radiance. The Depression-set "Girl from the North Country" is too sleepy to lift off, despite the admirable moody lacing of the Bob Dylan songs that do not strictly slot the production into the understood jukebox category. Now as for a straightforward jukebox musical, "MJ" elicits electrifying energy that would–and should–earn Christopher Wheeldon the Tony for Best Choreography. For however complicated my feelings toward the hagiographic musical about the King of Pop, I recognize the hurricane-of-talent (deservedly Tony-nominated alongside Jaquel Spivey) Myles Frost.
"Paradise Square" is mired with a crowded book and a lumpy packaging that undermines its sprawling mission to encompass the disintegrating harmony between the Irish and Black communities during the Civil War. But it is amiable enough that I won't devalue the viewing experience, especially for the Tony-nominated Joaquina Kalukango. Lastly on the Best Musical Tony nominations, Billy Crystal's "Mr. Saturday Night" movie-to-musical adaptation yields lite laughs and some warmth to an okayish effect.
I give special notice to a Broadway musical this season that is not on the Best Musical Tony nomination: the ambitious LDS-trip "Flying Over Sunset."
The conversation for the high-profile Tony Awards to expand beyond the locational and the 500+ seating capacity criteria could occupy its own whole article. Had the Tonys been more inclusive as the Lucille Lortel Awards or the Drama Desk Awards, it could have recognized many off-Broadway musicals this season as worthier contenders on its pedestal for "Best Musical" than its Tony nominees. (The same goes for the Best Plays category in a season where off-Broadway productions like "On Sugarland," "Cullud Wattah," and "The Chinese Lady" were among the best).
I honor while also discounting "Kimberly Akimbo," composed by Jeanine Tesori of "Caroline, Or Change," since this charming indie-feel coming-of-age is confirmed for a fall Broadway transfer. I also was moved by Barry Manilow and Bruce Sussman's "Harmony," a pastiche-populated musical anchored by a survivor's guilt during the swallowing of Nazism. Though too critiqueable for not synchronizing with intersectionality, Shaina Taub's suffrage-musical "Suffs" has caught my recognition. Finally, I will be remiss to leave out Heather Christian's sonorous and sanctified choral chamber "Oratorio for Living Things," a form-defier.
"A Strange Loop" does not require the Tony Award statute to validate itself as first-rate art. But a televised victory would be a boon to a more-than-deserving production and its cast.
"A Strange Loop" is playing on Broadway at the Lyceum Theater. The original cast recording soundtrack is available. The Broadway cast recording will be made fully available on June 10, 2022.