The Music Man Review: Figuring Out The Territory Of This Defanged Revival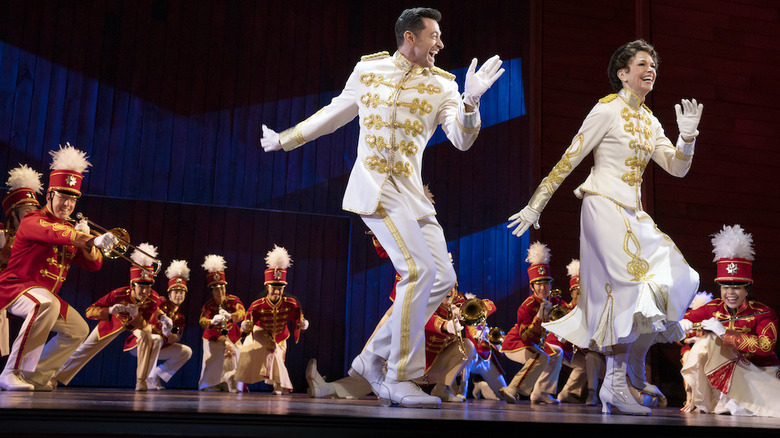 Julieta Cervantes/DKC/O&M
As someone who has never seen or heard anything related to "The Music Man" other than its parodic influences, I am surprised that a word like "defanged" is my descriptor for the 2022 Broadway revival of the beloved 1957 "The Music Man" musical, with book, music, and lyrics by Meredith Willson and story by Willson and Franklin Lacey. As much as the star power of Hugh Jackman and Sutton Foster (of "Anything Goes" fame) are announced regally on the Winter Garden Theatre billboard, with the type of gigantic marquee that invokes passerby questions of "How much money went into that?", this Jerry Zaks-directed 2022 revival sells itself short of promised merriment and comic teeth within its Golden Age musical time capsule.
The year is 1912. Jackman is the so-called Professor Harold Hill, a conman who passes town-to-town to sell band instruments to parents and falsely promises band lessons and the set up of a boy's band. His latest mark is the small-town folks of River City, Iowa. He's equipped with moral panic scare words to convince the hawkeyes that buying coronets, flutes, drums, bugles, trombones, band uniforms, and his promised marching band will keep the children — oh, think of the children! — away from moral corruption. He especially casts his eye on Marian Paroo (Foster), the librarian and piano teacher who suspects his duplicity but soon falls for him when he helps her shy, lisping 10-year-old brother (Benjamin Pajak) come out of his shell. 
Is the star power enough?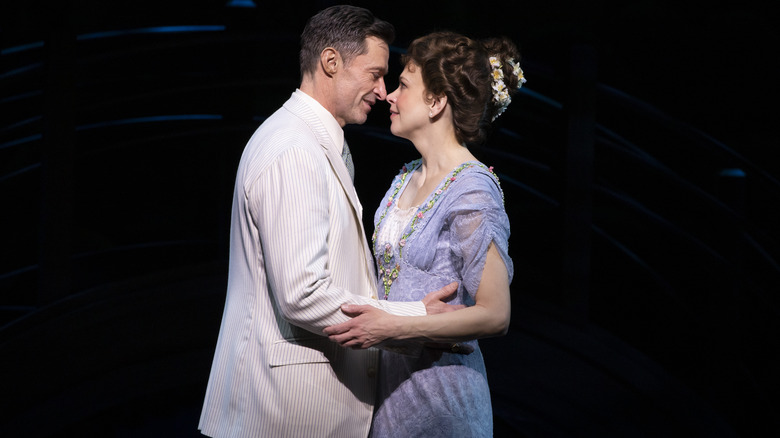 Julieta Cervantes/DKC/O&M
Although "The Greatest Showman" ringmaster and an acclaimed Curly of "Oklahoma," Jackman is coasting on his salesman schtick. Group numbers where his persuasiveness has to burn centerstage are delivered in lite spirit, with mere suggestions of fire-and-brimstone fierceness when Jackman is capable of thickening his reach to his audience in the Iowan town hall. Is Jackman, with his brassy voice, charming? Yes. But he's underselling himself, and the Iowans on stage believing him are simply just following Zaks' directions, not Hill's.
Foster deserves her roses as Marian — for her heart, and for the comedic timing of a slump, a contemptuous "ughhh," or her correcting a child's wrist on the piano. The casting of a mezzo for a traditional soprano role has drawn criticism, but Foster embraces and owns her wishful notes in "Goodnight, My Someone" and "My White Knight" with the warmth of a dreamy bearhug. Props to her for melting Marian's sour skepticism and still harvesting believability in her change of heart  — her rip of an incriminating paper at the end of Act I comes off decisive. That said, her eventual willingness to protect a conman from culpability feels like rationalization to snuff out Hill's worse history rather than a recognition of Hill's inner goodness. Her passing off allegations that he seduced other music teachers as simply a salesman gossip is inexplicable. Foster cannot completely salvage the answer to the question of "Why does she fall for Harold?"
Pretty presentation, but what else?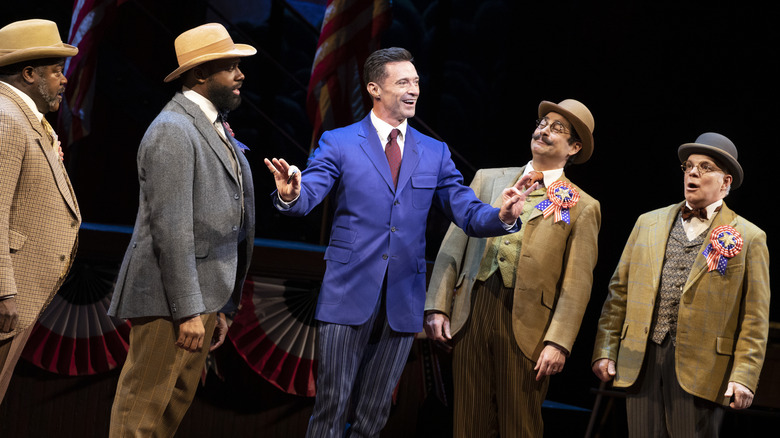 Julieta Cervantes/DKC/O&M
"Music Man" doesn't break the mold against the tide of new and current Broadway musical mainstays like "Six" or the "Company" revival. It's lovely with its printed costumes and set design by Santo Loquasto, which utilizes economical but unaffecting painterly backdrops by Iowan painter Grant Wood. And Jackman and Foster are surrounded by a great ensemble. Special notice to Jefferson Mays as the beleaguered Mayor Shinn and Jayne Houdyshell as the Mayor's wife both are a hoot. Marie Mullen as Marian's mother also slaps down insufferable, but well-meaning, motherly admonishing.
The pleasures of "Music Man" arrive in less crowd and more individualized focuses, such as Hill organizing school officials into a barbershop quartet (Philip Boykin, Nicholas Ward, Daniel Torres, and Eddie Korbich) to evade arrest with the slyness of Bugs Bunny escaping Elmer Fudd, or Houdyshell flaunting her comic pageantry. But despite a strong ensemble, the overcrowded stage leaves Warren Carlyle's choreographic delights imperceptible, save for individual spotlights that focus on their athleticism, as seen in "Marian The Librarian." 
Then, somehow, ensemble dance numbers like "(Ya Got) Trouble" or the Act II opener "Shipoopi" lack infectious flair. Most importantly, the plot-pivotal "Iowa Stubborn" has the introductory purpose of expressing the local stiff mind-your-business ways that could sharpen the town's personality, but the presentation is dried of the coldness in the lyrics. Hill's absolution is written in the ending and its comedic payoff, yet the musical hasn't really fleshed out the answer to the question: What did Harold give to the town that is enough to overcome his initial intentions to con them? You have to squint to discern an arc about a conman who realizes all this time he can unlock people's inner music. 
Sure, some of you like to excuse Hugh Jackman, ahem, Harold on account of his charisma, but "The Music Man" does not do a convincing job looking away from Hill's guilt. It becomes glaring when the book villainizes rival salesman Charlie (Remy Auberjonois) who rightfully (because Hill's actions have gotten other poor salesmen tarred and feathered) sets out to expose Hill's fraudulence. The story wants us to forget that Hill's cons aren't victimless. 
The territory of revivals these days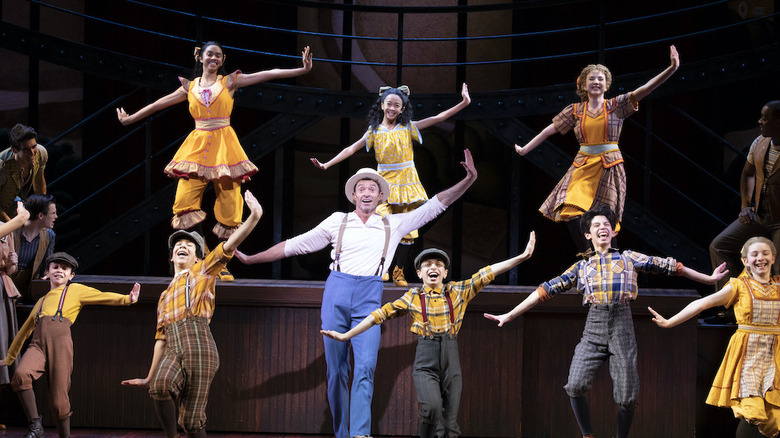 Julieta Cervantes/DKC/O&M
There's rich material here to mine for something darker — something akin to Daniel Fish's interrogation of "Oklahoma" in an immersive theatre and its blood-soaked wedding (a heightened success and gamechanger), or Ivo Van Hove's wannabe-grittier "West Side Story" revival (a botched experiment). Somewhere, the theatre creative is manically laughing, rubbing their hands together, scanning the blatant offerings in Willson's and Lacey's 65-year-old story for the currency of modern relevancy: the mayoral first lady wearing the American flag and throwing patriotic pageantries; drug paranoia; hollers for book bans on account of "dirty" content; the slut-shaming of women (whether Marian slept with a miser for library ownership is a rumor); and the out-of-the-theatre theories that Winthrop is actually Marian's illegitimate child posed as her younger brother (see 2006 Broadwayworld message boards or "Schmigadoon").
But I don't wish to write off good-time, feel-good musicals and straightforward revivals. "The Music Man" doesn't need to emanate hardcore commentary, claw deeper into the darkness, or grab for relevancy to be worthwhile entertainment — though it would benefit from something new. The 2017 "Hello Dolly" revival, also directed by Zaks and choreographed by Carlyle, was a buoyant welcome. It was enthralling with generous gusto, supercharged with star power whether your Dolly Levi was Bette Midler, Donna Murphy, or Bernadette Peters.
A story about a mischievous matchmaker getting her jerkass man (the story trusts in her strength when she demands that her man love her as an equal), "Hello Dolly" got to keep its youth in 2017. Like in "Hello Dolly," the romantic and comic corniness of "The Music Man" can be an asset. Critics have pointed out it's tougher in 2022 to swallow the glorification of a huckster who waltzes into a town to deceive the people, get off scot-free, and still win the smart girl. But "The Music Man" could be a romantic fantasy, and had Willson's catchy score and lyrics been executed with the right infectious might, you might not notice that you've been seduced into the superlatives till after curtain fall. But despite a sturdy inventive opening where salesmen speak-sing to the chug, skid, and screech of the train, "The Music Man" opts to skim through the rest of its crucial crowd songs with low-lit energy. 
And through light lyrical adjustments ("Shipoopi" alters "you can't win her yet" to "the boy who tried his best"), "The Music Man" is unmotivated to make meaningful tune-ups, especially those that could fill in character blanks that steer our understandings of their actions. In one instance where Jackman plays real sincerity when Hill vouches for the town's ruffian (Tommy Djilas, who has a real "no one's ever stood up for me before" expression), his defense of a troublemaker does not offer insight or history within Hill. This goes for Marian as well. Could her grace to Hill also be partially a gambit to steer Hill into the right direction? The revival and Foster invoke the question rather than entertain it.
At best, the presentation of "The Music Man" is benign (although it's worth noting the behind-the-scenes departure of producer Scott Rudin after accusations of the long open secret of his hostile workplace). Passing its 2 hours and 45 minute running time, the revival is a generous dose of whipped cream that hides that there's very little of a cake to begin with. This revival had the tools and the template, but it can only sketch its territory.
The Music Man is playing at the Winter Garden Theater at New York City.