Superhero Bits: DC And Marvel Score Several Oscar Nominations, We've Got A New Lex Luthor & More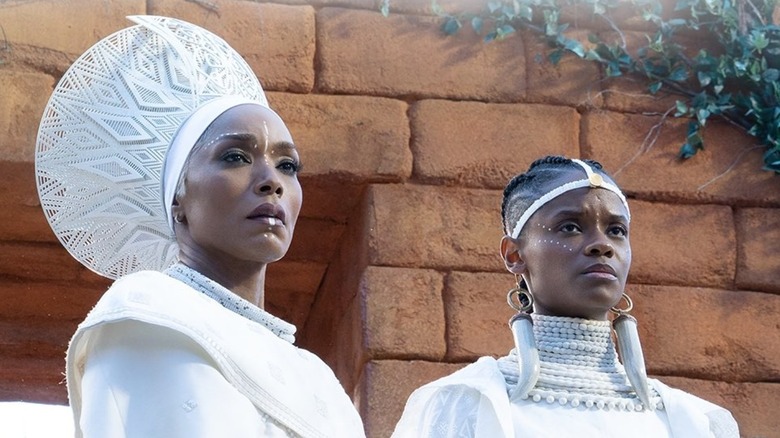 Marvel Studios
(Superhero Bits is a collection of stories, updates, and videos about anything and everything inspired by the comics of Marvel, DC, and more. For comic book movies, TV shows, merchandise, events, and whatever catches our eye, this is the place to find anything that falls through the cracks.)
In this edition of Superhero Bits:
Marvel and DC score some Oscar nominations.
There's a new Lex Luthor in town.
Kevin Feige on Marvel movie fatigue
Final season of "The Flash" gets a synopsis.
Avengers Assemble to defeat Thanos and the Infinity Stones (in 2015)
The biggest of big happenings in the MCU up to this point were "Avengers: Infinity War" and "Avengers: Endgame," which saw Thanos becoming the big bad and assembling all of the Infinity Stones to try and destroy half of all life in the universe. Well, it turns out that an arc of the animated series "Avengers Assemble" tackled this very same topic back in 2015. The Marvel HQ YouTube channel uploaded the key episode, titled "Thanos Triumphant" recently, which sees The Avengers trying a desperate final attempt to stop Thanos after he collects all five of the Infinity Stones, planning to wield his power over the Universe. 
Sound familiar? Check it out for yourself above.
The Flash season 9 premiere gets a synopsis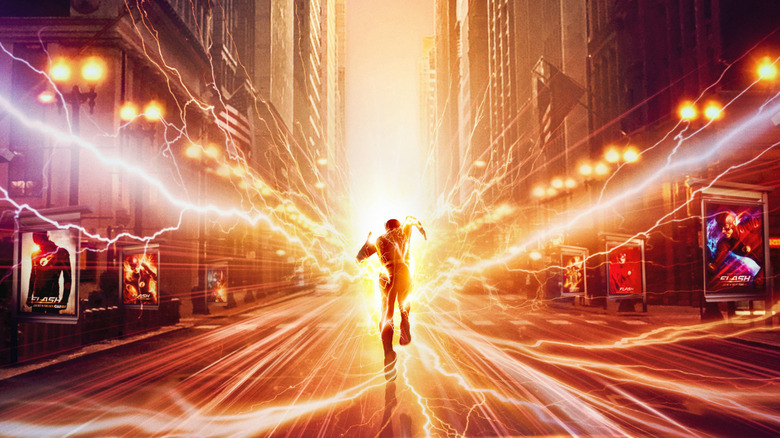 The CW
"The Flash" is coming to an end on The CW with the upcoming season 9 serving as Barry Allen's final round of small-screen adventures. So, what can we expect when Grant Gustin suits up for his last dance? The synopsis for the premiere episode has been revealed and it looks like we're getting a "Groundhog Day" riff.
Barry (Grant Gustin) creates a map book to guide him and Iris (Candice Patton) throughout their future in order to keep her safe, but the results are not what he expected, and instead, they relive the same day over and over again. Joe (Jesse L. Martin) has a heart-to-heart with Cecile (Danielle Nicolet). A new big bad is introduced to Team Flash and friends and foes, old and new, begin to descend upon Central City.
"The Flash" season 9 premieres February 8, 2023.
Harley Quinn: A Very Problematic Valentine's Day Special gets a poster
We recently learned that "Harley Quinn" will return on HBO Max sooner than expected with a one-off special. Titled "A Very Problematic Valentine's Day Special," it will, as one might assume, focus on Harley and Poison Ivy. To go along with the announcement and trailer, the above poster was released, teasing the presumably R-rated, romantic shenanigans ahead. 
Look for it on HBO Max on February 9, 2023.
Emma Roberts says her role in Madame Web was quite unexpected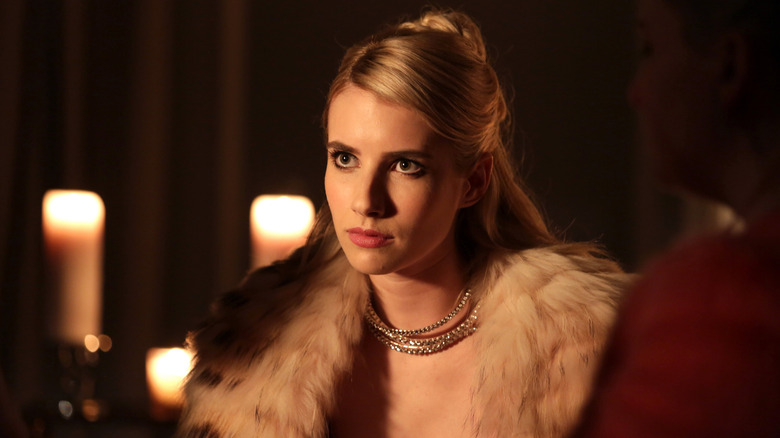 Fox
Emma Roberts, of "Scream Queens" and "American Horror Story" fame, is set to join the Marvel universe (Sony's "Spider-Man" spin-off universe, anyway) in the upcoming "Madame Web." While much remains mysterious about her role, not to mention the film in general, Roberts did recently speak a little bit with Collider about it. Specifically, she called the movie unique, while explaining that her getting that call was rather unexpected.
"I thought it was very unexpected. It's so funny, one day you're just walking around your house, and then you get a phone call that they want to meet you for a Marvel movie. It was so weird because I remember being like, 'What's the audition process? What do I have to do?' And then I talked to the director, and I was in Boston a couple [of] weeks later filming, and we had a lot of fun on it. It's obviously such an amazing cast, and it's such a unique take on a Marvel movie. So I'm really excited for people to see it because I think it's going to be very unexpected, how they tell the story."
"Madame Web" is currently set to hit theaters on February 16, 2024.
Yondu's classic Marvel Comics look is getting an action figure from Hasbro
Yondu was, until the release of "Guardians of the Galaxy" in 2014, an extremely obscure character within the Marvel canon. But rest assured, he did exist! Now, as revealed by the folks at IGN, Hasbro is immortalizing his classic look from the pages of Marvel Comics with a new Marvel Legends figure. The six-inch figure is set to retail for $24.99 and will be available exclusively at Target this spring. No pre-order links are live as of yet but you can check out some photos of the figure above.
The Walking Dead's Michael Cudlitz is our new Lex Luthor on Superman & Lois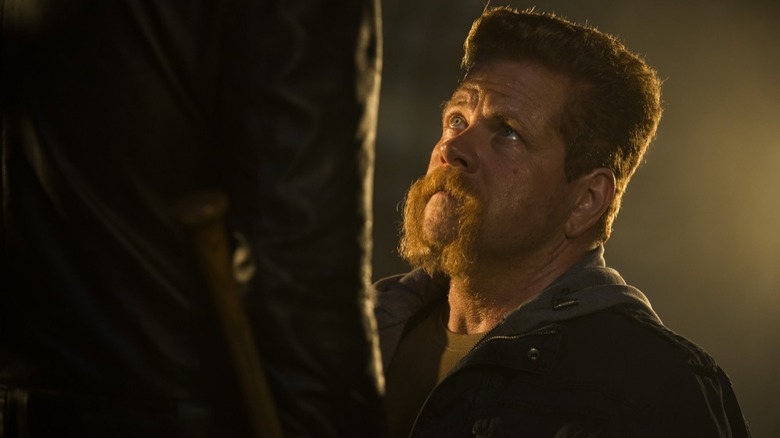 AMC
Ladies and gentlemen, we've got a new Lex Luthor. "Superman & Lois" season 3 will bring in Michael Cudlitz, of "The Walking Dead" fame, to play the legendary DC Comics villain, according to Entertainment Weekly. Jon Cryer had previously played the character elsewhere in the Arrowverse, namely on "Supergirl," but this show takes place elsewhere in the DC multiverse. 
As for this version of Mr. Luthor? His character description reads as follows:
Cudlitz's Lex Luthor is known to the world as the visionary billionaire behind LexCorp, but secretly, the criminal underworld knows who Lex truly is: a brutal psychopath who terrorizes anyone he crosses paths with. When Lex debuts this season, it's been years since he dropped out of the public eye and he's re-emerging hellbent on correcting a personal injustice by enacting revenge on the two people he feels have wronged him — Superman (Tyler Hoechlin) and Lois Lane (Elizabeth Tulloch).
"Superman & Lois" season 3 premieres March 14 on The CW.
Ms. Marvel fixed a continuity error to line up better with No Way Home
A continuity error with the Statue of Liberty in the #MsMarvel finale has been digitally altered on Disney+ recently

The statue is shown in the opening shot and end credits of Episode 6
It is now the same copper colour as seen in Spider-Man: No Way Home! pic.twitter.com/EBqoMtokJb

— Ms. Marvel UK⚡️ (@MsMarvelUK) January 23, 2023
Months after the show finished up its run on Disney+, "Mrs. Marvel" has had a slight re-edit to help the series line up better with the overall continuity in the MCU. As pointed out by the above fan account, the Statue of Liberty seen in the credits of the sixth episode originally looked more traditional. However, it now has a bronze tint to it to better reflect how it looks in the finale of "Spider-Man: No Way Home." 
As for why this was only recently fixed by Disney? That question remains unanswered.
Kevin Feige has a pretty compelling response to Marvel movie fatigue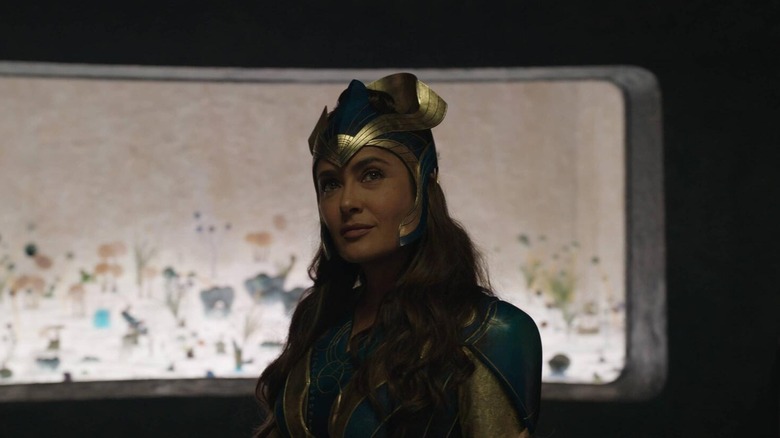 Marvel Studios
Marvel Studios head Kevin Feige has been at the forefront of the Superhero movie boom in Hollywood for years now. Even before his time putting together the MCU, he was producing movies like "X-Men." But what does he think of the notion that audiences will become fatigued with Marvel movies? Speaking on "The Movie Business Podcast" recently, the executive had a pretty interesting take on the whole thing. 
In short? Comics offer a wealth of diverse source material.
"I've been at Marvel Studios for over 22 years, and most of us here at Marvel Studios have been around a decade or longer together. From probably my second year at Marvel, people were asking, 'Well, how long is this going to last? Is this fad of comic book movies going to end?' I didn't really understand the question. Because to me, it was akin to saying after Gone With the Wind, 'Well, how many more movies can be made off of novels? Do you think the audience will sour on movies being adapted from books?' You would never ask that because there's an inherent understanding among most people that a book can be anything. A novel can have any type of story whatsoever. So it all depends on what story you're translating. Non-comic readers don't understand that it's the same thing in comics."
/Film's Ben F. Silverio discussed the comments in full. We'll see if Feige's theory holds true as Phase 5 of the MCU kicks off with "Ant-Man and the Wasp: Quantumania" next month.
The Batman earns 3 Oscar nominations, Wakanda Forever picks up 5
Lastly, the Oscar nominations were announced today and, while none of last year's superhero movies nabbed a Best Picture nomination, two of the biggest ones were represented rather broadly. 
First off, Warner Bros. and DC scored three nods for "The Batman," including Best Makeup and Hairstyling, Best Sound, and Best Visual effects. 
Congratulations to Tems, Rihanna, Ryan Coogler and Ludwig Göransson on their Academy Award nomination for Best Original Song "Lift Me Up" for Marvel Studios' Black Panther: #WakandaForever! #OscarNoms pic.twitter.com/6bXgyRqyal

— Black Panther: Wakanda Forever (@theblackpanther) January 24, 2023
Meanwhile, Marvel Studios landed five nominations, all for "Black Panther: Wakanda Forever." Ryan Coogler's sequel is competing in Best Makeup and Hairstyling, Best Visual Effects, Best Original Song ("Lift Me Up"), Best Costume Design, and Best Supporting Actress (Angela Bassett). Tune in to see if they win when the "Academy Awards" air on March 12, 2023, on ABC.