Why Richard Donner Thinks The Goonies Couldn't Be Made Today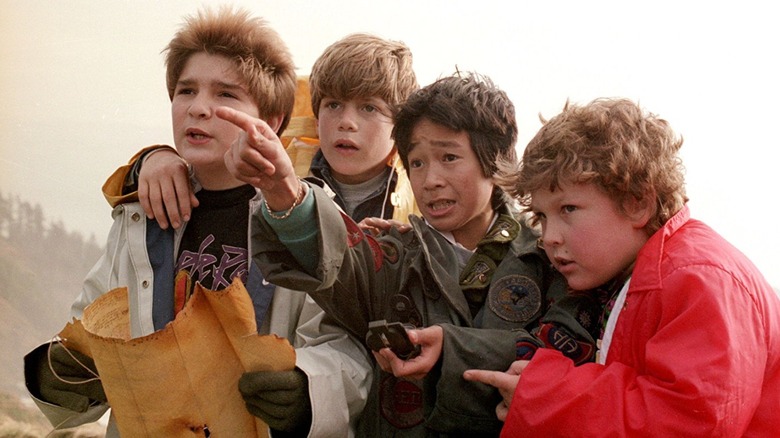 Warner Bros. Pictures
"The Goonies" is a prime example of classic '80s kids' adventure cinema, complete with the official stamp of Steven Spielberg's Amblin Entertainment. The influence of the film is difficult to understate, and its DNA is all over modern blockbusters in large part because of its place as, as Roger Ebert said in his review, "an in-between niche" falling in the middle of "children's movies and adult movies."
In contrast to the conventional cleanliness of children's movie dialogue, screenwriter Chris Columbus portrayed the kids in "The Goonies" as vulgar, rude, and noisy. In other words, they were a group of prepubescent boys. Director Richard Donner, however, believed that the film's mild mean streak would make "The Goonies" a hard sell in 2010, 25 years after its release, even with the backing of Spielberg.
"The Goonies" has its fair share of humor ranging from the suggestive to the downright raunchy, not to mention specific characterizations that may not sit as well with a modern audience. There's a bit, for example, with a Michaelangelo statue's penis falling off, scenes where Corey Feldman's character, Mouth, jokingly mentions drugs and "sexual torture devices," and a part when a (bullyish, unlikable) character tries to peer up a skirt. The mentally and physically disabled Sloth may not sit right with viewers today, and Ke Huy Quan's Data comes with his fair share of Asian stereotyping. Chunk would also get some pushback in 2023, especially the fact that his friends are constantly cracking jokes about his weight, most exemplified in the "truffle shuffle" scene.
Goonies or good taste?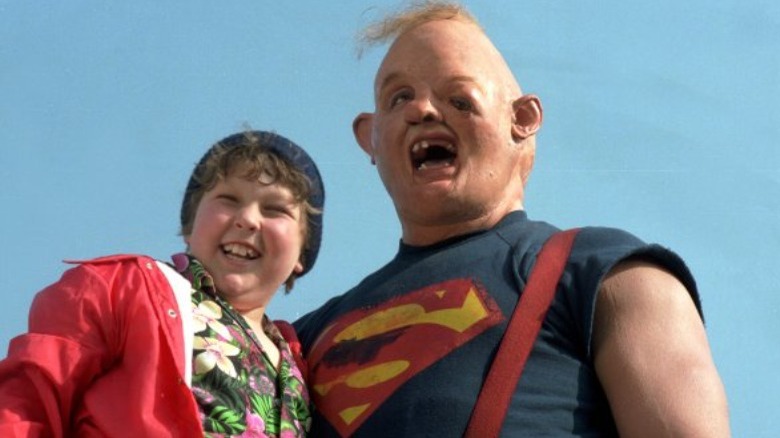 Warner Bros. Pictures
In an interview with Assignment X in 2010, Richard Donner expressed that it would be nearly impossible for "The Goonies" to exist in the modern age:
"You couldn't do it. You couldn't do what we did then, because the board of good taste would be down our throats. Chunk saying s***, putting the penis on upside down [on the statue], Mouth talking about the sex tapes in the attic — you couldn't do that today. Yet, it's charming, it's clean and honest."
Donner is mostly referencing the social conservatism found in "church mongers, who are really warmongers," which is probably why he singles out the more suggestive parts of the film (although he does mention that he "could never see a studio greenlighting a movie like this nowadays — especially with Sloth"). The interview was published in 2010 and modern sensibilities have only grown since then, so Donner's assumptions at the time might be even more justified today. The legacy of "The Goonies" as a blueprint for modern adventure movies, however, will long outlive any notions of bad taste that may linger.