The Goonies Didn't Do Much For The Career Of The Actor Who Played Chunk
Warner Bros.
Richard Donner's 1985 film "The Goonies" has found itself ensconced deep within the consciousness of a certain generation of film fans. On the one hand, "The Goonies" is a straightforward Spielbergian adventure story (Steven Spielberg served as the film's executive producer) about a bunch of suburban kids, spending their final weekend together before all their homes are foreclosed, following an ancient treasure map to a lost pirate ship full of gold. Notably, Donner captured how chaotic, crass, and rude kids can be. 
"The Goonies" is loaded, by design, with obnoxious kid chatter and light cussing. The titular Goonies, all of them hovering around age 11, like each other but also kind of dislike each other, and are addressed by their clubhouse-style nicknames. The inventor character is called Data (Ke Huy Quan), the jokester is called Mouth (Corey Feldman), and, most rudely, the overweight character is named Chunk (Jeff Cohen). 
Many jokes are made at the expense of Chunk's weight, including his friends' insistence that, in order to gain ingress to their clubhouse, he dance the "truffle shuffle," which involves lifting his shirt and twisting his torso. Chunk, luckily, is given confidence, personality, and a sense of humor beyond his size. In the film's funniest scene, Chunk confesses, under threat from a gang of criminals, that he has played numerous elaborate pranks that he feels guilty about. Chunk will also befriend a gentle lummox named Sloth later in the film, revealing the character's open heart. 
In 2015, on the eve of the 30th anniversary of "The Goonies," the Daily Mail interviewed Cohen on the film's legacy and his acting career since. Or, as the case may be, his stalled acting career.
Cohen Gardner, LLC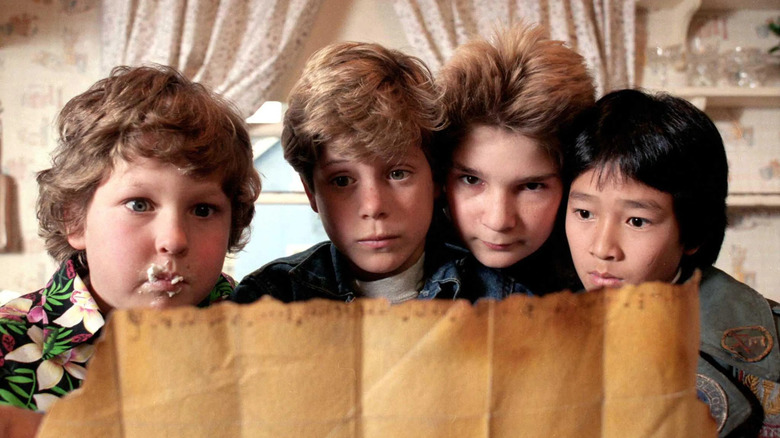 Warner Bros.
In 2002, Cohen founded the Cohen Garner Group, an entertainment law firm. In 2015, Cohen authored the book "The Dealmaker's Ten Commandments: Ten Essential Tools for Business Forged in the Trenches of Hollywood," for which Cohen drew on his experience as a child actor. He has been, it seems, doing quite well for himself. Not that he didn't love acting, but he admits, it was difficult to find work after "The Goonies." The role of Chunk was a notable archetype in casting offices at the time, and there were only so many "funny fat kid" roles to go around. Additionally, there was an expiration date on "Chunk" style roles, and once Cohen reached a certain age and began to grow up and slim down, he became, in the eyes of Hollywood, essentially uncastable. He had to reluctantly give up his passion. In his words: 
"There were basically about four fat kids in town, so every time there was a fat kid role you saw the same people at the audition. It was survival of the fattest. But when I hit puberty, it was a career ender for me. I was transforming from Chunk to hunk and I couldn't get roles any more. It was terrible. My first love was acting but puberty had other ideas. It was a forced retirement. I didn't give up acting. Acting gave me up."
After "The Goonies," Cohen starred as the title character in the 1986 TV movie "Ask Max," and he showed up on episodes of "Family Ties," "Amazing Stories," and "She's the Sheriff." After that, his acting hit a wall. His final acting credit came in 1991 when he was 17, in the Disney TV movie "Perfect Harmony." 
Alligators kick tons of ass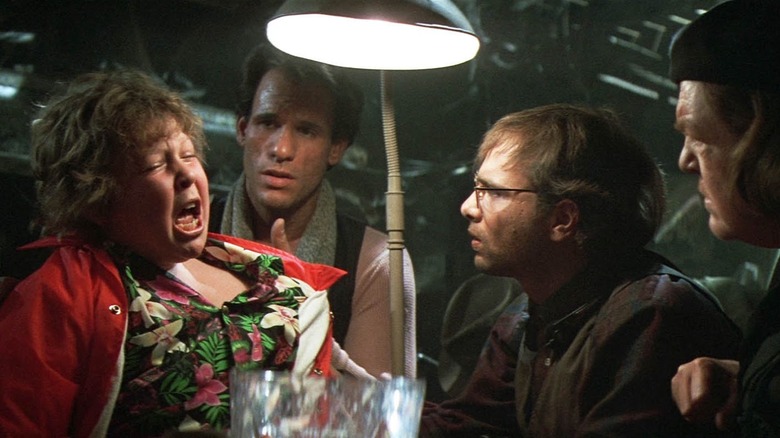 Warner Bros.
When it came time to enter college, Cohen recalled writing a letter to Donner detailing his career struggles. Donner and his wife, a generous couple, paid for Cohen's law school. He graduated, founded his firm, authored his book, and occasionally contributed to the Huffington Post. On his website's bio, he does mention that he played the role of Chunk, but that you should not hold that against him. In the Daily Mail, it is mentioned that Cohen has a poster for "The Goonies" signed by Donner and an "E.T. The Extra-Terrestrial" poster signed by Steven Spielberg, the latter leaving an inscription that reads "You are my favorite Goonie." Cohen, commenting, was modest: 
"He probably says that to all the Goonies. I'm sure Feldman's got one and [Sean] Astin's got one. I'd like to think I was, but I don't know."
As the noisy kids in "The Goonies" go, Cohen was certainly a standout. As a lawyer, he still has a lot to say. It was Cohen who once pointed out to this author that the Republican Party refers to themselves as the G.O.P. (the Grand Old Party) when the Democratic Party actually predates them by a decade. It was a semantic quirk Cohen found interesting. Cohen also once mused on nothing less than the meaning of life in a brief missive wherein he pointed out, "Alligators don't need meaning. And they kick tons of ass." Cohen is the kind of person you definitely want to have a drink with.