The Goonies All Started With A Simple Question In Steven Spielberg's Mind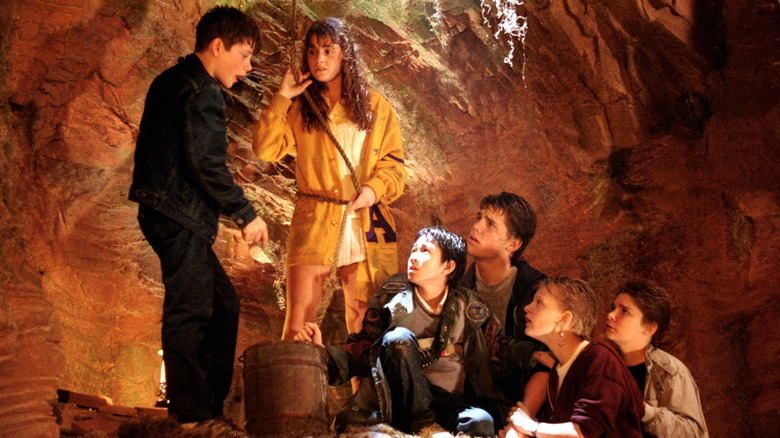 Warner Bros. Pictures
Thanks to the Duffer Brothers, I can no longer watch any Sean Astin movie without mourning the tragic death of Bob Newby from "Stranger Things," and "The Goonies" is no exception. In the classic childhood adventure, Mikey Walsh (Astin) leads a group of friends –- collectively known as the Goonies –- in their search for a hidden treasure to save their neighborhood from being demolished to make way for a golf resort. "Superman" director Richard Donner directed the film that was penned by Chris Columbus, who later directed the first two "Home Alone" movies.
But it was Steven Spielberg, the film's executive producer, who came up with the story. The revered filmmaker got the idea for the movie while filming another movie, which is not uncommon. John Hughes got the idea for "Home Alone" while working with Macaulay Culkin on the set of "Uncle Buck," and Will Smith pitched the concept for "Men in Black 3" while shooting the sequel a decade prior.
I immediately assumed the movie Spielberg worked on at the time was either one of the first two "Indian Jones" movies. The similarities between the two booby trap-filled adventure films are unmistakable. I imagined that while on set, Spielberg asked himself what would an "Indian Jones" movie tailored for kids look like. Wrong! According to the Independent, popular belief is that the movie Spielberg was filming at the time is the period drama "The Color Purple," and the question he asked himself that led to "The Goonies" is one that perhaps aspiring child psychologists should use for their dissertations.
What do children do on rainy days?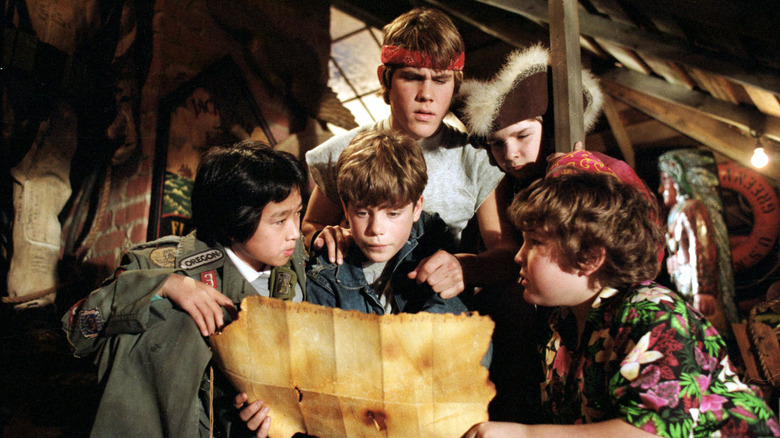 Warner Bros. Pictures
What kind of wild adventures do kids get into on rainy days? That's what Steven Spielberg asked himself while working on "The Color Purple." Starring Whoopi Goldberg, Danny Glover, and Oprah Winfrey, the movie based on Alice Walker's novel of the same name follows the life of Celie (Goldberg), a southern woman who longs for a reunion with her long-lost sister, Nettie (Akosua Busia). In the first act, a young Celie (Desreta Jackson) and Nettie run around, play hand-clapping games, and read outside in a field full of flowers. Later, an adult Celie reads a book to kids on the porch while a storm approaches. Other than these scenes, I can't think of anything about this movie with heavy themes of abuse, incest, pedophilia, and a laundry list of bad isms that would've incited Spielberg's curiosity about children's rainy day escapades.
But to answer the question, rainy days are typically boring. When I was a kid, I either sat on the porch and sang "Rain, Rain, Go Away," or stayed inside and watched TV and played with toys. I recall an episode of one of my favorite childhood cartoons, Disney's "Recess," in which it rained every day of the school week, so the kids couldn't play outside during recess and had to sit in the cafeteria instead; by the end of the week, they lost their minds. So, it takes one heck of an imagination to come up with a story about a band of kids who goes on a wild treasure hunt to save their neighborhood while fighting off an Italian crime family. 
Though Spielberg didn't direct the movie, he was very much so involved with bringing the story to screen. For Sean Astin, this was almost a bad thing.
Steven Spielberg walked out of Sean Astin's audition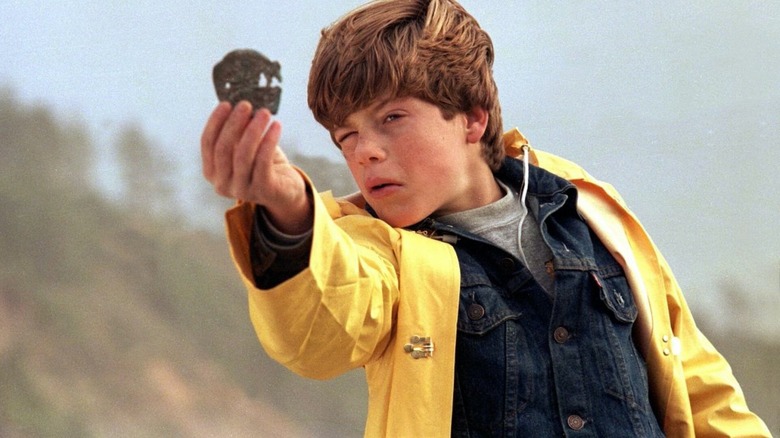 Warner Bros. Pictures
During a 2019 appearance on the "Inside of You with Michael Rosenbaum" podcast, Sean Astin talked about how Steven Spielberg, along with a few other Hollywood honchos, was in the room the time he auditioned for his role in "The Goonies." He recalled the hilarious story of the director's personal assistant escorting him to the audition room:
"So we're walking through it and he says 'Are you nervous?' And I said 'Yeah, a little bit.' He goes 'Why?', and I said 'I don't know.' He goes 'Well, you're just about to meet the most powerful man in Hollywood' and he opens the door. And he had this smile on his face. And I was like 'Ok.'"
It gets better. Astin begins to forget his lines during one particular scene and starts panicking. The folks in the room calm him down and ask him to start over. It gets worse from there. Astin explained: 
"I've now psyched myself out. But at the same spot I forget. I go 'Sh*t!' And Steven gets up and walks out of the room. And I'm like 'Well, I guess I'm never going to make another movie in Hollywood.' I'm a guy who's cursed, you probably don't want as the star of your kid movie a kid that says 'sh*t.'"
Luckily, Astin got through it and got to star as the hero in one of the most iconic child adventures movies ever. Sadly, Bob Newby, superhero, didn't enjoy the same fate on "Stranger Things." Anyways, Astin said there's video of his audition for "The Goonies" floating around on YouTube somewhere, and lo and behold, I found it! Enjoy!