Steven Spielberg's Favorite Goonies Memory Came At The Expense Of Richard Donner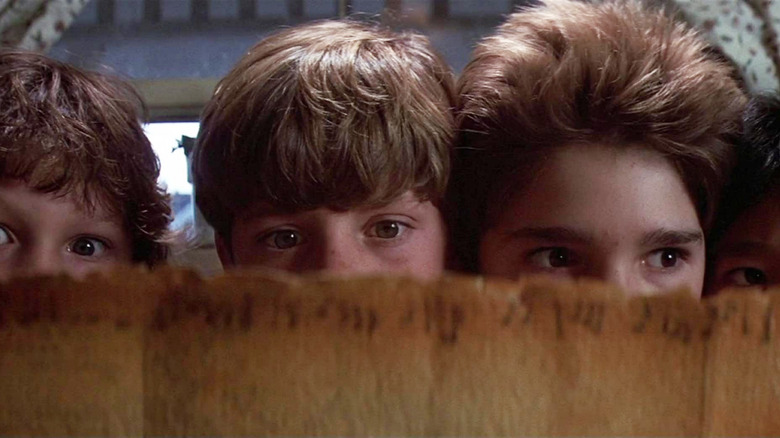 Warner Bros. Pictures
Few movies capture what kids are really like the way that "The Goonies" does. Whether or not that's a good thing depends on how you look at it.
Released in 1985, director Richard Donner's adventure comedy film centers on a group of kids who reside in the "Goon Docks" of Astoria, Oregon (hence their self-anointed nickname, "The Goonies"). Faced with the foreclosure of their homes, in order to make way for a ritzy country club, these spirited misfits set out to locate the long-lost treasure of an infamous pirate known as One-Eyed Willy. In doing so, the movie's intrepid heroes also end up crossing paths with the Fratellis, a local crime family who's only just broken out of jail when the story begins.
Naturally, with a cast of boisterous youths to corral on a daily basis, Donner wound up feeling pretty wiped out by the time production on "The Goonies" was winding down. Not that this stopped the film's executive producer, Steven Spielberg, from having a little fun at his expense.
Never work with kids or animals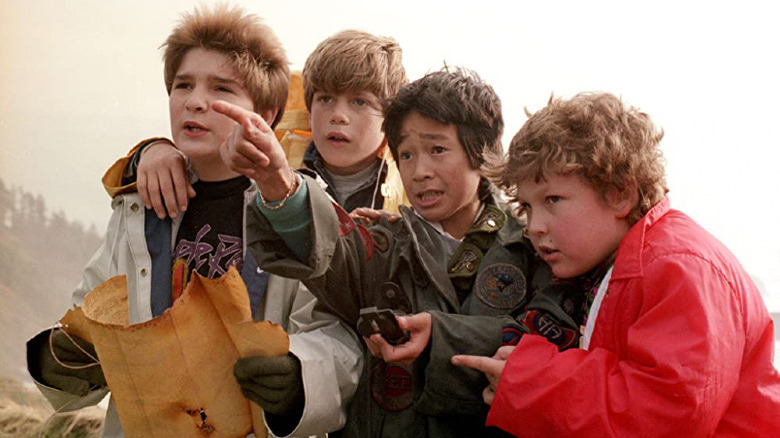 Warner Bros. Pictures
In addition to producing, Spielberg also received story credit for "The Goonies," with Chris Columbus writing the script (having only just made a name for himself one year prior by penning "Gremlins"). For Spielberg, dealing with unruly kids on set was old hat, as he'd done just that to great success a few years earlier on "E.T. The Extra-Terrestrial." But for Donner, who had mostly worked with adult actors up until that point, with the exception of "The Omen," it was a bit of a trial by fire.
Speaking on Josh Gad's Reunited Apart series in 2020 (via The Hollywood Reporter), Spielberg recalled:
"My best memory, I have to say, didn't happen during the shooting of the movie, it happened after the movie was over. Everyone we cast was high energy, and after a while, it kind of started working on Dick. It'd tear him apart a little bit, a piece [at a] time."
Donner, it seems, had either never heard that old Hollywood adage about never working with kids or animals, or he'd chosen to ignore it, believing himself the exception. Either way, Spielberg recalled that he spent the last two weeks of filming reiterating his plans to retreat to his vacation house in Hawaii as soon as the movie was done. So, in an act befitting of the film's impish spirit, Spielberg sneakily arranged for the movie's stars to fly out to Hawaii and make their way to Donner's place before he did. 
As Martha Plimpton, who co-stars in the movie as Stephanie or "Stef" (a Goonie ally, so to speak), noted, Donner was far from ecstatic to find them all there when he arrived:
"He dropped to his knees. He went white as a sheet. We thought we'd given him a coronary."
Hey, you guys!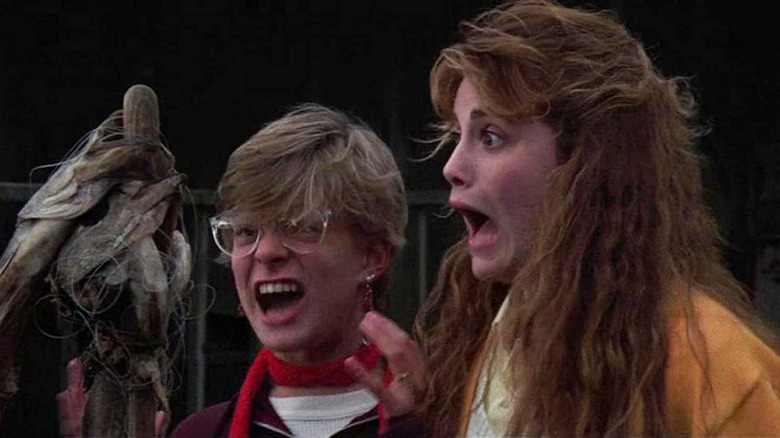 Warner Bros. Pictures
Part "Indiana Jones" for youngsters, part messed-up '80s movie (there truly are a lot of those), "The Goonies" is a ride from start to finish. It's also an extremely yelly film. Be they hanging out at their homes or running for their lives, the Goonies are constantly yelling and screaming. It's all very faithful to the roller coaster that is adolescence, as kids tend to operate with little to no filter, and that emotional volatility is something Donner's movie gets across in spades. This, in turn, makes "The Goonies" the kind of film that almost feels designed to send your anxiety levels spiking as an adult.
One can understand, then, why Donner was ready to collapse by the time he finished shooting the film, as much as he seemed to enjoy making it. If anything, his feelings on the matter probably paralleled that of the many grown-ups who were raised on "The Goonies" as kids, this writer included. Sure, revisiting it now, we're likely to find it more exhausting than exhilarating, but it'll always have a special place in our hearts. Goonies never say die, after all.