Gossip Girl Has Been Cancelled, But It's Being Shopped To Other Networks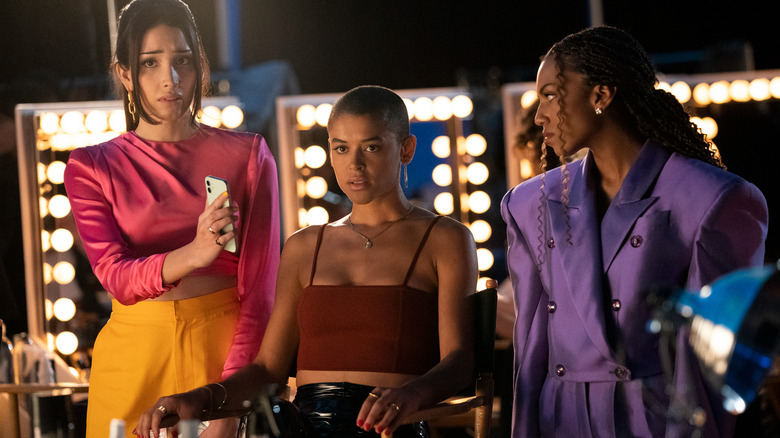 HBO Max
Tragedy has struck the Upper East Side: our days of listening to Kristen Bell bully a bunch of ridiculously wealthy teenagers have (once again) come to an end. I do hope you've been practicing your shocked Pikachu face, because here comes more cancellation news out of Warner Bros. Discovery: per The Hollywood Reporter, HBO Max has officially canceled the "Gossip Girl" revival after two seasons.
From original "Gossip Girl" creators Josh Safran and Stephanie Savage, the sequel series introduced a new generation of drama-prone Manhattanites who too often find themselves entangled in all sorts of elicit affairs and tawdry scandals. It would be one thing if they could conduct their chaos in peace — but alas, the rumor-spreading Gossip Girl has returned! Instead of lonely boy Dan Humphrey, the culprit is a set of teachers who hope to curb their students' bad behavior by airing their dirty laundry in public.
The new "Gossip Girl" doubled down on the drama, romance, and backstabbing, this time with a much more diverse cast of characters and plenty of wealth-centered commentary. While it's a shame to see it go, fans can at least look forward to getting some closure when the series airs its second season finale next week. THR reports that the second season was designed with a sense of finality, meaning the final episode, "I Am Gossip," will wrap up many loose ends.
Goodbye, old friend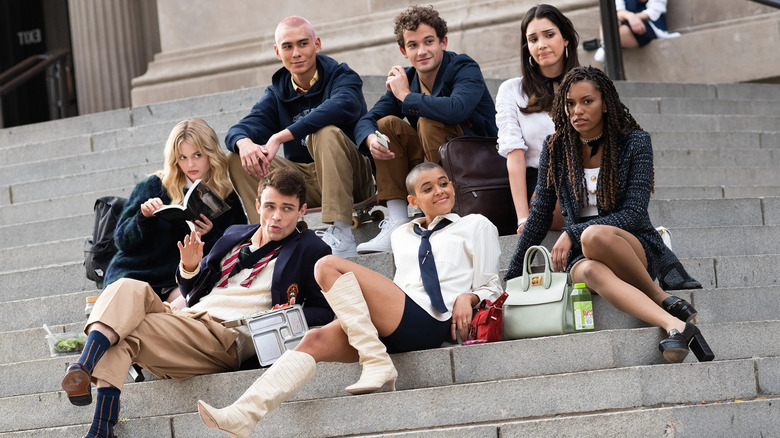 HBO Max
Showrunner and series co-creator Josh Safran bid the series a bittersweet farewell on social media, with the following statement:
"So here's the goss: it is with the heaviest of hearts that I have to announce Gossip Girl will not be continuing on HBO Max. The EPs and I will forever be grateful to the network and studio for their faith and support; the writers for their devious brains and dexterous talent; the superstar cast for being the greatest of collaborators and friends; and the crew for their hard work, dedication and love for the project. This was honestly the greatest set I ever worked on, top to bottom."
Since HBO Max, like other streamers, doesn't release traditional viewership data, it's hard to say what motivated the cancellation. But given the fact that WBD CEO David Zaslav has been dead-set on cost-cutting for the past year, the timing is no big surprise: HBO Max in particular has been reversing renewals, dropping titles from the streaming service, and otherwise canceling ongoing shows at a rapid pace. "Gossip Girl" is merely the latest casualty — but that doesn't necessarily make this the end of the road.
Can Gossip Girl snag a season 3 somewhere else?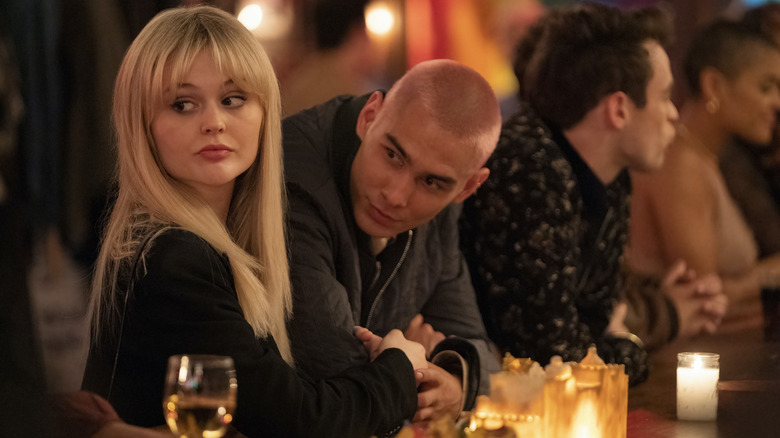 HBO Max
Welcome to the new world order, where being renewed doesn't guarantee avoiding cancellation, and being canceled means you can still be picked up elsewhere. Though its tenure at HBO Max will officially end when the season 2 finale debuts on January 26, the "Gossip Girl" producers are currently shopping the series to other networks/streamers. Safran doesn't exactly seem optimistic, but all hope is not lost. The showrunner finished his Instagram statement with the following:
"We are currently looking for another home, but in this climate, that might prove an uphill battle, and so if this is the end, at least we went out on the highest of highs. Thank you all for watching, and I hope you'll tune into the finale next Thursday to see how it all comes together. Xoxo"
With "Gossip Girl" gone and the "Degrassi" reboot in the trashcan, who will uphold the teen drama corner of HBO Max? Besides "Euphoria," of course, which is anyway becoming more of a horror watch than a frothy teen drama. Right now, the candidates are "Pretty Little Liars: Original Sin" and "The Sex Lives of College Girls," both of which are expected to return for new seasons. Y'know, unless their renewals are unceremoniously reversed. But that basically never happens.