Rian Johnson Is Working On Knives Out 3, But It 'Hasn't All Snapped Into Focus Yet'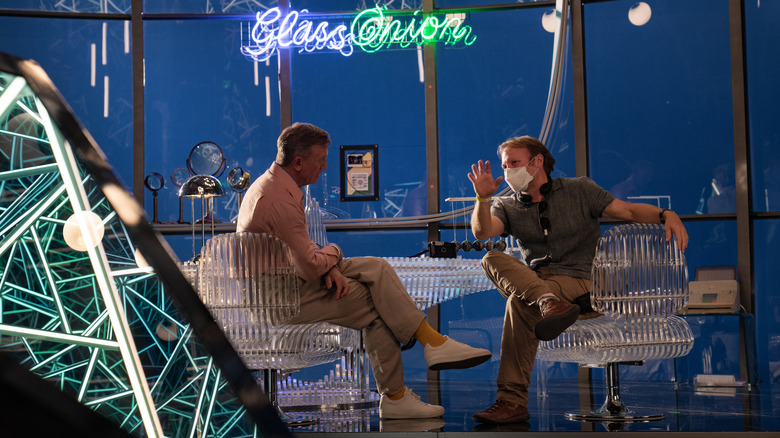 John Wilson/Netflix
Talk about a plan that even Benoit Blanc himself would have to sit back and admire. After emerging as one of the most creative and talented up-and-coming artists with a number of original films, starting with "Brick" and continuing with "The Brothers Bloom" and "Looper," Rian Johnson leveraged his experiences on both "Breaking Bad" (where he directed two of the best episodes in the entire series) and "Star Wars" ("The Last Jedi" is, dare I say it, good actually) to firmly establish himself as one of the most exciting filmmakers in the business right now. With both "Knives Out" and its sequel "Glass Onion" under his belt, Johnson's hold on pop culture is about to continue with the Natasha Lyonne-starring series "Poker Face."
But what about the storyteller's next big-screen outing? To nobody's surprise, the break-out success of the Benoit Blanc series has ensured that audiences will receive a steady diet of murder-mysteries starring Daniel Craig's rambunctious detective for years to come. And according to Johnson himself, he's already started the process of working on the third film in the rapidly-growing franchise. In a recent conversation with Empire, the director offered a fresh update on the status of the still-untitled sequel to come, confirming it's his next project "because it's the most exciting thing right now to me." He explained:
"I feel like any movie I'm making, I need to be making it because I can't imagine doing anything else. I'm jumping into the next Benoit Blanc next because I can't think about another story."
Johnson hasn't quite figured out the details yet, mind you, but expect an "exciting" and "very, very different" story from the previous two. "I've got a big cloud of ideas, but it hasn't all snapped into focus yet."
Trust the process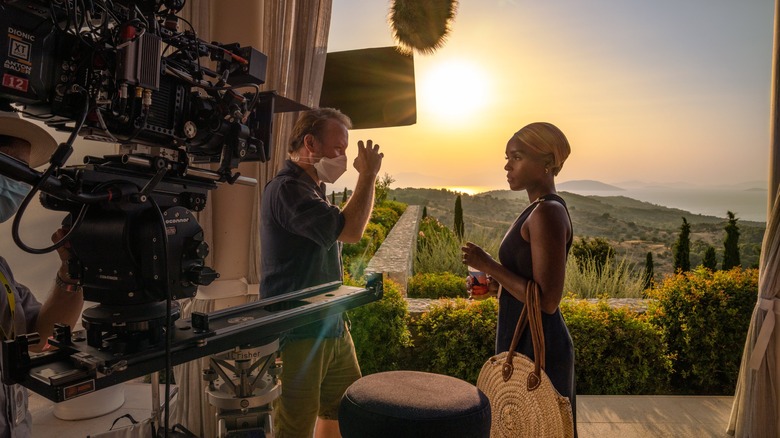 John Wilson/Netflix
Let's see your best detective impression, folks, because the game is afoot and the biggest mystery to solve concerns exactly what kind of story Rian Johnson will settle on for the sequel to "Glass Onion." Despite the connective tissue of Craig's Benoit Blanc solving yet another murder, "Knives Out" and its sequel differed from one another in terms of their tone and structure. With the promise that the third film in this crowd-pleasing franchise will once again march by the beat of its own drum, we can't help but wonder how it might play out.
Johnson remains tight-lipped on any specifics, naturally, but he at least delivers some insights in the same Empire interview about just how he goes about writing these zany and twisty plots:
"I start structurally. I start working in notebooks. I don't start with a crime, I start with the structure of the story, and what the audience's journey is actually going to be through the story. Which has to do with the crime, but more than that, it has to do with who we care about and why."
This thought process goes a long way towards explaining why Ana De Armas' Marta Cabrera and Janelle Monáe's Helen Brand ended up becoming such fan-favorite characters in both "Knives Out" and "Glass Onion," respectively. Audiences showed up for the A-list cast and the promise of a confounding crime on both occasions, to be sure, but they remained invested because Johnson got most viewers to care about the protagonists caught up in the mystery. However the next film turns out, it's a safe bet that fans will show up once again looking for another new character to root for.
"Glass Onion" is currently streaming on Netflix.