Glass Onion: A Knives Out Mystery Took A Page From This 1970s Murder Mystery You May Not Know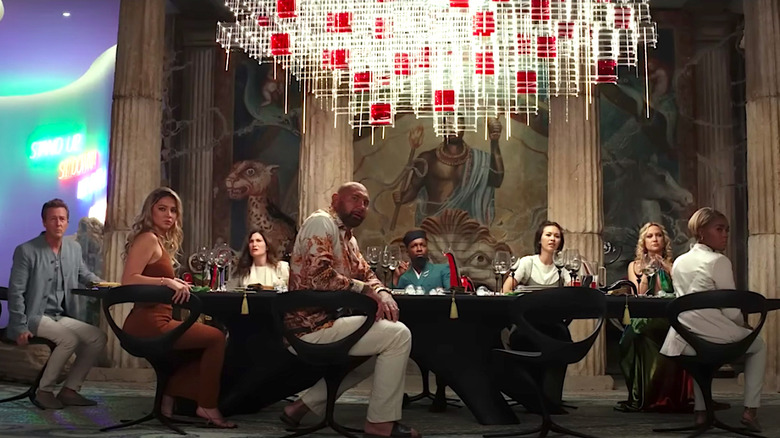 Netflix
This piece contains mild spoilers for "Glass Onion: A Knives Out Mystery."
The first time Benoit Blanc (Daniel Craig) appears on screen in Rian Johnson's latest installment to the "Knives Out" franchise, he is in a tub. From the looks of it, it's an average tub spruced up with a chic, wooden tub tray, a bottle of Ricard, and one lone but cheery-looking rubber ducky. Benoit indulges in a cigar as he struggles to understand the rules of the popular video game, "Among Us." Viewers quickly learn that he's in the midst of quarantining during the pandemic, which has forced him to seek out new intellectual pursuits to keep his mind busy while he waits to return to his true passion of detective work. 
Of course, Benoit is not playing "Among Us" alone. He is tapped in to a Zoom call with four friends: Kareem Abdul-Jabbar, Natasha Lyonne, the late Angela Lansbury (i.e. Jessica Fletcher from the supremely popular "Murder, She Wrote"), and, curiously, Stephen Sondheim. Sondheim, who passed away in 2021, is best known for his influence in the world of musical theater. He's worked on and written some of the biggest musicals — "West Side Story," "Into the Woods," "Sweeney Todd" — and has been an inspiration for countless numbers of people, including Rian Johnson. 
But Sondheim's inclusion in this very famous on-screen quranteam goes beyond Johnson's appreciation for the late composer. It is also a subtle acknowledgement of one of Sondheim's other loves: mysteries. In fact, some might be surprised to find out that the screenplay for "Glass Onion: A Knives out Mystery" was partially inspired by a little-known neo-noir murder mystery flick that Sondheim helped write. 
An inspiring boat-born parlour game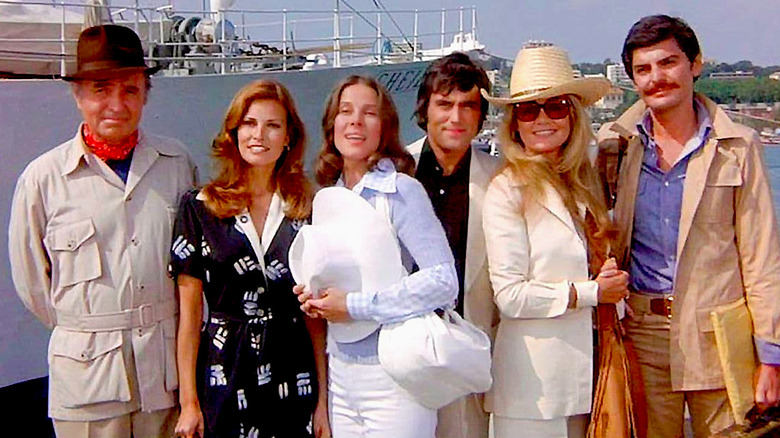 Warner Bros
It's no secret that "Knives Out" and its recent sequel are heavily inspired by the work of Agatha Christie. Benoit Blanc takes a page from the book of one of Christie's very own detectives, Hercule Poirot, and the plots of both of Johnson's films are filled with the same clever playfulness that makes Christie's mysteries so compelling. But the set up of "Glass Onion" is also influenced by the '70s whodunit, "The Last of Sheila." In an interview for Vanity Fair, Johnson explains that "Glass Onion" has ties to this Sondheim flick. "It's an incredible murder mystery," he says of the film. "We take a real page from it in terms of the set up of this movie."
"The Last of Sheila" was co-written by Sondheim and Anthony Perkins, and it tells the story of a group of friends who gather together for a cruise one year after the tragic death of Sheila Greene (Yvonne Romaine), the wife of one of the men in the group, Clinton Greene (James Coburn). On the boat, Clinton wants everyone to play a game where each guest is given a card containing a supposedly false piece of gossip that they must try not to reveal to those on board. However, as the game unfolds, it becomes clear that the secrets on the cards are actually true and that at least one of the friends on board — if not more — is also the murderer of Sheila Greene. The film is a clever mystery full of all of the twists and turns sleuths love, and fans of both films will no doubt see similarities between the two.
For the love of the game
Netflix
In terms of the similarities between the two films, Johnson tells Vanity Fair that in "The Last of Sheila" all of the guests meet on a dock and take a picture together before setting sail. For those who have seen "Glass Onion," you will recall that the guests of Miles Bron (Edward Norton) similarly convene on a dock before traveling by boat to Bron's island home. This scene serves as both an in-depth introduction to the characters, as well as the first opportunity for viewers to see everyone interact with each other in person. "You're trying to get across as much as possible," says Johnson.
Glass Onion" is also inspired by the plot of "The Last of Sheila" by having the characters take part in a murder mystery party game that actually ends up turning into a real life murder mystery. This idea of friends gathering to play an elaborate game is something that Sondheim occasionally did, as well, and which was also a big influence on the plot of his and Perkins' film. Ian article for The New Yorker details some of the aspects of Sondheim's "game parties," which included everything from "complicated maps full of numbers and arrows" to cryptic clues hidden in song lyrics.
The plot of "Glass Onion" obviously draws a lot of its charms from "The Last of Sheila," and even the film's eccentric character, Miles Bron with his love of complex puzzles, can be seen as an on-screen homage to Sondheim himself and his own love of figuring things out. The only difference is that while Bron is merely hiding behind a fake façade, Sondheim was the real deal.