The Outwaters Trailer: Found Footage Nightmare Proves You Should Never Camp In The Desert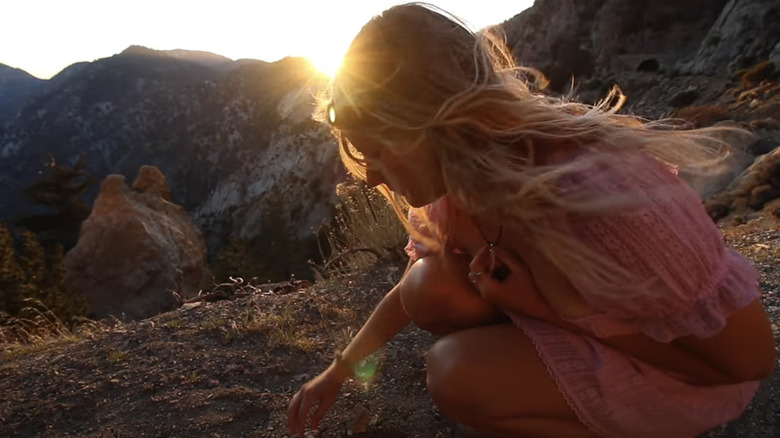 Cinedigm
If you saw "Terrifier 2" in theaters, you probably remember feeling unsettled by one particular trailer that played in front of it. That trailer, for a project called "The Outwaters," showcased a ton of eerie, upside-down, and unexplainable footage. If you're anything like me, it's been in the back of your mind ever since.
Well, that initial trailer for "Outwaters" is like a trailer for "The Muppet Movie" in comparison to its latest one. Still flanked with strange imagery and promotional quotes hyping up its scares, it starts to paint a picture of what Robbie Banfitch's film has to offer. Four friends are embarking into the Mojave Desert, dressed in their Coachella finest. Unfortunately, what awaits them is no festival, but the isolating and unforgiving wilderness, one that has been haunted by something truly wicked.
Just how wicked are these strange occurrences, you might ask? Throwing up blood, a proliferation of lacerations, and a heavily distorted perception of reality are just a taste of what these four doomed campers will experience.
Watch The Outwaters trailer
"The Outwaters" stars the aforementioned Banfitch alongside Michelle May, Angela Basolis, and Scott Schamell. In addition to directing the film, Banfitch also serves as producer and screenwriter. The film serves as another example of what appears to be a burgeoning micro-budget horror boom -– not only was it promoted ahead of the boundary-breaking "Terrifier 2," but it has also been discussed in the same vein as movies like "Skinamarink" and "We're All Going to the World's Fair." Considering its already-rave reviews, we could be looking at a potential reinvigoration of the found footage subgenre once it hits the mainstream.
Speaking of which, "The Outwaters" arrives in select theaters on February 9, 2023. While tickets and locations have not been announced as of yet, make sure to keep this on your radar if you're a hardcore horror fan. If you miss it during its theatrical run, it will eventually be available to stream on Screambox.