M3GAN's Original Script Was Much More Gory, But An Unrated Version Could Be Coming Soon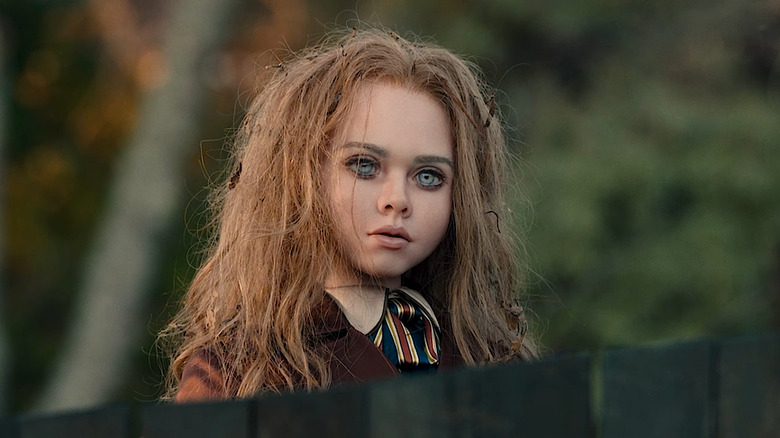 Universal Pictures
Time and time again, horror has proven to be one of the most successful genres of them all, thanks in part to low budgets with big rewards. Case in point, look at "M3GAN," which raked in over $30 million in its opening weekend against a modest $12 million budget. If the killer AI wasn't one of Blumhouse's top priorities beforehand, it is now. How could she not be? Last October revealed the teaser that set the internet ablaze with the titular android dancing on the way to her next kill. "M3GAN" fever was in full effect.
On top of "Housebound" director Gerard Johnstone, the success of "M3GAN" can also be attributed to its screenwriter Akela Cooper. Her television work includes such shows like "Grimm," "Luke Cage," and "The 100," before making her feature film debut with the script for "Hell Fest." But everything changed once the bonkers ride that is "Malignant" came to the screen. It's a delicious piece of camp from Cooper and director James Wan that knew exactly what it was doing.
"M3GAN" only further proves that Cooper's an exciting new voice in the world of horror, who knows how to balance genuine thrills with a dark sense of humor. If you've seen the film, then you know that, unlike the gory showmanship of "Malignant," "M3GAN" tows the line typically associated with a PG-13 rating. But when you listen to Cooper speak about the film, it's clear that M3GAN initially caused a lot more damage than what ended up on theater screens.
M3GAN initially did a lot more slaying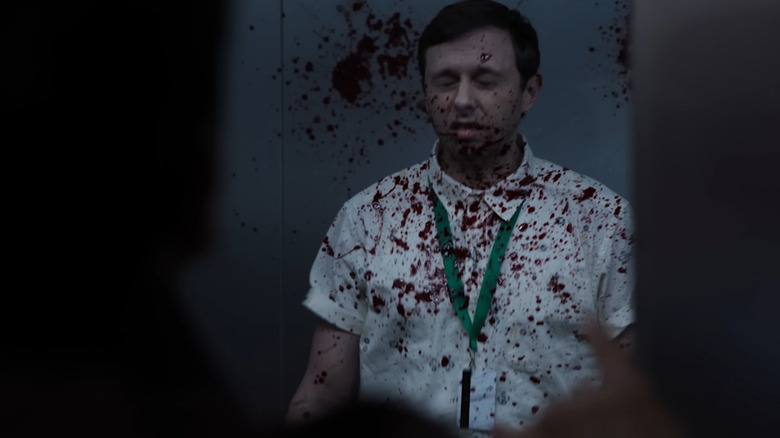 Universal Pictures
While talking to the Los Angeles Times, although Cooper doesn't explicitly say that "M3GAN" was shot for an R rating, it's heavily implied that the violence in the finished film had been cut down from what it was before:
"She did kill a bunch more people, including a couple of characters whom James [Wan] was like, 'I like what you did with those people, but I want them to live.' I was merciless, but again, that is me. My humor is extremely dark."
You don't have to go too far to see changes made, as there's a moment toward the end of the first trailer from last October, where a character is showered in blood. In the film, however, that scene is relatively bloodless. Although according to Cooper, for those hoping to see the version of "M3GAN" prior to its trimmings, an unrated cut should be on its way very soon. "There should be an unrated version at some point ... I heard it is on the books. But yes, it was way gorier. Her body count in the script was higher than in the movie," says Cooper.
Unrated cuts can be a fun little addition to the theatrical cut when it comes to home media, but the trend of movies being shot for an R but then released as a PG-13 has become tiresome. Why would folks want to watch the neutered version knowing that its original state will only be released within the next few months? Regardless, if you were wondering why it chopped some of its nastier bits, then you just have to look at how "M3GAN" garnered its online success to begin with.
'I'm happy that I could have a hand in bringing back fun horror'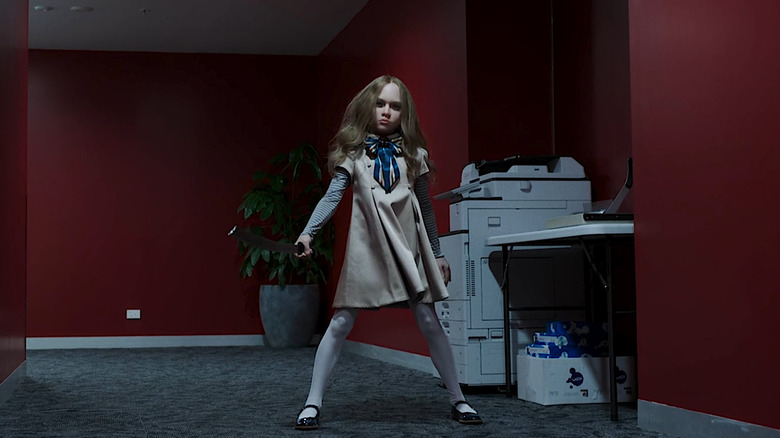 Universal Pictures
It's not too surprising that it was cut down, especially since the viral marketing lent itself to a teenage market. "No shade to Universal, love them, and I understand that once the trailer went viral, teenagers got involved and you want them to be able to see it," says Cooper. All of social media essentially blew up the moment the world saw M3GAN dancing with a guillotine trimmer in hand.
It's conflicting because of a few reasons. Blood or no blood, "M3GAN" is a good movie with an awesome antagonist. Amie Donald's agile physicality, coupled with Jenna Davis' vocal talent, makes for a compelling and hilarious new addition to the roster of screen slashers. The film is a fun slice of gateway horror that will likely entice younger audiences to seek out horror movies on their own. On the other hand, in its current form, it feels like there's a crucial piece of the puzzle missing, especially with its watered-down deaths. You can tell that there's a mean edge that's been slightly sawed off.
Cooper has talked about how she wanted to "lead that charge" when it came to bringing gore back to the screen, and "Malignant" proved that there is a market for it (via The Los Angeles Times):
"I'm happy that I could have a hand in bringing back fun horror that doesn't take itself so seriously. I'm reading about more horror movies that are wild, out-there ideas coming out or being bought."
Here's hoping that the folks at Blumhouse let Cooper and Johnstone steer the ship towards that bloodier future she's envisioned when it comes to the inevitable "M3GAN" sequel.
"M3GAN" is now playing in theaters everywhere.