The Incredible Horror Comedy From The Director Of M3GAN You Really Need To See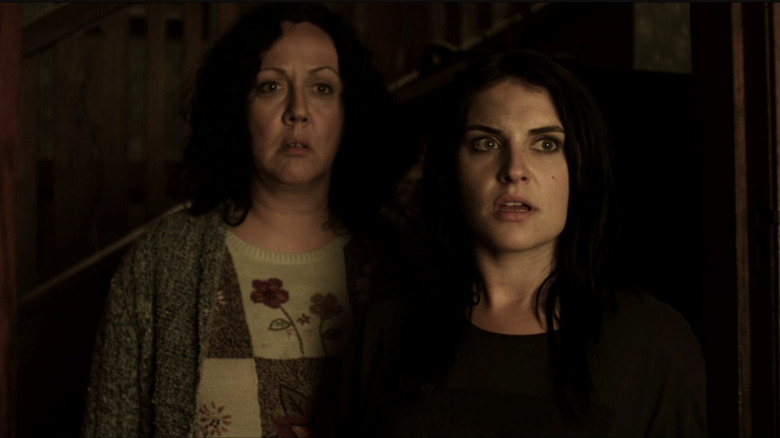 Semi-Professional Pictures
When Blumhouse dropped the trailer for the new killer doll movie "M3GAN," the internet exploded. The film sees producer James Wan and writer Akela Cooper reuniting following their bonkers horror fever dream "Malignant," bringing on New Zealand director Gerard Johnstone to tell the story of a roboticist named Gemma (Allison Williams), who gifts her recently orphaned niece Cady (Violet McGraw) a life-like A.I. doll meant to serve as a de facto best friend and babysitter. Unfortunately, as any killer doll story could have predicted, M3GAN has more than just playtime on her mind. Whether it's the dead-eyed dance moves or the fact the doll looks upsettingly close to the Renesmee Cullen robot baby of the "Twilight" films, people can't stop talking about "M3GAN" having the potential to be the next "Malignant."
Don't get it twisted, Wan and Cooper truly made something magical with last year's most-talked-about horror film, but we can't let recency bias allow us to forget that Gerard Johnstone also knows a thing or two about subversive horror comedies. For the uninitiated, Johnstone is the director of 2014's "Housebound," easily one of the best and most underseen horror comedies of the last 20 years. Johnstone wrote, directed, and edited the film, which centers on a young would-be thief named Kylie (Morgana O'Reilly) who is forced into house arrest with her estranged mother Miriam (Rima Te Wiata) in their seemingly haunted family home. Beyond a simple ghost story, "Housebound" is effortlessly charming, genuinely creepy, and filled with the kind of classic comedic elements you'd expect from an adventure film.
Hilariously relatable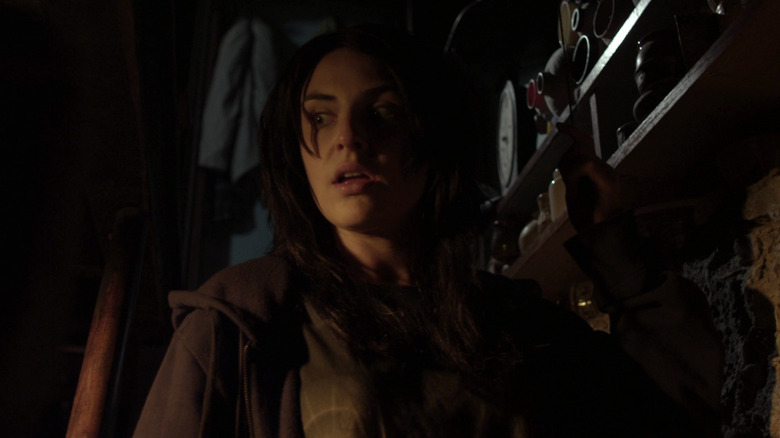 Semi-Professional Pictures
From the get-go, Kylie is a protagonist that just about anyone can relate to. She's sort of a brat, she is over it before her house arrest even begins, and the forced intimacy she must share with her mother is enough to make her stir-crazy. In fact, "Housebound" plays better now with pandemic-related lockdowns having become a common occurrence. She is the personification of all of our most negative behaviors, and while presented as wholly unlikable, only grows more understandable as the film treks on. Who among us hasn't felt compelled to rip apart a creepy old toy that scares us half to death in the middle of the night?
Kylie's mom has always believed their home, a rundown former bed and breakfast, is haunted, which only exacerbates all of Kylie's experiences. She's desperate for logic to explain the happenings, which makes Miriam's assertion of "it's haunted, cope" all the more infuriating. She convinces Kylie that she used to see the ghosts when she was younger, leaving her constantly feeling like she's been gaslit by her entire house. The strange occurrences become more and more obvious with time, making it impossible for Kylie to write off. Oddly, her house arrest officer Amos (Glen-Paul Waru) fully believes in ghosts, and helps uncover the secrets of what's really going on from within the walls, often with hilarious results.
Horror with heart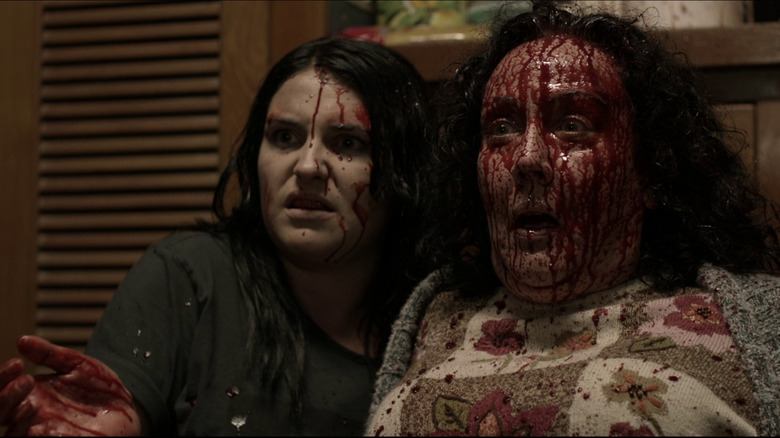 Semi-Professional Pictures
"Housebound" succeeds as not just a ghost story or Kiwi comedy, but also as a mystery. Just when you think you've made heads or tails as to what's going on in the house, Johnstone introduces a new twist to completely throw you off your game. While the film never becomes a farce by definition, it constantly has the comedic rhythm of one. The story plays like an advent calendar of twists and turns, with a newer, weirder surprise hiding behind every door. It's quirky, creepy, and at times deeply unsettling, but the film always feels grounded in the world Johnstone has crafted, a true testament to his skills as a visual storyteller. There's so much tension in a film filled with so much wacky humor, and there's well-needed levity once the severity of the situation comes to the surface.
Horror comedies often lean staunchly in one direction, but "Housebound" captures the perfect balance. The humor that exists is part of the authentic lives of the characters, rather than some cheeky reference or wink at the camera. The final act sees the film thrown into full blown horror-comedy-action territory, with a triumphant and surprising ending that elevates the film to an immediate fan favorite. "Housebound" perfectly encapsulates that high every horror fan is chasing, where you find the perfect movie you need everyone in your life to see, and will continue talking about it long after the credits have rolled. "M3GAN" is only Johnstone's second feature film, but if "Housebound" is any indicator of what to expect, we're all in for a hell of a fun ride.
Good news: "Housebound" is currently available to stream on Shudder and TubiTV.