Chucky Season 2 Loudly, Proudly Declares That It's No Fan Of Children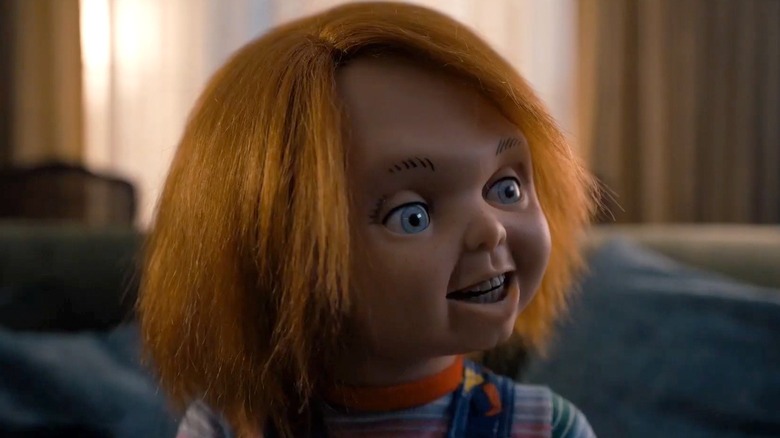 USA and Syfy
It's been about a year since we last caught up with our favorite sociopathic serial killer trapped in the body of a doll, but "Chucky" is back for season 2 and Charles Lee Ray (Brad Dourif) is wasting no time continuing to ruin the lives of Jake Wheeler (Zackary Arthur), his boyfriend Devon Evans (Björgvin Arnarson), their friend Lexy Cross (Alyvia Alyn Lind), and anyone else who gets in his way. Season 1 saw Chucky and his partner-in-crime, Jennifer Tilly (Jennifer Tilly), unleash a reign of terror across Hackensack, New Jersey that included a mansion fire, plenty of stabbings, murders framed as suicides, a movie theater massacre, and the demonic possession of 70+ Chucky dolls, and left Jake and Devon both orphaned.
Chucky isn't a fan of loose ends, which is why the first season provided such ire for him. Nica Pierce (Fiona Dourif) is still under the watchful eye of Jennifer Tilly, his first friend-to-the-end Andy Barclay (Alex Vincent) has become the de facto Obi-Wan Kenobi of the Hackensack trio of middle schoolers, Andy's foster sister Kyle (Christine Elise) showed up to help but may or may not have been blown to bits, and the season ended with the return of Tiffany Valentine (Jennifer Tilly), aka "The Bride of Chucky." Chucky's got some unfinished business, but with a better understanding of his targets than when he first arrived in Jake Wheeler's possession, he's not screwing around. The man is on a mission, and that mission is killing the absolute s*** out of some tweenagers.
Jevon lives!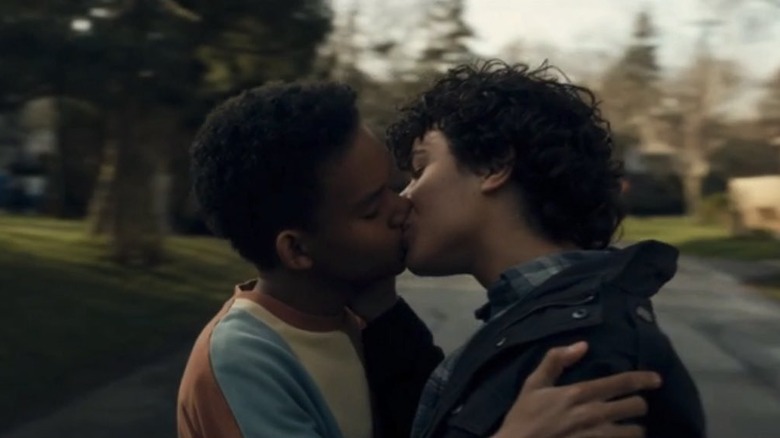 USA and Syfy
With Chucky killing the adults in both Jake and Devon's lives, Jake has entered the foster care system and wound up in a family with homophobic parents and an Adam West-era "Batman"-obsessed little foster brother named Gary. As Jake says his last goodbyes to Devon, the two exchange painfully adorable "I love yous," but avoid any physical affection as to not upset the bigoted applecart. As Jake and his new family drive away and head toward a new life in Salem, New Jersey, Devon chases down the car and stops them, with Jake running out to give him a final kiss goodbye. "Holy, secret identity!" Gary exclaims. Anyway, LGBTQ+ youth in the foster care system are 120 percent more likely to experience homelessness than their heterosexual peers, so Jake's new home is statistically just as dangerous as a killer doll. Can this poor kid catch a break, ever?
Fast forward six months and "Jevon" is going through a rough patch. Jake hasn't been back to Hackensack in half a year, and despite planning on reuniting in Hackensack on Halloween night, he's been wrangled into taking Gary trick-or-treating, dressed like Batman and Robin, of course. As Jake breaks the news to Devon on FaceTime, both boys are hit with prank calls that turn out to be from none other than Chucky. He's alive. He's in Hackensack. And he's dressed up as "The Ghost of Halloween Past" on the Cross family doorstep. Lil' Caroline Cross (Carina Battrick) foolishly lets him in to use the bathroom, and Lexy is too busy dry-humping some boy dressed like a vampire to notice. Devon calls the cops to report a break-in, getting Lexy's attention and letting her know what danger awaits.
Recovery is not going well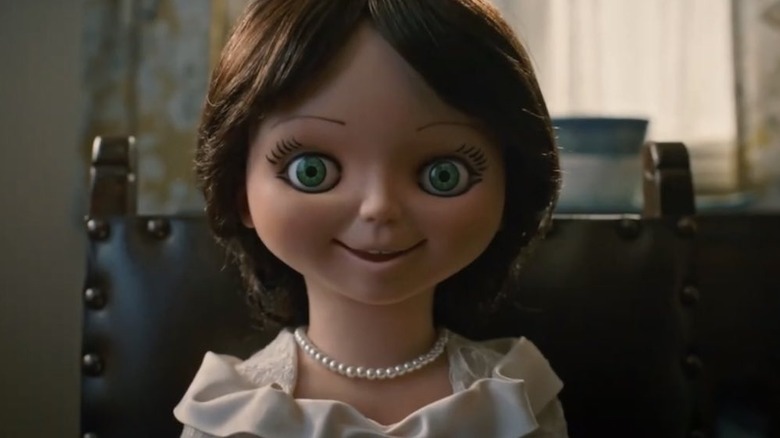 USA and Syfy
The events of season 1 cannot be denied, but no one seems to be handling it well. Lexy has resorted to drugs, namely pills, to deal with her trauma; Mayor Michelle Cross (Barbara Alyn Woods) refuses to accept what really happened and is continually placing the blame on Lexy; poor Caroline is being gaslit by everyone in her life, including her therapist, into believing that Junior Wheeler (Teo Briones) was the real culprit of the massacre and not the Chucky doll that 100% told her to kill her own mom; and Jake has thrown himself into the role of "big brother" to try and absolve himself from his guilt. These kids are emotionally wrecked, and Chucky doesn't give a single f***. If anything, he's loving how destroyed they all are, because it should theoretically make his job to take them all out a hell of a lot easier.
During a family therapy session for Caroline, her doctor decides the best cure for a case of automatonophobia is to ... give her a new doll. The old woman pulls out a bridal doll named "Wedding Belle," which franchise fans could immediately recognize as the original doll that Tiffany Valentine's soul was placed into during "Bride of Chucky." Calling it now: That therapist is connected to Charles Lee Ray or part of the Cult of Chucky and is providing Caroline with the new vessel for Tiffany's soul.
Oh yeah, I forgot to mention it, but Andy Barclay crashed the truck full of Chucky dolls from the end of season 1 and blew off the Tiffany doll's head in the cold open. He, Kyle, Tiffany, and the dolls are presumed dead, but we're not stupid enough to buy that lie for a dollar.
'F*** them kids' - Chucky, probably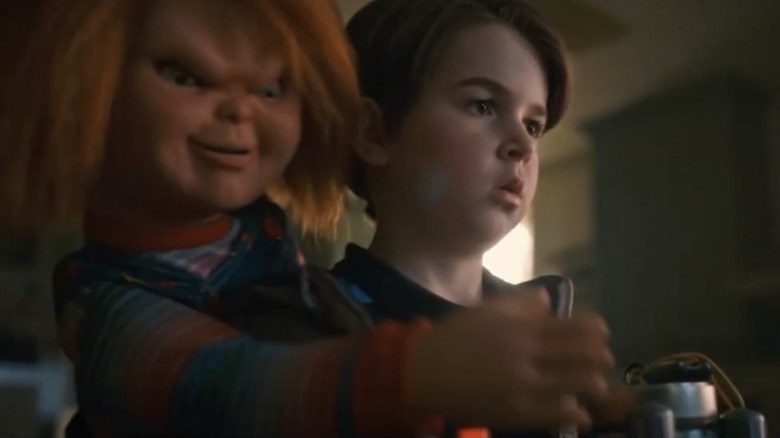 USA and Syfy
Jake takes an Uber to get back to Hackensack to make sure that the Cross kids are safe and get in some overdue smooches with his boo, but Chucky is already plotting his next move. The trio immediately clock the Belle doll as the same one from "Bride of Chucky," because lest we forget, Don Mancini has created a wonderfully meta-sandbox for all of these characters to play in. In fact, the entire season premiere, which was hilariously titled "Halloween II," is filled with references to other horror films like "Scream," "The Strangers," and of course, the POV opening of "Halloween." The "Chucky" franchise has never been afraid to have fun with the horror genre, and season 2 is no different.
As the three meet up at the Cross house to craft their battle plan, the doorbell rings and Caroline once again opens it unattended. Girl, you have to stop opening the doors by yourself! At the door is Jake's little brother Gary, holding Chucky in his hands while Chucky is armed with a homemade bomb. Yep — Chucky shows up 100% ready to take all the kids out at once in a suicide mission. With last season ending with the creation of an entire army of Chucky dolls, there's plenty to spare. Gary is just excited to be there, but Chucky cuts him off when he tries another "Holy ____, Batman" joke and tells him his schtick is getting old. A man of the people, that one. Devon successfully hits Chucky with a taser and knocks him down, but Gary runs away with the bomb thinking it's a fun toy. Chucky jumps on his back and hits the detonator, blowing he and Gary into nothing but green smoke. RIP Robin.
Where do we go from here?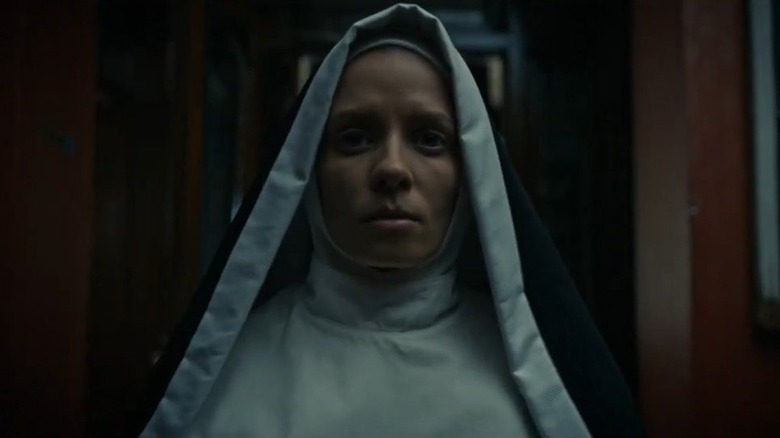 USA and Syfy
With Jake, Devon, and Lexy all at the scene of Gary's death, it's decided that they're all going to be sent away to the Incarnate Lord Catholic Academy as punishment. In a cruel twist of irony, the Academy resides in the former Burlington County Home for Wayward Boys, the school that Charles Lee Ray attended during his younger years. With the trio now in his old stomping grounds, Chucky has a considerable advantage, especially with the added strife of the Catholic environment being actively hostile toward LGBTQ+ youth. While Jennifer Tilly and Nica Pierce were noticeably absent from the season premiere, this gave Mancini the chance to lay the groundwork to shift the story to its new central location.
This first episode is a great reminder that the "Chucky" franchise continues to be one of horror's strongest and most consistent, and that Mancini is interested in playing by nobody's rules other than his own. Chucky drops multiple f-bombs in the opening minutes and ends the episode by blowing up an elementary schooler. We as the audience can either get on board or get out of the way, because "Chucky" is gonna do whatever he wants — "don't kill kids in horror" rules be damned.
"Chucky" season 2 airs every Wednesday at 9pm EST, simultaneously on USA and Syfy.