Chucky Stars Brad Dourif And Jennifer Tilly Explain Exactly How Killer Dolls Have Sex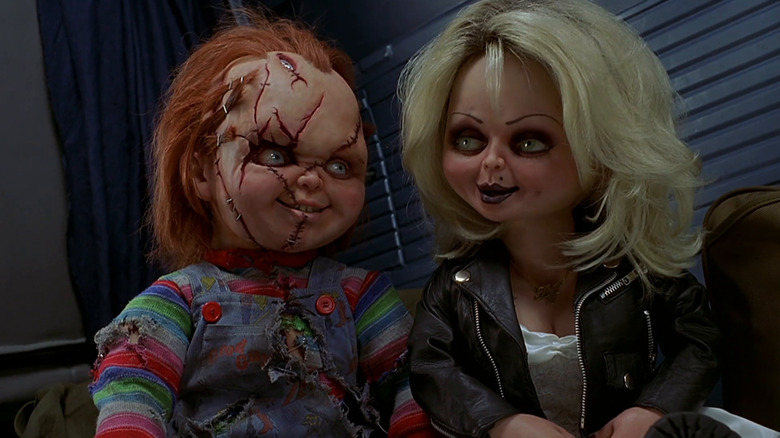 Universal Pictures
Don Mancini's "Child's Play/Chucky" franchise has been scaring into the hearts of a generation for over 30 years. The series started out as a relatively standard slasher with a unique, serial-killer-possessed-toy twist, but has since grown into one of the most entertaining and enjoyable franchises in horror history. The "Chucky" movies and now TV show aren't afraid to have fun, and with Mancini at the helm for every single incarnation (sans the remake that had nothing to do with him), the lore of Chucky (voiced by Brad Dourif) has only gotten richer and more delightful with age.
The "Chucky" universe as we know and love it today took a turn for the overtly campy with the introduction of Jennifer Tilly as both Tiffany Valentine and later in "Seed of Chucky," ... Jennifer Tilly. Giving Chucky a partner his own size to play off of was a brilliant decision, not only for storytelling purposes but also for the now endless opportunities for merchandising. "Bride of Chucky" saw the duo as a killer doll version of Bonnie and Clyde, but because Mancini is a fearless creative, it also allowed them to be sexual beings. 
During the NBCUniversal Press Tour for season 2 of "Chucky," Dourif and Tilly finally answered a burning question many have had since "Bride of Chucky" premiered in 1998 ... how exactly do those dolls have sex?
Dourif was shocked by the sex scene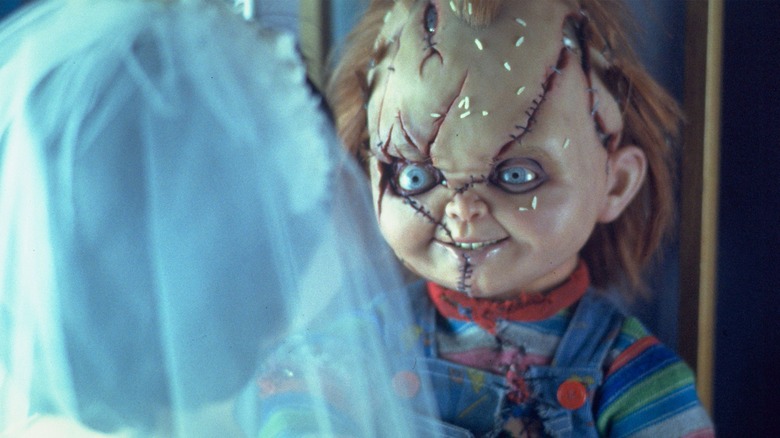 Universal Pictures
Dourif has been voicing the doll since the very beginning but said the sex scene still remains one of his favorite memories working on the franchise, simply because he couldn't believe what Mancini had planned. "The night that Chucky got lucky ... I was shocked," he said. "When Chucky had sex, I wasn't expecting to be shocked but I was so shocked and delighted, and it was so fun to get to do that with Jennifer because I had been working all alone." With Dourif contributing as a voice-over role, he is seldom on any of the actual sets, working instead in a recording booth. Acting alongside Tilly in the scene gave him the chance to actually work with someone on a "Chucky" movie.
"It was really fun because we were the first people to do doll sex, and Brad and I were in adjoining booths so we could improvise," Tilly said. "I improvised 'Chucky, Chucky,' because she hasn't been a doll for that long, 'Do you have a rubber?' and then Brad improvised 'Rubber? Look at me, baby, I'm all rubber!'" she confessed. "So they had unprotected sex which led to an unplanned pregnancy which is a lesson to the kiddies." 
That child would be revealed as the genderfluid Glen/Glenda in "Seed of Chucky," who will be played by non-binary actor Lachlan Watson ("Chilling Adventures of Sabrina") in "Chucky" season 2.
The on-screen reveal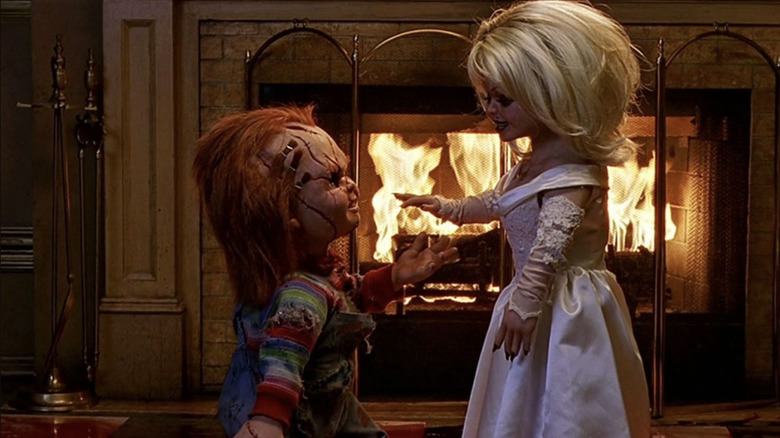 Universal Pictures
While Tilly was acting on set for some of the earlier scenes in "Bride of Chucky," once Tiffany's soul is inserted into the doll, it was all voiceover for her until the subsequent films. With her and Dourif working in the booth, it wasn't until the film's first viewing that the two actually saw what it looked like for their characters to have sex. "There were things that I didn't really realize the puppeteers had done, and they did such an amazing job," Tilly said. She praised the team for how sexy the Tiffany doll looked, and joked about how in the scene you can see "a little bit of Tiffany's round bottom."
Tilly was elated while reminiscing about seeing the scene for the first time. "When Chucky kissed her, his lil' animatronic tongue went out and sort of rotated around in my mouth, so I had to go back in [the booth] and loop in a sort of gurgling sound." Tilly laughed before imitating what sloppy doll tonguing sounds like, which made the entire group on the panel crack up. "So doll sex is different from real sex but it's a lot of fun," Tilly said. "Especially when it's with Brad." Dourif took a moment to shake his head and laugh before echoing her sentiments by saying, "I, I ... I concur, especially with Jennifer." 
Ironic, because Dourif's daughter Fiona has said the exact same thing. Don Mancini, you've made a really weird world, and horror fans cannot thank you enough for it.
"Chucky" season 2 is set to premiere on USA and Syfy on October 10, 2022.