Avatar: The Way Of Water Concept Art Began With James Cameron's 'Visual Metaphors' Instead Of A Story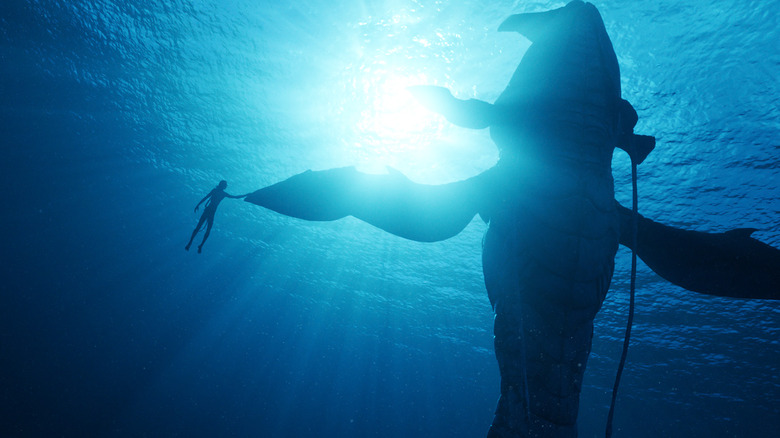 20th Century Studios
We may receive a commission on purchases made from links.
In the years since the release of James Cameron's "Avatar" in 2009, a popular narrative cropped up (mostly online, naturally) that suggested nobody watched the box office-breaking hit for the strength of its script — only its visuals. There's probably a kernel of truth in there, admittedly, as the world of Pandora was essentially treated as the living and breathing protagonist of the picture while everything else was secondary. Until "The Way of Water" finally rolled around, many people would've been hard-pressed to remember character names like Jake Sully or Colonel Quaritch or even Neytiri. But Pandora? You'd have to be in deep, deep denial to come away unimpressed by the stunning backdrop of exotic fauna and alien creatures that Cameron, his design team, and an army of VFX artists cooked up for the big screen.
With that in mind, it stands to reason that the creative approach to the sequel ended up taking shape in a very similar way (of water). With the benefit of another decade of technological advancement and the incidental advantage of audience interest only increasing throughout the lengthy wait time, "The Way of Water" has validated those who abide by that old maxim about never betting against James Cameron and all but steamrolled its way to becoming yet another record-breaking success story. But what about the story behind that story?
The sequel might be bigger, better, and all-around more spectacular than the original, but the true secret to its quality comes from the attention to detail paid during the earliest stages of production.
'A highly collaborative, highly iterative process'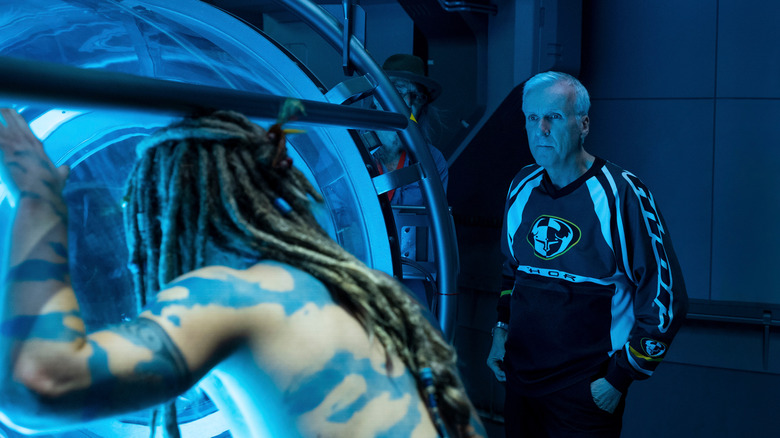 20th Century Studios
In the book "The Art of Avatar: The Way of Water," published alongside the film's theatrical release in December 2022, author Tara Bennett offers a behind-the-scenes look at the James Cameron sequel. In one particular excerpt, production designers Dylan Cole and Ben Procter open up about the daunting work involved to bring an entirely new biosphere of Pandora to life. Brought in during early days — before there was even a working script — the artists collaborated with Cameron to slowly piece together how the sequel(s) would take shape.
According to the director, however, that process didn't unfold as a result of being locked into a rehearsed plan:
"Everybody thinks that I come to it with this sort of crystal clarity. But that's not the case at all. It's like having 500/20 vision where you see some big, blurry thing, but then your vision just gets better and better and better as you go along. It's all about bringing these ideas into finite focus. It's a highly collaborative, highly iterative process that requires an awful lot of talking. You draw. You paint. You talk. Then you look at it."
By taking this approach with the worldbuilding at work in the film, this in turn affected how Cole and Procter interpreted Cameron's method of working in what Bennett refers to as "visual metaphors." As Procter points out:
"There needs to be a symbolism to our designs that evokes some emotional response in the audience. It gives a context to how something belongs in the story because it reminds you of something that has its own history attached to it. It's not enough for something just to look cool. It's got to have all these little neurons firing that remind you of other stuff."
The trickle-down effect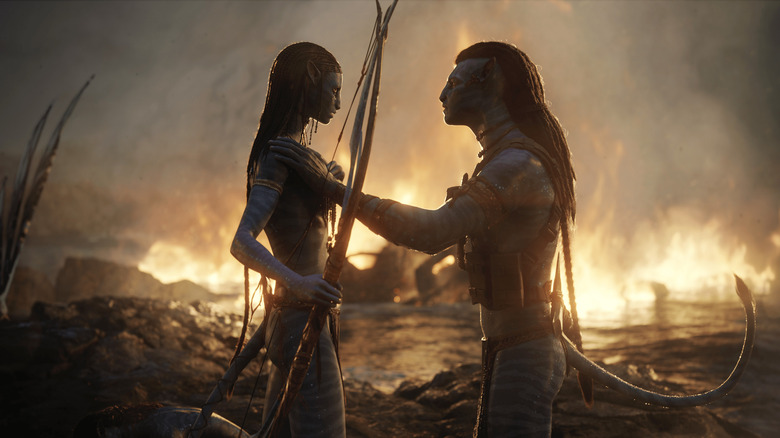 20th Century Studios
With visual designs playing such an integral role in the "Avatar" franchise, it should come as no surprise that the early concept art and the painstaking process involved in figuring out the looks of various cultures, creatures, and more would end up influencing the direction of the script. That meant assembling a writers' room made up of Josh Friedman, Rick Jaffa, Amanda Silver, and Shane Salerno, providing a mountain of notes and scattered thoughts regarding the direction the franchise should go ("I think, on day one, I handed them about a thousand pages of notes and a bunch of small story fragments," James Cameron recalls), and allowing them to take what was in Cameron's mind and put it on paper. According to production designer Dylan Cole, that collaboration with the writers only made each other's work that much better:
"One of the coolest things was when the scripts started coming in, and we would see our paintings written into the scripts. I could see that we helped steer them ... [The writers] were the first 'outsiders' to see our secret work."
Cole and Procter's contributions spanned "future performance-capture needs and live-action requirements for Cameron's vision," giving them a much greater influence on the overall product than other, relatively more run-of-the-mill blockbuster projects could have ever provided. For a filmmaker with movies like "The Terminator," "Aliens," and "Titanic" under his belt, leave it to someone as gifted as Cameron to keep honing his abilities to have multiple departments on a sprawling production all working together in perfect synchronicity towards a common goal.
The results, as they say, speak for themselves. "Avatar: The Way of Water" is currently playing in theaters.