Avatar: The Way Of Water Swims Past $1 Billion At The Box Office In Just Two Weeks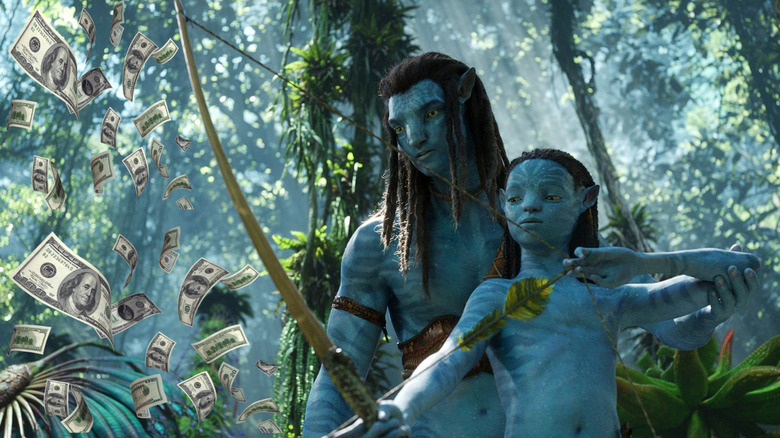 20th Century Studios
"Avatar: The Way of Water" has officially joined the $1 billion club. James Cameron's long-awaited sequel to 2009's "Avatar" has managed to cross the box office milestone, after just two weeks of release. With the movie first rolling out internationally on December 14, it took just 14 days for it to hit 10 figures in ticket sales. But how high can it fly, and will it be enough to turn a profit for Disney?
According to Variety, "The Way of Water" has earned $317.1 million domestically and $712.7 million overseas, counting Tuesday's grosses, which puts it at $1.025 billion globally. That makes it the second highest-grossing movie of 2022, just above "Jurassic World Dominion" ($1 billion) and behind "Top Gun: Maverick" ($1.48 billion). The key thing here is that Cameron's sequel hit the milestone rather quickly, tying "Jurassic World: Fallen Kingdom" as the sixth-fastest movie to ever hit that mark. The fastest to ever do it, for the record, was "Avengers: Endgame," which did so in just five days back in 2019.
Another interesting thing to point out as we rapidly approach the end of the year is that this will be the first time in a long time that a superhero movie or a "Star Wars" movie has not topped the global box office charts. This is, of course, if we don't count 2020, which saw very few movies released and should hardly be counted. The last time it happened under normal circumstances? "Transformers: Age of Extinction" and "The Hobbit: The Battle of the Five Armies" led the way in 2014.
The questions that linger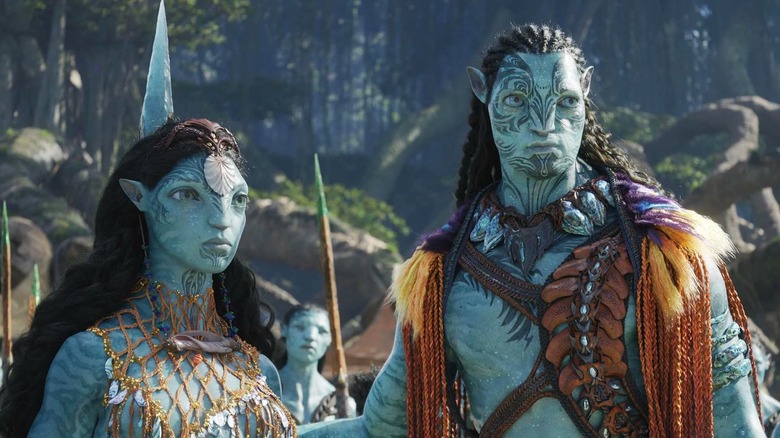 20th Century Studios
For theaters, this is a welcome treat as the post-summer slowdown at the box office was absolutely brutal this year. But for Disney, who is now in control of the "Avatar" franchise following the acquisition of Fox in 2019, the question remains as to whether or not they can actually turn a profit from the movie. 
While budget figures have not been nailed down, they range anywhere between $350 million and $450 million, which would make it the most expensive movie ever made. Not accounting for any percentage of the box office that Cameron or the actors may have in their deals, when factoring in marketing, the break-even point could be around $1.3 billion. Depending on the talent deals? It may well be closer to $1.5 billion. Without hard numbers, it's hard to say. 
For what it's worth, Cameron himself has said it needs to become one of the biggest movies ever to break even. That being the case, the movie still has a long way to go before it can roundly be considered a success. The good news is that there is no major blockbuster competition until "Ant-Man and the Wasp: Quantumania" in February. 
The other remaining question for Disney has to do with "Avatar 3." Yes, "Avatar" made close to $3 billion, standing at $2.92 billion worldwide. But did "The Way of Water" satisfy audience curiosity? Will "Avatar 3" make less than this latest entry? Or will it build on momentum and do bigger business? It's hard to say, but since the movie is already nearly finished, it'll be hitting theaters no matter where "Avatar: The Way of Water" actually ends up. "Avatar 4" and "Avatar 5," however, are not yet guaranteed.
"Avatar: The Way of Water" is in theaters now.