Is Debra Jo Rupp Reprising Her Wandavision Character In Agatha: Coven Of Chaos?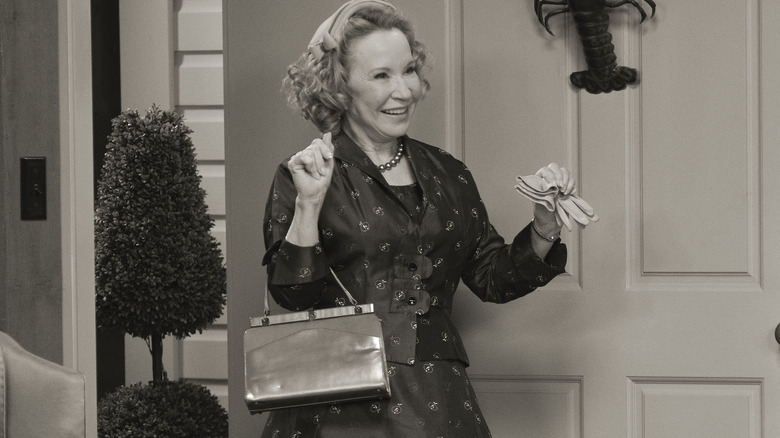 Marvel Studios
Marvel obviously struck gold with the revelation that it was Agatha all along, meddling in Wanda Maximoff's idyllic sitcom-inspired suburbia. Not only did that "WandaVision" plot twist gift the masses with an incredibly catchy tune (all it takes to get this song playing on an endless loop in my head is simply remembering that it exists), but we're also getting an entire Disney+ series out of it, with Kathryn Hahn reprising her role as the witch, presumably with a brand new set of magic users to thwart. Prepare for another deep-dive into the dark magic of the Marvel Cinematic Universe, courtesy of "Agatha: Coven of Chaos," the upcoming series that likely sees Agatha getting back in touch with her witchy origins. But that might be easier said than done.
When Wanda reached her apex and defeated Agatha in the "WandaVision" finale, she not only drained the magic out of her nemesis, but forced Agatha to live on as her sitcom persona, Agnes, trapping her in the mind of the nosy neighbor. But it's not called "Agnes: Coven of Chaos," is it? So I'm willing to bet that Agatha finds a way out of that mind pretty early in the series. This might even be where some other familiar faces enter the mix of her story. Per Deadline, the series will also see the return of two "WandaVision" alums who played Westview residents, trapped by Wanda's hex: the previously announced Emma Caulfield Ford (who played Sarah Proctor aka Dottie) and the newly returning Debra Jo Rupp (who played Sharon Davis aka Mrs. Hart).
Back to Westview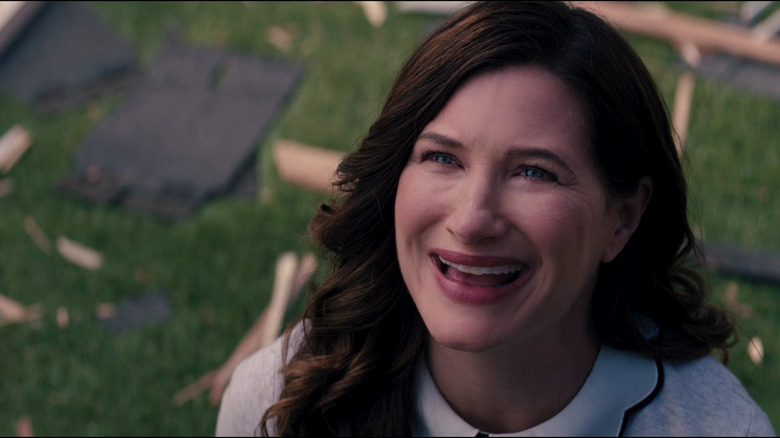 Marvel Studios
Fans of "That '70s Show" are definitely familiar with Rupp, who played Eric's mother, Kitty Forman (a role she will reprise in the upcoming sequel series, "That 90's Show"). Rupp is also known for roles in "Friends," "Better With You," "The Ranch," and "This Is Us." But in the world of the MCU, she's best known as Mrs. Hart, one of Wanda and Vision's first houseguests and an early red flag that something was amiss in Westview. Dinner at the Maximoff household abruptly ended in devastation with Mrs. Hart gleefully begging her husband to stop choking. Thankfully, Sharon Davis and all the other Westview residents were freed from Wanda's clutches in the end — all except for Agatha.
So where will Rupp and Ford fit back into the story? Most likely, they will reprise their roles as the formerly trapped Westview residents. Perhaps they have a role to play in Agatha regaining her true identity. Maybe they're simply around because "Agnes" has remained in Westview. Or, if we're really lucky, they've secretly been witches all along and stick around to join the coven! Either way, just knowing that Westview faces will be around is the closest we've gotten to cracking the plot of the series, since Marvel has been extremely tight-lipped about the plot.
Along with Hahn, Rupp, and Ford, "Agatha: Coven of Chaos" boasts an incredibly star-studded cast, including Aubrey Plaza ("The White Lotus"), Joe Locke ("Heartstopper"), Ali Ahn ("Raising Dion"), Maria Dizzia ("The Staircase"), Sasheer Zamata ("Saturday Night Live!"), and Broadway legend Patti LuPone. "WandaVision" creator Jac Schaeffer is returning as writer and executive producer on the spinoff, which is expected to arrive at some point in 2023.