M3GAN Review: A Horror-Comedy Blast That Will Dance And Slash Its Way Into Your Heart
Universal Pictures
There is no shortage of murderously rogue AI/robot films, from Fritz Lang's masterful 1927 sci-fi epic "Metropolis" to Kubrick's "2001: A Space Odyssey," the "Terminator" franchise, and more recently, "Avengers: Age of Ultron." Evil toys and dolls have also long had their place at least from 1945's "Dead of Night," or famously the original "Child's Play" and "Annabelle" franchises. Murderously rogue robotic toys are also well represented on screen, from the mechanical killer dolls of "Barbarella" to 2019's "Child's Play" outing. "M3GAN," directed by Gerard Johnstone ("Housebound") and co-produced by Blumhouse Productions and Atomic Monster Productions, takes that rhetorical ball and runs, er, dances away with it.
The newest collaboration between James Wan (here as producer) and scribe Akela Cooper is the tale of an android who so attaches with her paired human companion that she'll go to extraordinary, violent lengths to keep her safe. Sure, "M3GAN" isn't offering a concept that's altogether novel. At the same time, the feature does take that established terrain in some interesting directions. It's a movie that unexpectedly forefronts grief amidst both building tension and finding humor in the eccentricities of a killer android. And it's anchored by strong lead performances and a keen understanding of exactly what it's trying to be. What "M3GAN" loses in raw originality it makes up for with a full-tilt commitment to a streamlined story that doesn't waste any narrative opportunities. Most importantly, it's a thoroughly enjoyable blast of a film from the first frame to last, demanding to be seen in a packed theater of eager viewers. 
Thank you for being a friend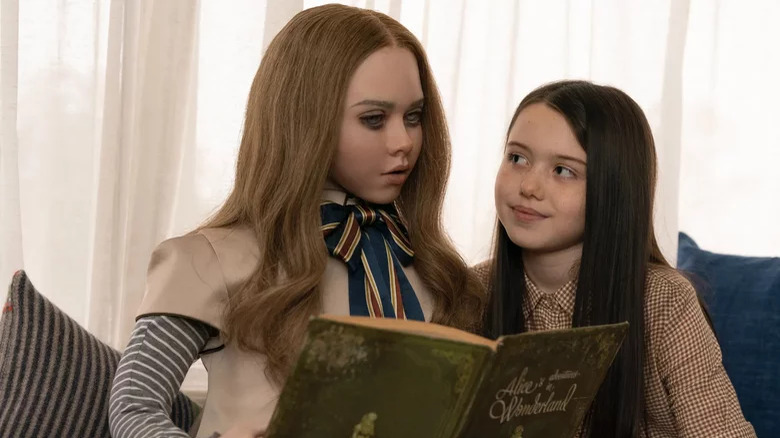 Universal Pictures
In "M3GAN," the life of poor young Cady (Violet McGraw) is tragically upended when her parents get into a car crash on a snowy road. While Cady survives, her parents do not, and she comes to live with her aunt Gemma (Allison Williams). Gemma is a brilliant roboticist and toy designer whose newest pet project M3GAN (Model 3 Generative Android) is deeply in need of a strong test to keep her boss happy. To square the circle, she pairs Cady with the prototype M3GAN AI-powered android, a product intended to be a learning, dedicated lifelong AI friend. As Cady and M3GAN become increasingly attached, it becomes painfully obvious to Gemma that something's wrong with the prototype ... with deadly consequences ensuing.
Again, "M3GAN" isn't entirely original, and the astute theater-goer will easily be able to note the similarities between it and the host of similar genre outings noted above. That said, it's a nice spin on the subgenre to have M3GAN as a human-sized Android "girl" pairing with the young Cady, and their interaction amidst Cady's specific situation has a sufficiently unique feel to keep "M3GAN" from slipping down the deeply-familiar slope into the mere-imitation territory.
Allison Williams turns in a strong performance as the highly intellectual but somewhat distant Gemma. It's a role that requires reserved emotion by design, but Williams adds strong layers and lands the part well. The MVP of "M3GAN," however, is the young Violet McGraw, whose multifaceted performance adeptly showcases the emotional intensity of Cady's situation. The film smartly lets Cady actually go through grief and resentment, lash out in anger, and desperately reach for support. It takes these psychological issues seriously — a key part of the film is the question of the mental health impact of letting an emotionally vulnerable girl attach to an android —  and McGraw's performance really lands.
It should also be noted that Amie Donald and Jenna Davis also excel as M3GAN's body and voice, respectively. Jenna Davis' vocal performance adds a nicely nuanced element to the android, landing the otherworldly AI feeling alongside her propensity for subtle threats and growing menace, while Amie Donald's ability to embody an inhuman, robotic being allows for some of the film's most uncanny scares. 
If music be the fuel of blood, slay on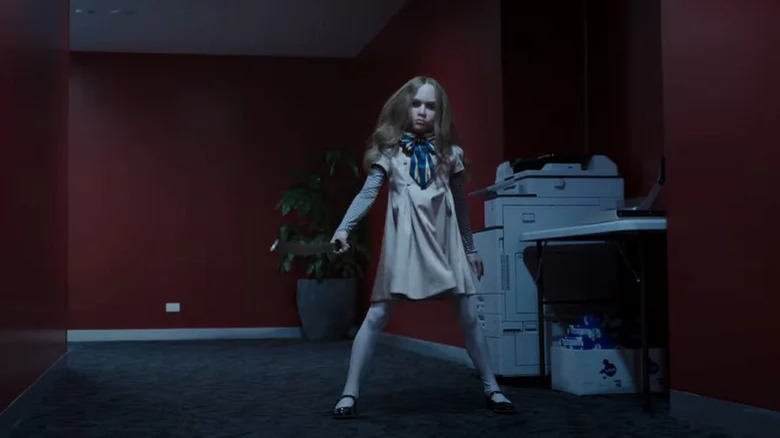 Universal Pictures
Similarities to predecessors aside, at its core, "M3GAN" is perhaps three things above all else: it's an unexpectedly poignant look at grief, tightly scripted (there really aren't any missed opportunities or fluff to be found), and a ton of fun. That the feature is wildly enjoyable isn't that surprising, given that director Gerard Johnstone's "Housebound" is one of the best horror comedies in film history (seriously, watch it). Also boasting a strong script by Akela Cooper (of "Malignant" fame), "M3GAN" manages to transform its well-trod elements into a tense, engaging horror-comedy outing with a keen eye for tongue-in-cheek and meme-worthy scenes. 
If you've ever wanted to see an android comfort a young girl by singing David Guetta's "Titanium" in perfect digital sincerity (and you do), finally, we have a movie for you. "M3GAN" is full of those moments, including the already viral clip of M3GAN's killer dance routine that's so good one might think "if music be the fuel of blood, slay on." In another film, some of these scenes may not work as well, but with these actions coming from a TikTok-inspired 21st-century digital girl, they really, really work here. Of course, M3GAN's learning algorithms would pull animalistic chase patterns and online dances into M3GAN's How-To-Move-While-Slaying database! The script also boasts a strong structure with well-placed thrills, dramatic scenes, and successful comedic moments — every moment matters in the overall narrative. 
From a horror standpoint, "M3GAN" could be scarier, but it's difficult enough for a film to balance suspense, a nuanced look at grief, and intelligently meta jokes, and "M3GAN" does all that surprisingly well. The long and the short of it is that, while "M3GAN" could perhaps be scarier and it doesn't feel entirely conceptually novel, it's a genuinely great addition to the horror-comedy canon. It's breezy without being too quick, suitably tense, and an often hilarious watch with solid execution of a high-concept premise. There's even a surprising amount of depth, as a film that tackles a very serious situation head-on. Most centrally, "M3GAN" is a ton of fun, and there's something to enjoy in just about every single minute of its runtime. "M3GAN" knows exactly what kind of film it is, and it elegantly sticks the landing.
/Film rating: 8.5 out of 10