The Creative Talent Behind M3GAN Is A Horror Dream Team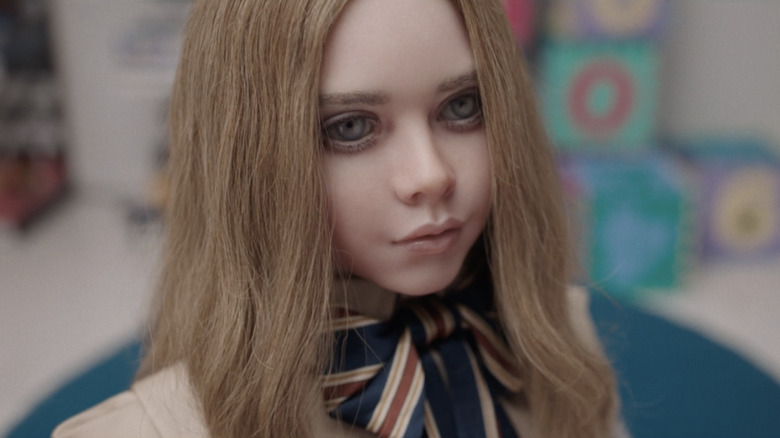 Universal Pictures
From the moment I clicked play on the "M3GAN" trailer, I knew I was going to fall in love with her. And I did — she's caring, compelling, and downright creepy. But there's a good reason why you're so unsettled when you watch the first trailer for the new scary doll film: It is the product of a true horror dream team behind the camera.
The horror movie "M3GAN" follows a young girl (Violet McGraw) who was recently orphaned and taken in by her aunt (Allison Williams), who works in technology. In an effort to make the girl feel more at home and brighten her spirits in the aftermath of tragedy, Williams' character takes the girl with her to work one day and introduces her to her latest project: M3gan, an android doll designed to make sure a child never feels left out or sad again. The little girl takes to the toy quickly, but because she is programmed to protect the little girl at all costs, things take a serious turn for the worse.
And in the hands of "Housebound" director Gerard Johnstone, and "Malignant" writers Akiela Cooper and James Wan (yes — the James Wan), you know this is a story worth watching. After all, who knows how much crazy might be hidden inside? (By the looks of that dance scene, a lot.)
A horror dream team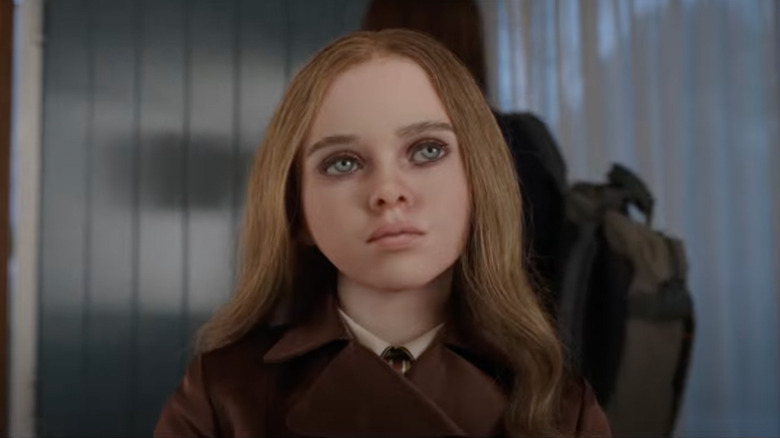 Universal Pictures
Johnstone, who is taking the helm on "M3GAN," doesn't have a huge resume to speak of — but he does make up for that in quality. His horror-comedy "Housebound," which he wrote and directed, premiered in 2014 and garnered a ton of positive buzz on the genre festival circuit. It's widely considered one of the best of its kind. Not that a Rotten Tomatoes score is the end-all-be-all determiner of a good film, but "Housebound" does have a whopping 95% on the platform from critics. It's not a super well-known horror film, but the real heads know, and they're quick to recommend it whenever there's an opportunity.
Then there's Cooper, who wrote the "Malignant" script, based on a story by herself, Wan, and Wan's wife, actress Ingrid Bisu. If you've seen the Wan-directed horror feature, you know how mind-blowing it is — and how unexpected that insanity actually was upon a first watch. Personally, I saw the film early in a pretty filled theater, and it was one of the most memorable experiences I've had watching a movie for the first time. The twist really packs a punch, and to be honest, it brought me back into the film wholeheartedly after I'd sat through what I initially felt was a lackluster first hour. The heart of the madness in "Malignant," the very thing that makes it special, is in its script, so to have Cooper back on the books for "M3GAN" only bodes well for the upcoming horror entry. She did it once, she can certainly do it again.
The coveted Wan seal of approval
Though we don't have Wan behind the camera this time around on "M3GAN," we do have him in the producer's chair — and that's a great place to have him. That means he is the one making things happen behind the scenes, including all of the major components to the "M3GAN" story that can't be overlooked. For example, making sure all of the necessaries for the design of the doll — who seems to be a person in some kind of make-up or prosthetics — is one of his jobs, as producers tend to be the ones handling the business of getting the film on its own two feet, including hiring that one incredible make-up and prosthetics team you know could make M3gan look perfectly creepy, for example. He's helping make those creative-business hybrid calls in order to make sure the film is as close to Cooper and Johnstone's vision as humanly possible. And with a man who loves and as dedicated as much of his life to horror as Wan has, it feels like the muscle behind the camera is well taken care of. 
"Malignant" came as a surprise to many, if not all, of its viewers when it hit theaters, and because of that, there's a lot of trust in Wan and what he can — and frankly, has always been able to — bring us. That subsequently means he has big shoes to fill, too. But something tells me he will deliver as strongly as he did with "Malignant" on a somewhat more invisible scale, the only difference is that now, we're all watching and waiting, knowing there are great (and weird) things to come. 
"M3GAN" will premiere in theaters on January 13, 2023.