Not Everyone At Saturday Night Live Looks Back Fondly At Chris Farley's Famous Chippendales Sketch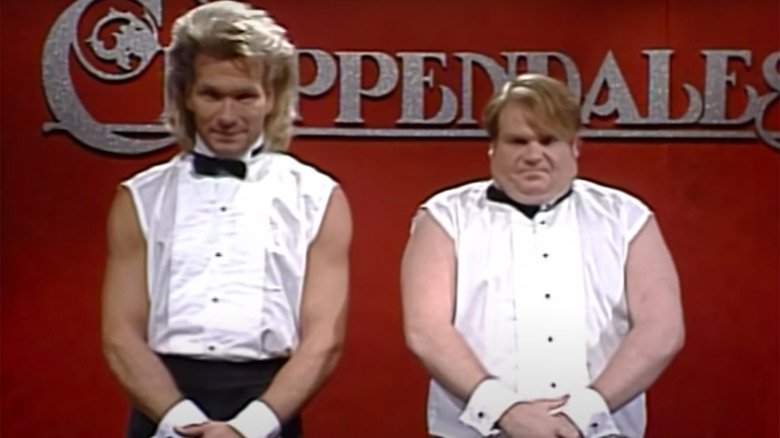 NBC
One of Chris Farley's best-known "Saturday Night Live" comedy sketches is "Chippendales Audition," which pits Farley against guest host Patrick Swayze in a dance-off for the ages. Farley plays "Barney" and Swayze plays "Adrian," two male striptease performers who appear before a panel of judges onstage at a Chippendales nightclub, which only has the budget for one dancer.
Farley was new to "SNL" when he appeared in "Chippendales Audition;" it was only his fourth episode, and it helped the late comedian make a name for himself early in his stint on the NBC show. However, in recent years, the famous 1990 sketch, written by Jim Downey, has come under fire for essentially fat-shaming Farley. The humor of the sketch is largely predicated on the idea that a heavyset performer like Farley would be evenly matched in a Chippendales audition against the "lean, muscular, healthy" dancer played by Swayze (who had ballet training in real life and had shot to fame with his role in the 1987 film "Dirty Dancing.")
Owing to this, not every member of the "SNL" cast and crew was a fan of "Chippendales Audition." That includes future "Better Call Saul" star Bob Odenkirk, whose time behind-the-scenes as a writer for "SNL" overlapped with Farley's first year as a cast member. In the book "The Chris Farley Show: A Biography in Three Acts" by Tanner Colby and Farley's brother, Tom Farley Jr. (via The Ringer), Odenkirk was blunt in his assessment of the "Chippendales Audition" sketch, saying:
"I didn't like the fact that the first thing [Farley] became known for was that Chippendales thing, which I hated. F****** lame, weak bulls***. I can't believe anyone liked it enough to put it on the show. F*** that sketch. He never should have done it."
Chris Rock wasn't a fan, either
In "Chippendales Audition," Kevin Nealon's judge breaks the news to Barney that, while his dance moves are better than Adrian's, he hasn't made the cut at Chippendales because his physique is "flat and flabby." Barney loses the audition, the spotlight shifts to Adrian's winning voiceover thoughts, and that's that. This made "Chippendales Audition" fall flat for Farley's "SNL" castmate Chris Rock, who was no more enamored of the sketch than Bob Odenkirk was. In "The Chris Farley Show," Rock says:
"I always hated [that sketch]. The joke of it is basically, 'We can't hire you because you're fat.' I mean, he's a fat guy, and you're going to ask him to dance with no shirt on. OK. That's enough. You're gonna get that laugh. But when he stops dancing you have to turn it in his favor. There's no turn there. There's no comic twist to it. It's just f****** mean."
"Chippendales Audition" has its defenders, such as "SNL" writer and producer Robert Smigel, who pointed out on "The Howard Stern Show" that the sketch showed off Farley's "nimble" athleticism as a physical comedian. Farley comes out on stage in a bowtie, shakes his derriere, rips off his sleeveless shirt, and proceeds to do a flawless rendition of "the worm," falling into it from a standing position and then jumping right back up.
That said, the sketch could be read as punching down toward someone who's overweight. In the 2015 documentary "I Am Chris Farley," comedian Tom Arnold recalled Farley himself calling him up and saying, "They want me to do a sketch where I'm stripping for Chippendales with Patrick Swayze, and they want me to take my shirt off. And then I'm the fat guy. What do you think? It's just embarrassing."
No matter where you stand on the famous sketch, you can't deny it helped put Chris Farley on the map and helped turn him into a comedy legend. Sadly, we lost Chris Farley far too soon, and his career and life were cut short before he could blossom even more, but his legacy lives on.