Brian Dennehy Saw A Career For Chris Farley That Went Far Beyond Comedy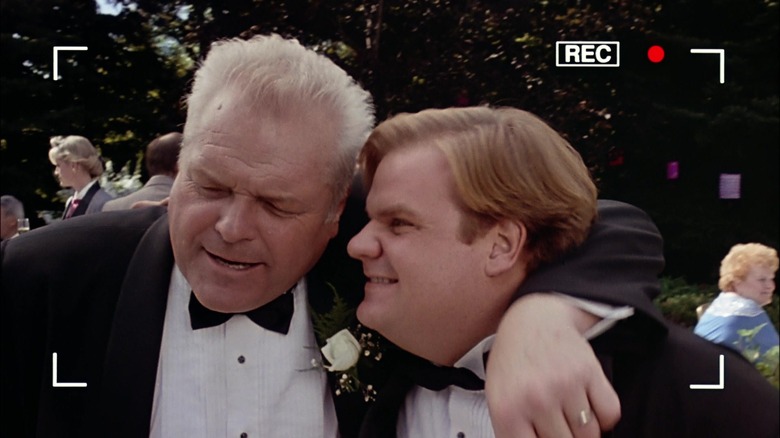 Paramount Pictures
It's such a sad irony that Chris Farley is often remembered as a tragedy considering the hilarious human that he was. Substance abuse cut short the life of a star in his prime — and on the verge of breaking beyond the physical comedy he was known for.
After honing his craft at Chicago's historic Second City comedy group, Farley joined the cast of "Saturday Night Live" in 1990. Some of his most memorable characters included the Chicago Bears Superfan, motivational speaker Matt Foley, the host of The Chris Farley Show, a mall food court Gap Girl, and of course, a dancer auditioning for Chippendales. But by the mid-1990s, Farley had outgrown the small stage of 30 Rockefeller Plaza. After shining in bit roles in "Airheads" and "Billy Madison," Farley was ready for a starring role, playing alongside David Spade in the 1995 film "Tommy Boy." The movie became a cult classic and one of Paramount's top-selling home video titles of all time.
The following year, Farley left "SNL" to concentrate solely on movies. He reunited with Spade for "Black Sheep" and followed that up with "Beverly Hills Ninja" in 1997. The actor was just getting to the point of his career where he could break away from comedy for meatier roles; sadly, by the end of the year, Farley would be dead of an accidental overdose.
'He hadn't even really begun to explore it'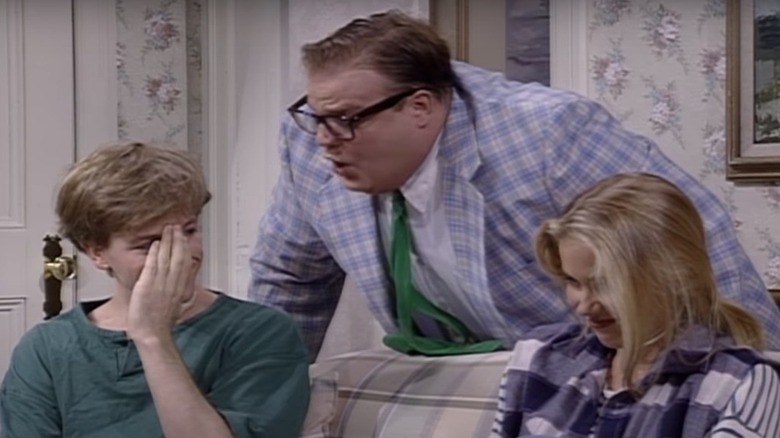 NBC
Even though he excelled at it, comedy wasn't the only thing Farley was capable of. According to one co-star, the actor was meant for so much more: Brian Dennehy believed that Farley was meant for bigger things beyond comedy. Dennehy played Farley's father Tom Callahan in "Tommy Boy" and saw first-hand the potential in the young actor. In the biography "The Chris Farley Show," Dennehy said:
"There was a sadness and a vulnerability and a fear that existed in his eyes ... a sense that 'the world can never take away the pain that I feel, pain that I know I have, but that I don't fully understand.' You can see a little bit of it in 'Tommy Boy' but he hadn't even really begun to explore it."
In an interview with Philly2Philly, Dennehy said Farley had an addictive personality and compared the actor to legendary comedians John Belishi, John Candy, and Sam Kinison, all who died too soon. "It's a crazy business. It's so filled with difficulty and rejection and problems, temptations," Dennehy said. He argued:
"Once you become a success, things are thrown at you that a lot of times you just gotta walk away from and say, 'No thank you, I'm fine, I've had plenty.' And for certain types of personalities, it's impossible to say no. It can be very destructive."
Perhaps that tragic quality in Farley that Dennehy recognized could have been utilized outside of the realm of physical comedy. Although we'll never know what could have been, Farley certainly seemed poised to make that leap into serious drama. 
The path to break from comedy existed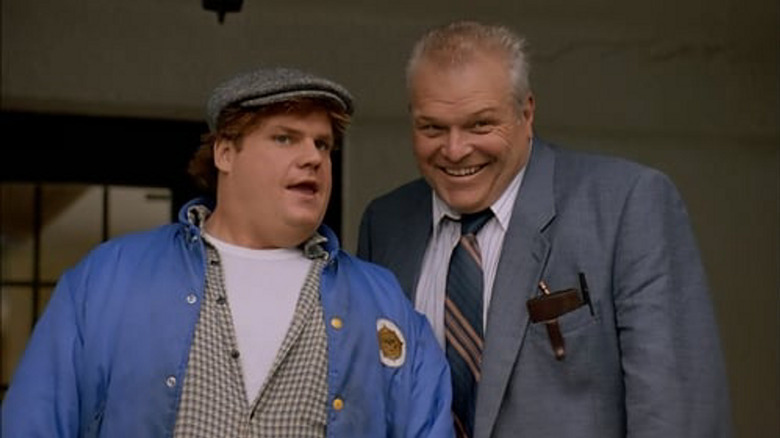 Paramount Pictures
To imagine what path Farley could have taken to break away from comedy, you don't have to look far. Around the same time of Farley's ascension, Jim Carrey was making a name for himself with a similarly physical comedy schtick. In the early 1990s, Carrey's career skyrocketed from his memorable characters on "In Living Color," to a run of comedy films in the 1990s beginning with "Ace Ventura: Pet Detective." Not long after that, the actor successfully branched out to other genres with movies like "The Truman Show" and "Eternal Sunshine of the Spotless Mind."
Given Farley's early success, it was a blueprint he could have easily followed. And it almost happened: according to the biography "The Chris Farley Show," the actor's manager Bernie Brillstein met with award-winning playwright and author David Mamet before Farley's death to discuss the actor starring in a Roscoe "Fatty" Arbuckle biopic. The scandalous silent film star Roscoe "Fatty" Arbuckle had similarly tragic elements to his story, and Farley related to that. As Brillstein said:
"I'd taken him to New York to meet with David Mamet about the Fatty Arbuckle story. Chris came to the meeting at a little restaurant down in the Village, and he was the good Chris, the well-behaved Chris, because he couldn't believe that David Mamet even wanted to meet him. Mamet loved him. It was a great meeting. He said yes before we got up from the table, and he wrote it for Chris. To this day, I know that it would have changed his career."
The fact that there's an unproduced Chris Farley project penned by David Mamet is mind blowing and only adds to the heartache surrounding Farley's death. He was so close to moving beyond comedy, and we'll never know what that career change might have meant in his struggles with substance abuse.
If you or anyone you know is struggling with addiction issues, help is available. Visit the Substance Abuse and Mental Health Services Administration website or contact SAMHSA's National Helpline at 1-800-662-HELP (4357).