Tom Hanks Covered For A Clumsy Chris Farley On The Set Of SNL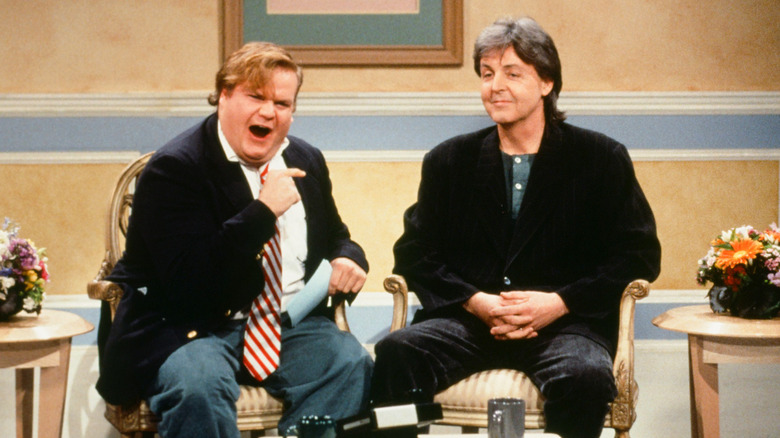 NBC
Chris Farley's tenure on "Saturday Night Live" from 1990 to 1995 was absolutely electric. His energy combined with his amazing capacity for physical comedy made him a clear stand-out even in one of the funniest "SNL" rosters they'd ever assembled. He was the guy behind the scenes making all of the other great comedians (and Rob Schneider) crack up. He was on his way to comedy superstardom, and you can make an argument that he was the funniest human being on the planet for most of the '90s.
But even a personality as large as Farley's didn't immediately feel comfortable on comedy's biggest stage. According to a 1994 CNBC interview Farley did with the legendary Phil Hartman, Farley was extremely nervous during the beginning of his "SNL" run, and those nerves led to some unfortunate circumstances.
According to Farley, however, what could have potentially been an extremely embarrassing situation was mitigated by Hollywood's dad himself, Tom Hanks:
"One time I came on the set, it was one of my first shows, and I was just scared. Like, I thought I was gonna be canned any second, you know, so every moment counted. I came in, slammed the door, and all the scenery came off of the wall of the set, and thank god Tom Hanks covered for it."
A helpful hand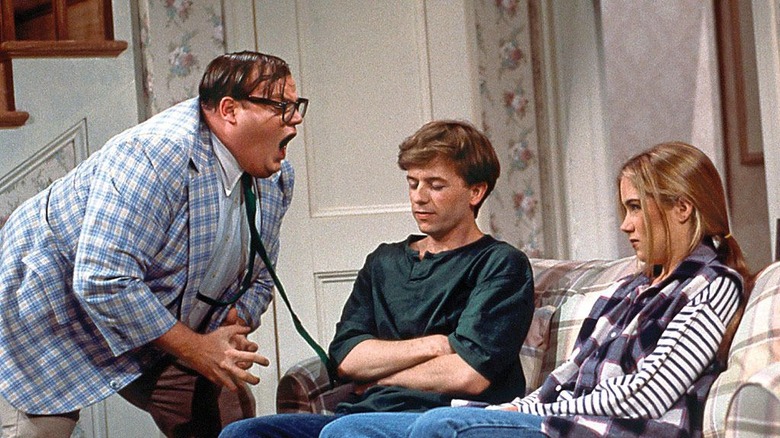 NBC
Tom Hanks has a reputation as one of the nicest fellows in all of movie stardom. It's not a bad reputation to have, but it is one he's careful with. In a 2019 interview on "Conan," Hanks says he doesn't like it when people take his good nature for granted. Chris Farley certainly didn't, on that fateful day when Hanks covered for his massive blunder, despite a bit of uncharacteristically mean name-calling from Hanks.
"I think he said something like, 'My God, tubby, you don't know your own strength!' or something like that you know?" said Farley in the CNBC interview. "He covered for it really good."
Despite the unnecessary use of the term "tubby," it's good to know that Tom Hanks is as much of a homie behind the scenes as you'd hope he is. It's tough adjusting to a new workplace in any case, but I can only imagine how tough it'd be as a comedian starting off on "Saturday Night Live," a show that's been a stepping stone to stardom for many and a dead end for many more.
Thanks in part to the cover-up by Mr. Hanks, Farley was able to become the massive star he was meant to be, even if his tragic early death prevented him from ever reaching the heights we all know he was capable of.