Bob Odenkirk Was The Creative Mind Behind What Might Be Chris Farley's Best SNL Character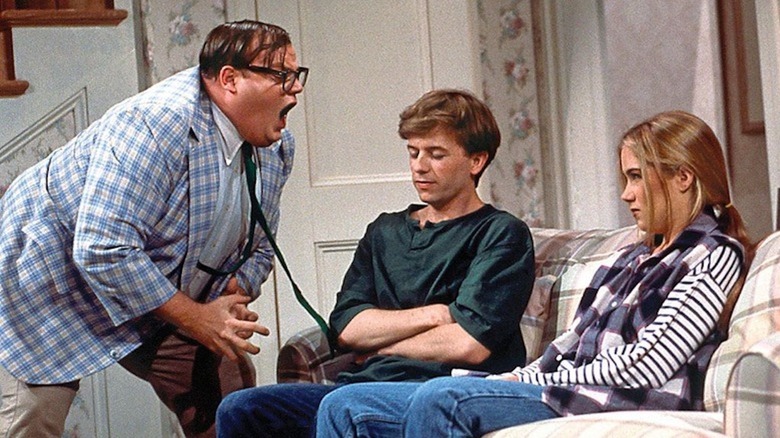 NBC
Following the departure of the original Not Ready for Prime Time Players in 1980, there have been very few "Saturday Night Live" cast members who've shot to stardom via one relentlessly hilarious sketch. Certainly, there have been breakout performances, but something on the magnitude of Eddie Murphy hitting the Studio 8H stage as Little Richard Simmons only happened one more time: Chris Farley's Chippendales sketch, opposite guest host Patrick Swayze, on the show's October 27, 1990 episode.
The premise is simple: Swayze and Farley are the finalists for one open dance slot at the famous strip club. To win the gig, they have to face each other in a dance-off. People have criticized the skit for getting big laughs at Farley's expense, but that does him a huge, insulting disservice. The sketch works because of Farley's unabashed energy, and as Robert Smigel once noted, incredible nimbleness. He's a great dancer and an unparalleled physical comedian, and the audience can't get enough of him.
The response was so enthusiastic that Lorne Michaels quickly elevated Farley to repertory player status. There was more where that came from. But Farley wouldn't find his go-to character until 1993, when, with a big assist from Bob Odenkirk, he unleashed motivational speaker Matt Foley on the world.
From a van down by the river and into our hearts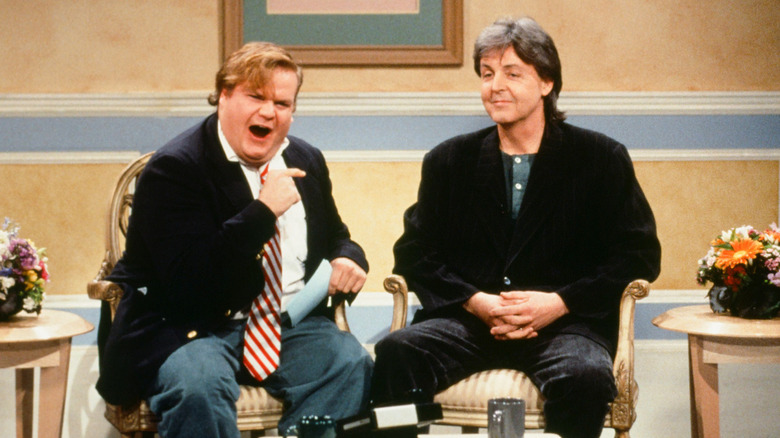 NBC
Farley had been killing audiences with an over-caffeinated, motivational-type maniac at Chicago's The Second City, but it was all vague histrionics until "Saturday Night Live" writer Odenkirk spent his summer 1991 hiatus at the theater putting on a sketch show titled "Flag Burning Permitted in Lobby Only." Odenkirk fashioned Farley's unhinged rants into a parody of an on-the-skids drug addict who tries to scare kids straight off of marijuana. The character slayed and played a key role in getting Farley his "SNL" gig. In the oral history "The Chris Farley Show: A Biography in Three Acts," Odenkirk remembers being dazzled by Farley's explosive genius. "[W]atching where he took it was insane," says the writer.
Strangely, Farley mothballed Foley until his third season, two years after Odenkirk had left the show. When Farley's friend and collaborator gave him his blessing to introduce the character to a national audience, the actor hurled himself into the role with customary ferociousness.
As writer Steve Koren remembers in "The Chris Farley Show," he was a tad put off by snagging the assignment of helping Farley bring to life a character he'd workshopped with another writer. "Little did I know," he says.
"I was sitting there watching the rehearsal, making sure the camera angles were right, and I said to Chris, 'You know, you're gonna hurt your voice talking like that. Are you sure you want to do the voice that way?' He was like, 'Don't worry, Steve. I got this one down.'"
A funnyman without an off switch
Boy, did he ever. According to David Spade, Farley waited until the actual live performance to pour on Foley's most ridiculous affectations, most notably his constant twisting of his belt. "He knew that would break me," says Spade. "He started hitching up his pants, and I couldn't take it. And whenever the camera was behind him focusing on me, he'd cross his eyes. I was losing it."
"SNL" producer Lorne Michaels is notoriously not a fan of actors breaking character during a sketch, but Farley didn't care. As Spade remembers, "Sometimes after the show he'd say, 'All I'm trying to do is make you laugh. I don't care about anything else.'" Farley was an infectiously funny performer, but like Gilda Radner or Eddie Murphy, he was also unpredictable. Whenever Farley was on stage or in front of a camera, you were on guard for the most convulsive of belly laughs.
There was no top for Farley. He just kept pushing and pushing until someone screamed "Cut" or the show went to commercial. He was a meteorite who made a sonic boom upon entrance and cut brilliantly across the sky until he cratered. He was beautiful.