Stephen Sondheim Is The Reason Rian Johnson Landed This Highly-Coveted Glass Onion Cameo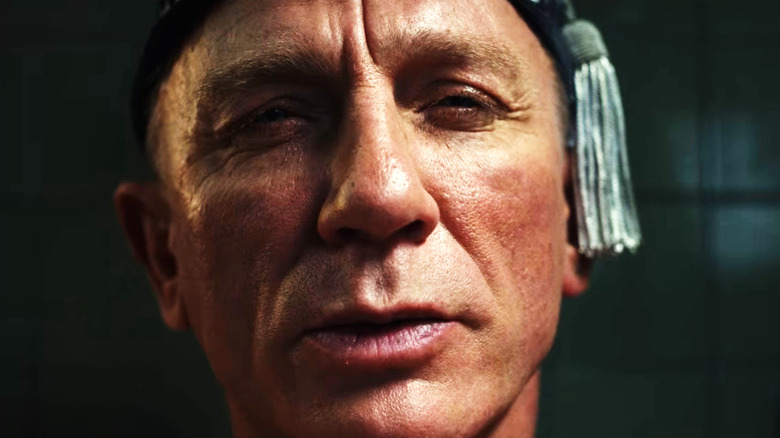 Netflix
This article contains major spoilers for "Glass Onion."
There are a number of insights one can glean about Rian Johnson as a filmmaker from his "Knives Out" films, but one of his most extraordinary abilities is that of pulling together a show-stopping, ensemble cast. In "Glass Onion," the latest entry in Johnson's whodunit series, folks like Dave Bautista, Kathryn Hahn, Kate Hudson, Edward Norton, Leslie Odom Jr., and Jessica Henwickare give their all to these puzzle-riddled characters. Then comes Janelle Monáe, who steals the movie right out from under them.
But even beyond the key players, Johnson manages to insert a wealth of cameos, all of which feel natural to the world of "Glass Onion." Serena Williams makes a hilarious appearance on a live interactive interface in Miles' exercise room. Yo-Yo Ma pops his head in for a moment, as does Ethan Hawke. Hugh Grant is perfectly fitting as the life partner of Benoit Blanc (Daniel Craig), and then there's the matter of Johnson alum Joseph Gordon-Levitt, who is occasionally heard in the background as the Hourly Dong. The most interesting assortment of recognizable faces, however, takes place at the top of the film.
Blanc is reintroduced to the world of "Knives Out" while losing a game of the popular internet sensation "Among Us" in his bathtub. The pandemic is clearly taking a toll on his lust for a good case, but unlike most of us, his online company involves the presence of Natasha Lyonne, Kareem Abdul-Jabbar, and Stephen Sondheim, who was instrumental in securing the fourth mystery guest on the Zoom call.
Friend, she was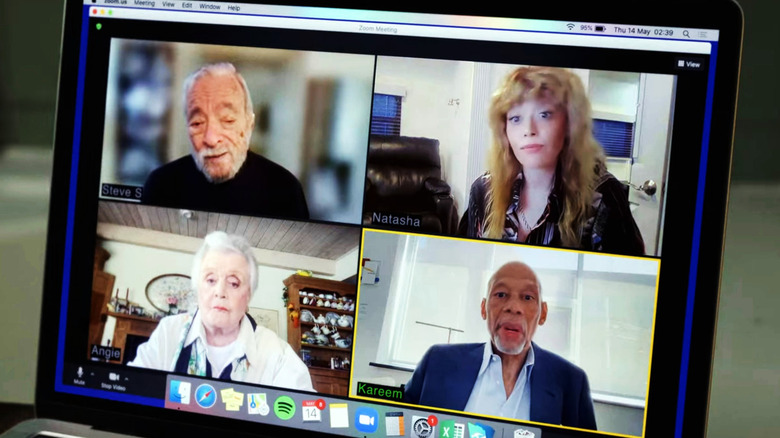 Netflix
Stephen Sondheim was at the top of Rian Johnson's Celebs 'R Us wish list, and according to a report from The New York Times, all it took was a quick call between producer Ram Bergman and their agent Bryan Lourd to make it happen. "I swear, five minutes later, he emailed me: he's going to do it," says Bergman. Besides bragging that he secured one of the most revered names in American theater, Johnson has also noted that "Glass Onion" takes great inspiration from "The Last of Sheila," the only murder mystery film Sondheim wrote for the screen.
Around the same time, Johnson really wanted to get "Murder, She Wrote" star Angela Lansbury as the fourth player. Rather than going through the same cycle, it turns out that Sondheim had the connection he needed. "I mentioned to him that we were trying to get Angela Lansbury. And he said, 'Oh, Angie — I'm friends with her. Tell her I'm doing it. She'll do it,'" says Bergman.
It probably didn't take much convincing, given that among her lucrative film and television career, the Tony Award-winning actress played Mrs. Lovett during the original Broadway run of "Sweeney Todd," which was written by Sondheim. Even though "Glass Onion" marks their final screen appearances, as their cameos were filmed prior to their fairly recent deaths, it was wonderful to see the pair share the Zoom call. Lansbury didn't even have to learn about how to play "Among Us" in order to be the delightful presence she always was.
"Glass Onion" is currently streaming on Netflix.