There Was One Thing Angela Lansbury Wouldn't Do For Glass Onion: Learn To Play Among Us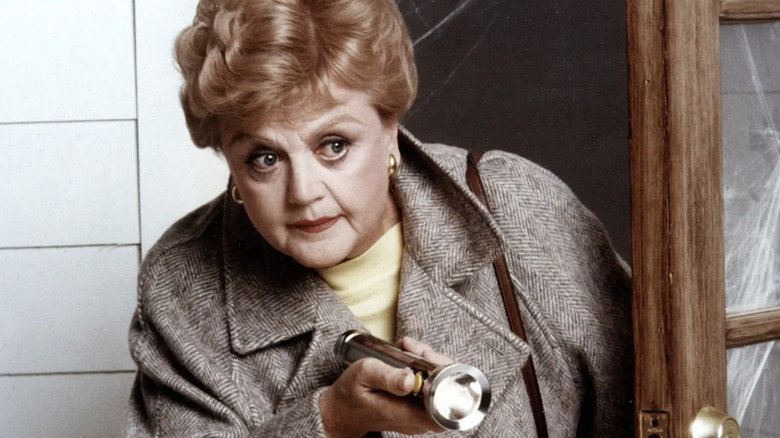 CBS
Rian Johnson's new film "Glass Onion," a sequel to his 2019 comedic murder mystery "Knives Out," boasts, like its predecessor, a massively impressive cast. While the first featured the likes of Christopher Plummer, Jamie Lee Curtis, Chris Evans, Toni Collette, Michael Shannon, Ana de Armas, and Don Johnson, the sequel contains Dave Bautista, Janelle Monáe, Edward Norton, Kathryn Hahn, Kate Hudson, and Leslie Odom, Jr. "Glass Onion," not to be outdone, also features notable cameos from Hugh Grant, Jake Tapper, Serena Williams, and Yo-Yo Ma. In a very amusing scene, the film's central detective Benoit Blanc (Daniel Craig) shares a video call with Stephen Sondheim, Natasha Lyonne, Kareem Abdul-Jabbar, and Angela Lansbury, all playing themselves.
Since the filming of "Glass Onion," both Lansbury and Sondheim passed away, at 96 and 91 respectively. That they were willing to appear in Johnson's film is a testament to their gameness, and perhaps to Johnson's charm as a filmmaker. 
In the video call scene, Benoit Blanc has fallen into a pandemic funk, and spends his idle hours in the bathtub, wearing a fez, smoking cigars, and talking with friends. He laments that he hasn't had an exciting murder mystery to solve in recent months, and his online buddies have convinced him to play the popular sci-fi murder mystery video game "Among Us." Lyonne, Abdul-Jabbar, Sondheim, and Lansbury are all, it turns out, quite expert at the game. Blanc, contrary to his real-life profession, is not. He loses his round of "Among Us" quite handily. 
Among Us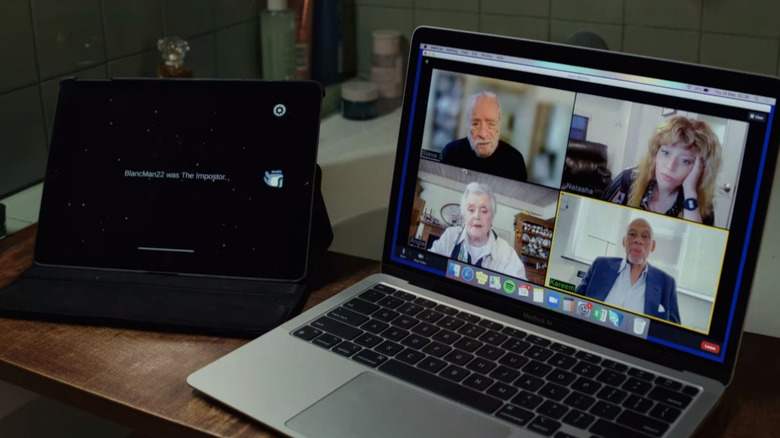 Netflix
Innersloth's 2018 phenomenon "Among Us," for the uninitiated, is an online mystery that is played in groups. Players, each playing from their own computer, are assigned an identity at the start of the game. Most players are brightly-uniformed astronauts — Crewmates — who must run about a spacecraft completing very simple tasks to keep the ship from malfunctioning. Some players, however, are secretly aliens in disguise — Imposters — who try to kill off the Crewmates without being detected. Should suspicions run high, players can call meetings and vote to have other players voted out. Those voted out will be cast into the void of space, whether they are Imposters or not. If the Imposters are detected, the Crewmates win. If the Crewmates are all killed, the Imposters win. It's an interactive version of similar elimination games like "Mafia," "Cry_Wolf," "Werewolves Within," and "Bodies Bodies Bodies."
Benoit Blanc, from his screen glimpse in "Glass Onion," was an Imposter named BlancMan22 that Stephen Sondheim, Angela Lansbury, Natasha Lyonne, and Kareem Abdul-Jabbar detected and cast off the ship. 
According to a December 2022 interview with the New York Times, Rian Johnson said that he had always wanted to work with both Lansbury and Sondheim because he, along with much of the planet, was a great admirer of their work. Additionally, both performers were known, at least partially for their dabbling in murder mystery media themselves. Lansbury appeared in the long-running TV series "Murder, She Wrote" and Sondheim wrote the Robert Hoss' murder mystery film "The Last of Sheila" in 1973 as well as the short-lived Broadway play "Getting Away with Murder" in 1966. they were clearly fans of whodunnits, and it stands to reason that they, in real life, might be friends with an eccentric P.I. like Benoit Blanc. 
Imposter syndrome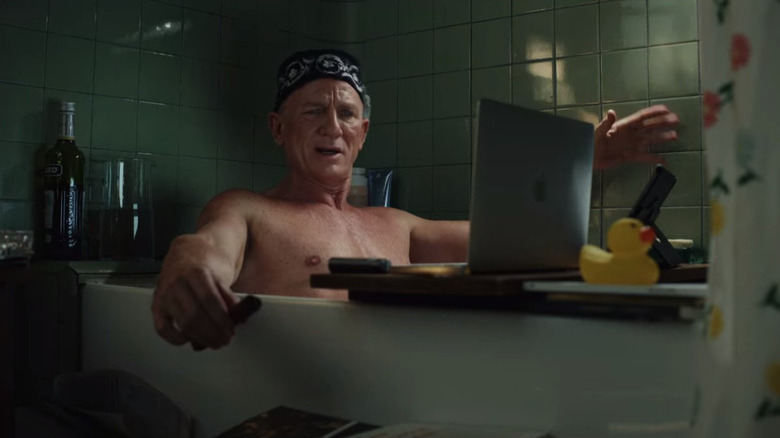 Netflix
As an actress, however, Angela Lansbury didn't need to know all the details for "Glass Onion." Notably, it wasn't wholly necessary, she felt, to learn the fineries of "Among Us" in order to read her lines convincingly. Rian Johnson recalls to The New York Times the exchange he had with Lansbury, and how she eventually cut him off before he got too lost in the weeds. He was dazzled by Lansbury, of course, saying that "she couldn't have been lovelier and more generous," but that she was most assuredly, "not a gamer." While research can aid an actor, learning to play "Among Us" to deliver only a few lines of dialogue on a video call wasn't going to help. Johnson said: 
"[S]he was very patient in letting me describe the rules of 'Among Us,' up to a point. At which point she just said, 'You know what? Just tell me what the lines are. I'll trust you.'"
The New York Times article also explains that Lansbury and Sondheim were last-minute additions to "Glass Onion." The film had already been completed when a chance conversation led to a connection with Sondheim's agent. "Glass Onion" producer Ram Bergman said he got an email mere minutes later saying that Stephen Sondheim would be happy to participate. In filming Sondheim's scenes — literally via a Zoom call — Bregman mentioned they also were asking after Lansbury. Sondheim, who worked with Lansbury on the famed Broadway production of "Sweeney Todd," gladly hooked them up. Johnson went to Lansbury's house and they filmed her scenes using his laptop camera. 
It was the final film she was to appear in before her death in October of 2022. "Glass Onion" would also be Sondheim's final film appearance, as he passed in November of 2021.