The Handmaid's Tale Season 6: Everything We Know So Far About The Hulu Series' Final Season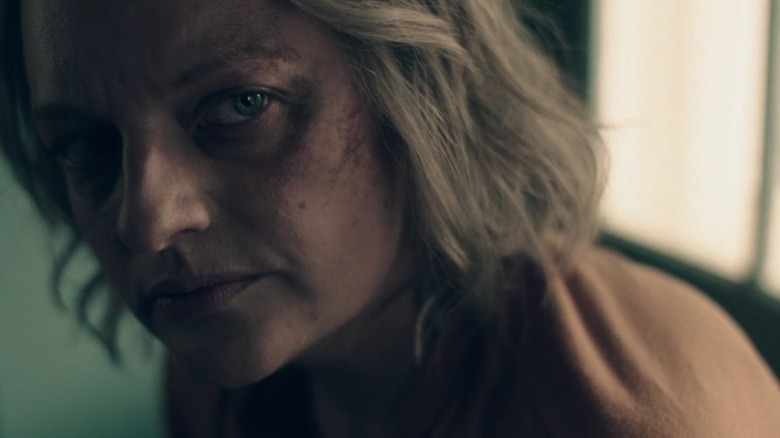 Hulu
Five seasons into its run, "The Handmaid's Tale" has now outpaced both the book on which it's based and the presidency it was so aptly born into. Now, the show is finally set to end with its sixth season, which will close the book on some of its central stories while others could still continue on in a sequel saga that's already been greenlit, titled "The Testaments."
If you've made it this far into "The Handmaid's Tale," you know that the world of Gilead is probably too bleak and morally shady to get a straightforward happy ending, but that still won't stop fans from wondering about exactly how the story of June Osborne (Elisabeth Moss) will come to a close. The fifth season ended on an intriguing note in November, with a plot that has June and her baby separated from everyone she knows — except her former tormenter Serena (Yvonne Strahovski) and her own baby. What's next for the handmaids, wives, and the rest of the characters we've rooted for over the past five years? Here's everything we know so far.
When and where to watch season 6 of The Handmaid's Tale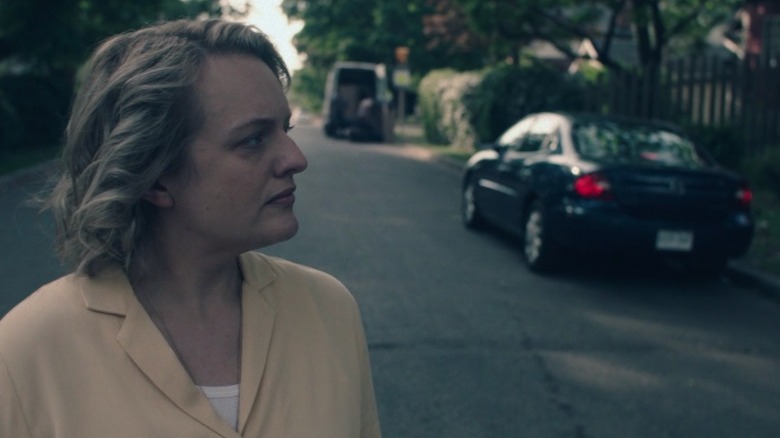 Hulu
With the exception of the show's fourth season, which took two years to complete in the wake of the COVID-19 pandemic, "The Handmaid's Tale" has always delivered its new episodes on a pretty predictable schedule. The first three seasons all premiered within about a year of one another, while the latest came 17 months after season 4. By that metric, we will likely be seeing the end of "The Handmaid's Tale" in late 2023 or early 2024. There's no official release date for the final season right now, and it's unclear whether series creator Bruce Miller's simultaneous work on the sequel series "The Testaments" will have any impact on the sixth season premiere timeline. At any rate, we'll keep you posted as news about the show's release date develops.
In the meantime, you can catch all five existing seasons of "The Handmaid's Tale" on Hulu, which is also where the sixth season will land. The show was among the Disney-owned streamer's first original series and has certainly been a huge success story for Hulu, earning 15 Emmys and a whopping 75 nominations to date. If you aren't subscribed to Hulu and have been keeping up with "The Handmaid's Tale" on a friend's account all these years (or are just getting into the show in time for its last chapter), you can currently subscribe to the streamer in a bundle with Disney+ and ESPN, or purchase a subscription to Hulu alone. As of publication time, Hulu also has a great 30-day free trial option.
What we know about how The Handmaid's Tale will end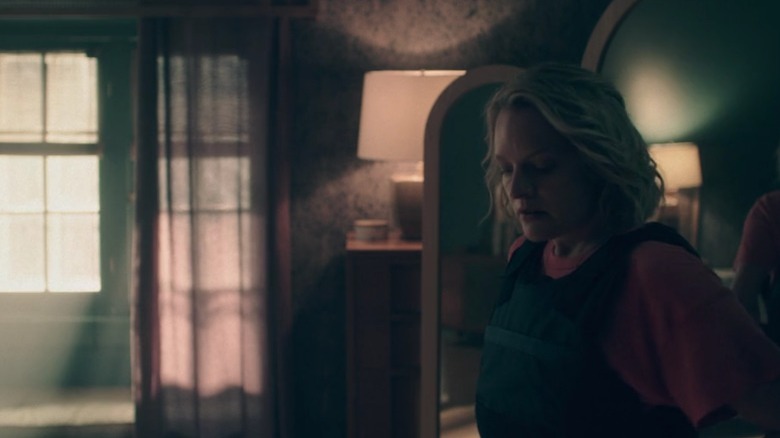 Hulu
Bruce Miller is keeping his plans for the end of "The Handmaid's Tale" close to the chest for now but has shared a few details about the final season in interviews. After the latest season finale, the series creator and writer told Entertainment Weekly that he's had the ending planned out for a while, and hinted that it could be divisive. "I'm able to do it the way that I want to do it," he said when describing the process of crafting the ending, "So if you hate it, it actually was on purpose. It wasn't a mistake." He also said he's most concerned with delivering an overall great season, episode by episode and scene by scene, and that "if it doesn't feel like the finale of a show, that's okay."
This may sound like an odd statement — why would an ending purposely not feel like an ending? — but it makes more sense when taking into account "The Testaments," the sequel series Miller is working on for Hulu. An adaptation of Margaret Atwood's own 2019 sequel to her classic book, the new series sounds like it might include some familiar faces,  including, perhaps, June's. In an interview with The Hollywood Reporter, Miller says that "The Handmaid's Tale" is about "a certain time of [June's] life when she identified a certain way." He adds, "When that time ends, luckily, very fortunately, we get to go into 'The Testaments,' which June's story is a part of but not central to." He also says the show will be able to "maintain our connection" to the characters and actors we love.
What season 6 of The Handmaid's Tale will be about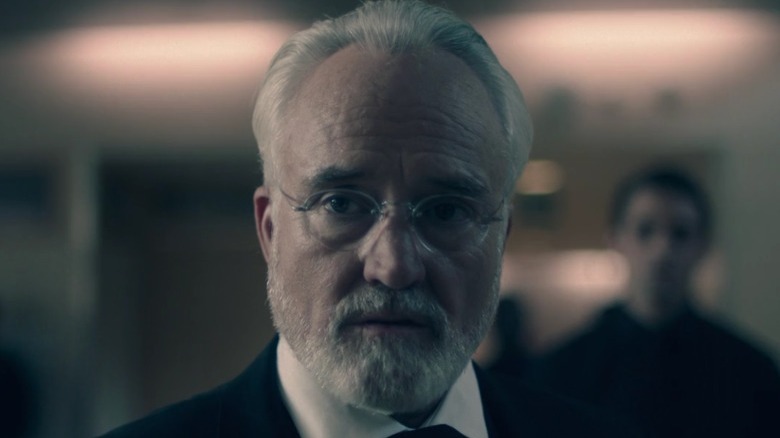 Hulu
The novel version of "The Testaments" is set 15 years after "The Handmaid's Tale," but in the meantime, June still has some more immediate problems that need to be solved. The final season will likely tie up the many loose ends left by the most recent finale, which saw June, having just survived two apparent assassination attempts, aboard a train headed westward with her daughter Nichole. Except, she's not alone: Serena is also there with her new baby, Noah. Meanwhile, Commander Lawrence (Bradley Whitford) has just married Naomi (Ever Carradine), and Janine (Madeline Brewer), Luke (O-T Fagbenle), and Nick (Max Minghella) all end the season behind bars, having been arrested for different reasons.
The final season will likely have lasting repercussions for the entire future of Gilead, as Commander Lawrence has been fixated on the idea of a place called New Bethlehem, where Gilead refugees could live free of the current regime's persecution. By season's end, Lawrence's sanctuary island has been built, and with Naomi by his side, his influence will surely only continue to grow. Lawrence isn't selfless, and his plan isn't exactly based in compassion: instead, he wants New Bethlehem to strengthen the position of the former U.S. on the geopolitical stage, making it look better to both the United Nations and its northern neighbor, Canada. While interpersonal dramas and fights for freedom play out among the characters who are still scrambling to escape Gilead's grasp, Commander Lawrence will likely continue to make some major power plays in the final season.
What we know about the cast and crew of season 6 of The Handmaid's Tale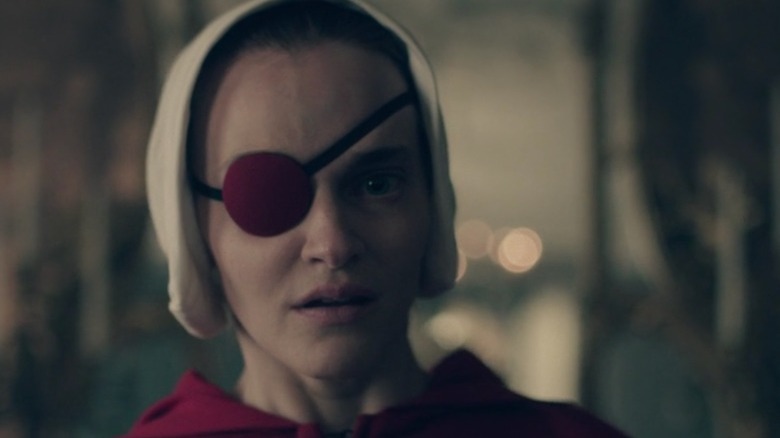 Hulu
There haven't been any major casting announcements for the sixth season of "The Handmaid's Tale," but it's a pretty safe bet that the major core cast members will be returning. The season 5 finale leaves pretty much every character's story unfinished, meaning we should expect to see Elisabeth Moss, Yvonne Strahovski, Bradley Whitford, Ever Carradine, Madeline Brewer, O-T Fagbenle, Max Minghella, and their castmates Ann Dowd, Samira Wiley, Sam Jaeger, and Amanda Brugel again pending any last-minute shake-ups.
There are, of course, a few long-time cast members whose chess pieces have already been taken off the board. Joseph Fiennes' Fred Waterford was finally killed at the end of season 4, while Stephen Kunken's Commander Putnam also met his fate this season. Plus, there are a few castmates we simply haven't seen in a while: Mckenna Grace's Esther has barely been seen since we found out she was pregnant earlier in the season, while Alexis Bledel's Emily was off-screen for the entire season. While Grace could return, Bledel announced in May that she's making a conscious decision to "step away" from the show, so it's fairly likely she won't appear in the final season.
The sixth season's directorial slate also hasn't been announced yet, but I'd be surprised if Elisabeth Moss herself doesn't take another turn behind the camera. She's directed three episodes each of the past two seasons and has been effusive about the experience in interviews, telling the hosts of Smartless that she "wanted to embrace another part of telling the story" that she considers her baby.