True Romance Took So Long To Make That Quentin Tarantino's References Became Retro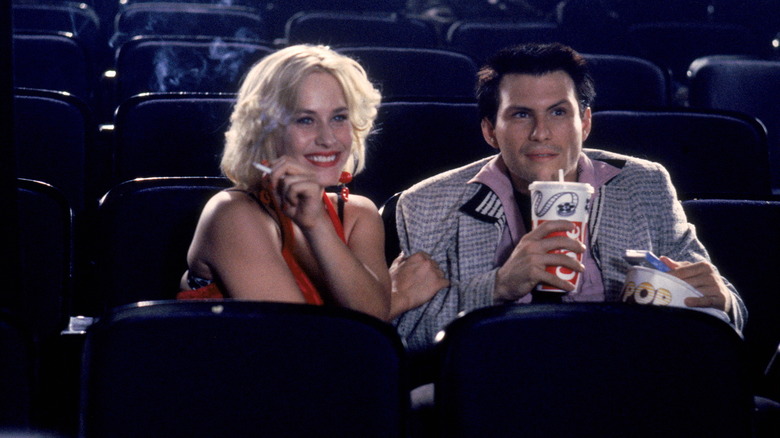 Warner Bros.
Despite any longevity and adaptability they may have, every artist is inevitably forever associated with a particular time. In terms of movie directors, there exists an association between, for instance, Jean-Luc Godard and the 1960s, or Steven Spielberg and the 1980s, and so on.
In that way, Quentin Tarantino is inexorably tied to the 1990s, with his films "Reservoir Dogs" and "Pulp Fiction" impacting pop culture on a seismic level. As these things usually happen, this was entirely by chance and not design; one of the joys of Tarantino's work as a filmmaker is that his numerous references to other films, TV shows and music are purely based around his own likes rather than some attempt to be hip and up-to-the-minute.
That wasn't always the case, however. One of the two screenplays the struggling young writer first wrote was "True Romance," a script that featured as many character quirks and pop-culture references as any of Tarantino's future works would. Yet while those references were certainly to things Tarantino himself loved, his intention was to have them be current references, to have Clarence (played by Christian Slater in the eventual 1993 movie) and Alabama (Patricia Arquette) be more hip and mainstream. As it turned out, "True Romance" took long enough to get made that the script's references became retro, ironically establishing Tarantino as not just hip, but a bit of a hipster, too.
'When I wrote it, they weren't cool and retro'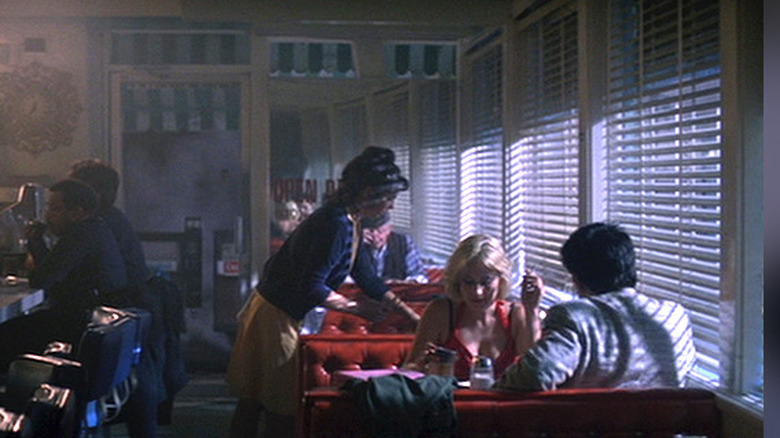 Warner Bros.
Tarantino wrote "True Romance" sometime in the mid-1980s, an era that the filmmaker is on record as despising. Still, as he mentioned in an episode of "The Video Archives Podcast" earlier this year, his distaste for the period didn't stop him from seeing films. Tarantino explained, "...the '80s was the time that I probably saw more movies in my life than ever — at least as far as going out to the movies was concerned."
Being saturated in '80s films meant that the era's pop culture found its way into the mouths of the characters of "True Romance," especially in the early scene where Clarence and Alabama get to know each other. When the lovesick comic book store employee Clarence asks Alabama about her "turn-ons" and "turn-offs" (a sly nod to the Playboy magazine Playmate Data Sheet), her answers were very current — for the mid-'80s. As Tarantino explained on his screenwriter's commentary track for the film:
"One thing that is kind of funny is, it was about, like, six years after I wrote it that the film got made. And so when you listen to her answers to the questions, a little of them seem kind of like cool and retro [...] but when I wrote it, they weren't cool and retro [...] You know, he says, "Who's your favorite actor?" and she says "Burt Reynolds." Alright. Well, Burt Reynolds was a big star when I wrote this script! You know, he was a star of the people. So it wasn't like she was being all cool and retro, alright? And the second thing he asked her, one of the other things he asked her, is "Who do you find sexy?" and she says "Mickey Rourke." Well, Mickey Rourke was the man when I wrote this script! So again, that wasn't crazy either."
Indeed, Mickey Rourke in the '80s was heating up the screen in films like "9 1/2 Weeks," and Burt Reynolds was still a crowd-pleaser with films like "The Best Little Whorehouse in Texas." Yet by 1993, when director Tony Scott got "True Romance" before the cameras, Rourke and Reynolds were considered washed-up, making Alabama's choices a little left-of-center and melancholy as opposed to up-to-date.
'It's nice to meet people with common interests, ain't it?'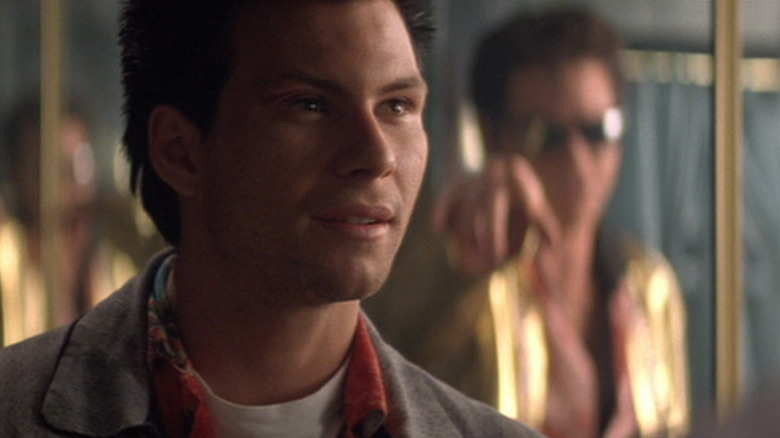 Warner Bros.
Even though Tarantino was attempting to make his characters have tastes current to when he was writing them, their unintentional retro-ness helped establish the filmmaker's own brand of cool.
The fact that such a quality is admirable rather than obnoxious is because Tarantino wasn't putting on airs; the films of Sonny Chiba, "The Mack," "Bullitt," and Elvis Presley — all of which appear in "True Romance" — were favorites of the writer, lending their mention or usage as curated rather than hack quality. As Slater explained in a 2008 oral history for the film, "I met Quentin during rehearsal and remember thinking that Clarence was a version of who he wanted to be."
In fact, Tarantino did become Clarence, in a way. One of the most endearing aspects about Clarence as a character is his exuberant passion for the things he loves and passing that passion on to those around him. It's that quality that ended up becoming prophetic for Tarantino, whose films brought greater awareness to his once-underground tastes (such as the very term "Grindhouse") and made relatively obscure tunes from the likes of Bernard Herrmann and Dick Dale into rap and pop music mainstays.
That's not to say Tarantino's original goal of having "True Romance" be hip and current for its time wasn't achieved. Thanks to director Tony Scott, the movie is suffused with early-'90s references like some popular techno and contemporary rock tracks as well as glimpses of then-brand-new films "Freejack" and "Stay Tuned." It makes "True Romance" even more of a mélange marvel, a movie both charmingly retro and totally of its time.