Netflix Is Getting Hungry With Glass Onion Food Tie-Ins For Van Leeuwen Ice Cream And Outback Steakhouse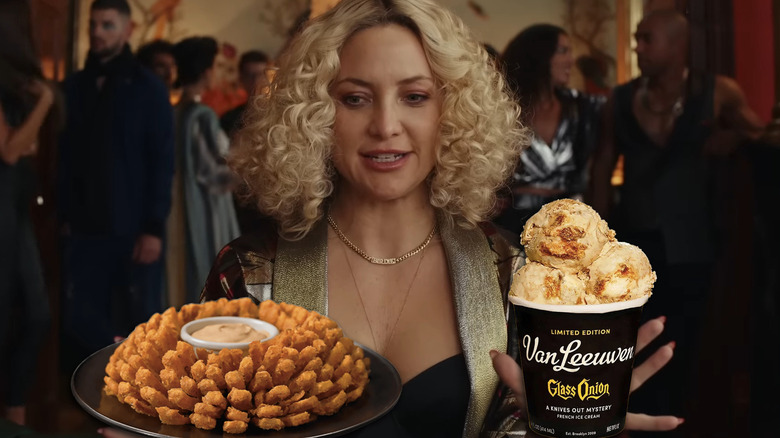 Netflix / Outback Steakhouse / Van Leeuwen Ice Cream
Whenever a big blockbuster movie comes along, you can be sure that there will be ample merchandising and crossover advertisement opportunities. Whether it's Happy Meal Toys, LEGO sets, t-shirts, lunchboxes, or cereal, you'll find the name of some of the biggest movies of the year plastered on a little bit of everything. However, when it comes to Netflix's biggest releases, that's not something we're used to seeing. That appears to be changing somewhat this year with a couple surprising promotions for "Glass Onion: A Knives Out Mystery."
The "Knives Out" sequel doesn't exactly lend itself to toys, clothing or other typical merchandising opportunities, even though I would buy a talking Benoit Blanc action figure in a heartbeat. But since "Glass Onion" is based entirely around an exclusive, upscale birthday dinner party, there's plenty of room for synergy between the Netflix murder mystery sequel and food. That's why Netflix has teamed up with Van Leeuwen French ice cream and Outback Steakhouse for a surprising pair of promotions focused on the film's title. 
Outback Steakhouse wants you to murder a Bloomin' Onion
Nothing says fine dining like the Australian cuisine of Outback Steakhouse, and since one of the restaurant chain's signature appetizers is the fried Bloomin' Onion, it made them the perfect partner for a promotional crossover. So what's the deal?
The next time you head to Outback Steakhouse, which you're presumably doing at least once a week, order yourself a nice, crisp Bloomin' Onion. Then murder it. Don't stab it, unless you need a knife and fork to eat it like a Duke or Duchess. Let your hands get ahold of the greasy, fried goodness, and feel that whole-ass onion permeate every fiber of your being, especially your breath. 
Afterwards, take the receipt and record yourself "destroying the evidence" that you ever had a Bloomin' Onion (just like in the video above). Then, even though it's contrary to the concept itself, provide proof that you destroyed the evidence, and you'll get a free Bloomin' Onion coming your way.
Honestly, I wish there was a contest to win a glass replica of a Bloomin' Onion to go along with this. But I suppose a free appetizer that will bring you a week closer to your grave is compensation enough. 
Van Leeuwen dishes up a mysterious ice cream flavor
If Outback Steakhouse isn't exactly what you had in mind when it comes to celebrating the arrival of "Glass Onion" on Netflix this month, the folks at Van Leeuwen Ice Cream have a much better option. Now, it might seem off-putting to think about an ice cream flavor inspired by an onion, but stick with us. 
Though Van Leeuwen's official flavor is touted as a mystery, they haven't been shy about describing what's in the ice cream, especially with some the cast and director Rian Johnson taking a blind taste test in the video above. First, the official "Glass Onion" ice cream flavor has a touch of Greek yogurt, which was inspired by the setting of the sequel. Then, you'll have a crunch of honeycomb candy for a "glass-like crunch," which sounds pretty painful and yet quite tasty. And finally, there's a swirl of bourbon, caramelized onion jam. That last part may not sound appetizing, but word on the street is that it's actually pretty great.
If you'd like to try it for yourself, Van Leeuwen's "Glass Onion" ice cream flavor will be available to purchase by the scoop and pint at Van Leeuwen locations in NYC and LA, as well as online for nationwide shipping from their website. If you order now, it should arrive just in time to enjoy it while you're watching "Glass Onion" when it begins streaming on Netflix starting on December 23, 2022.